How America's Judges Are Being Bought Out
We think of courts as being immune to money interests. Some of them, as disclosure reports for state Supreme Court judges reveal, are not.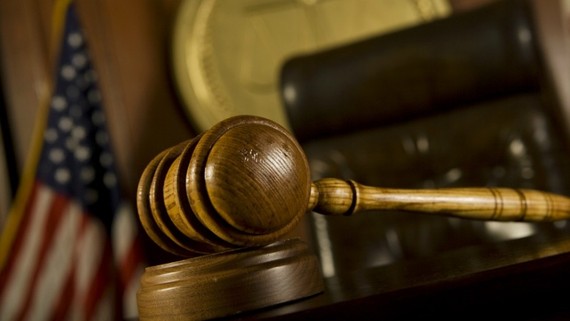 In recent years, some judicial elections have begun to look just like political campaigns, complete with attack ads, political action committees, and millions of dollars in fundraising for candidates. The financial involvement of special-interest groups in state Supreme Court races across the country has blurred the boundaries between money and politics and justice, alarming citizens and ethicists alike.
After all, such entanglement can portend corruption once judges reach the bench. But it's not the only recipe for conflict in the courtroom, according to a report released Wednesday by the Center for Public Integrity, a nonpartisan, investigative news organization.
When judges have a conflict of interest in a given case, they should recuse themselves. But sometimes that doesn't happen.
The personal finances of the 335 judges presiding in the states' highest courts, often shrouded in poor disclosure requirements, may influence rulings, CPI found, whether the justices know it or not. Appeals to decisions from a lower court to the U.S. Supreme Court are rare, unless there's a question of constitutional law.
Using input from judicial-ethics experts, CPI built a report card evaluating states' financial-reporting requirements for state Supreme Court judges (methodology here). The grading system was based on a slightly tougher version of disclosure requirements for federal judges, which received a B.
The top scorers, California and Maryland, received C's. Six others got D's, and the rest, including the District of Columbia, failed. See a full breakdown here.
Financial-reporting requirements for justices, the CPI report explains, vary wildly from state to state. Kentucky does not require its judges to disclose the names of companies in which they have a financial interest. Ohio asks about gifts the judges receive, but not how much they're worth. In Montana, Utah, and Idaho, judges don't have to file any disclosure reports at all.
CPI's investigation into just three years of filings turned up some surprises. Some judges had authored opinions favoring companies in which they owned stock. Others ruled on cases when their family members were receiving income from one of the parties involved, while some accepted gifts as lavish as a $50,000 trip to Italy.
Of the 273 judges required to disclose stock holdings, just under 40 percent reported owning stock. Of the 201 judges who are required to disclose specific value of gifts, 82 percent reported receiving roughly $279,000 in free stuff, about $1,800 per judge.
All told, CPI found 35 examples of gifts, overlapping investments, and other conflicts that it deemed "questionable"—and it names names. These findings came even with, by the group's measure, poor disclosure practices and, in some cases, even worse enforcement of transparency. The majority of states penalize judges for errors or discrepancies in disclosure reports, from fines to jail time. Twelve states, however, rely on self-policing, using committees of the high-court judges themselves to dole out discipline.