Bigotry and the English Language
Language does not exist encased in glass and formaldehyde.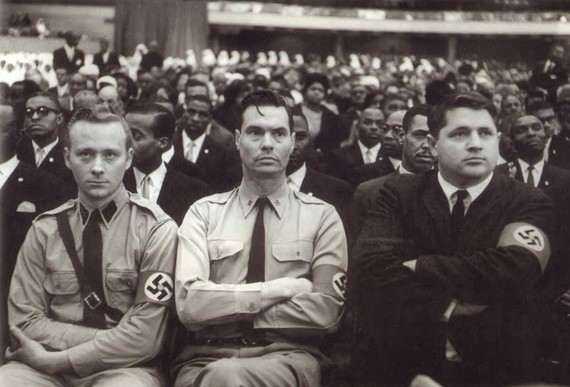 Wes Alwan reaches for the dictionary in his effort to defend Alec Baldwin against the charge of being a bigot:
The problem with these responses is that they redefine "bigot" away from its well-established common usage. In fact, the primary function of a word like "bigot" is to very precisely exclude more conflicted, doubtful states of mind, as in: a bigot is "a person who is obstinately or intolerantly devoted to his or her own opinions and prejudices; especially: one who regards or treats the members of a group (as a racial or ethnic group) with hatred and intolerance" (Merriam-Webster). The obstinate devotion to certain avowed, intolerant beliefs is critical to the way that "bigot" traditionally has been used. The word has its origins in the general notion of close-mindedness: the idea is that a bigot is someone who is un-persuadable, who cannot be argued out of their beliefs. But accusing someone of being close-minded and un-persuadable requires that they adamantly hold the beliefs in question in the first place: it cannot be the case that they're conflicted or akratic – that for example they sincerely favor gay rights as a matter of principle yet betray this principle during bouts of homophobic rage. Having unsavory impulses and poor impulse control is simply not the same thing as being closed minded and systematically intolerant. To extend the word "bigot" to someone like Baldwin is just to pervert it in order for the sake of exploiting its toxicity to his reputation.
The notion that bigot has "its origins in the general notion of close-mindedness" would be news to etymologists. The origins of the word "bigot" are unknown, but the current theory holds that it is an import from Middle French denoting someone who was sanctimonious or hypocritically religious. Alwan is concerned about the word bigot becoming "perverted,"  to exploit "its toxicity." But this happened long before Alec Baldwin. As late as the 1700s, the word was brought to English with its French meaning. That it was perverted into other meanings is unremarkable. Language does not exist encased in glass and formaldehyde. And the perversion of words is not a cosmic felony, it is how language actually works.
The word "bigot" has been perverted into many related, similar, meanings. One meaning is Alwan's.  Here is another:
a person who strongly and unfairly dislikes other people, ideas, etc. : a bigoted person; especially : a person who hates or refuses to accept the members of a particular group (such as a racial or religious group)."
One who is strongly partial to one's own group, religion, race, or politics and is intolerant of those who differ.
Another definition holds that bigot is "a person who is bigoted" as in "intolerance toward those who hold different opinions from oneself."
My argument is simple: I hold that if you attempt to intimidate and threaten a man by calling him "a little girl" who "probably got raped by a priest," and then you call a gay man a "queen" and threaten to rape him, and justify this by claiming your threat "had absolutely nothing to do with issues of anyone's sexual orientation," and then you threaten someone else by calling them  a "cock-sucking fag" and you attempt to excuse yourself by claiming you didn't know "cock-sucking" was a slur and that you didn't say "fag," and you blame your subsequent misfortune on "the fundamentalist wing of gay advocacy, that you are very likely a person who strongly and unfairly dislikes other people; that you are someone who is refusing to accept another group of people as humans; that you are strongly partial to your own group; that you are a bigot.
Bigots come in all shapes and forms. Strom Thurmond tried to raise an entire political party on the basis of segregation, daring the federal government to intervene in the South's domestic affairs."There's not enough troops in the army, " charged Thurmond. "To force the southern people to break down segregation and admit the nigger race into our theatres into our swimming pools into our homes and into our churches."
But Thurmond was not without conflict. He had a black daughter whom he gave financial support, sired the career of black conservative Armstrong Williams, supported Historically Black Colleges and Universities. And Thurmond was not "unpersuadable." He later voted for the Voting Rights Bill, the Martin Luther King holiday, and in the 70s, became first Southern Senator to hire a black staffer. This a man who once claimed that segregation, left "our niggers...better off than most anybody's niggers."
Thurmond's racist views were defended by Senator Trent Lott, who argued that had his hero prevailed, "we wouldn't have had all these problems over the years." Later reporting discovered that this wa the second time Lott had made this comment. As a young man interested in politics, Lott worked for segregationist politicians, eschewing more moderate candidates. As a politician in his own right he frequently addressed the racist White Citizens Council. Lott's endorsements of segregation, some of which were louder than others, spanned some forty years. But as the fight over his more recentendorsement of Thurmond caught fire Lott came out in support of Affirmative Action.
George Rockwell was a virulent racist, and a commander of the American Nazi Party. His embrace of White Power was total, and yet he was a fan of the Nation of Islam and praised them for having...
gathered millions of the dirty, immoral, drunken, filthy-mouthed, lazy and repulsive people sneeringly called 'niggers' and inspired them to the point where they are clean, sober, honest, hard working, dignified, dedicated and admirable human beings in spite of their color.
Was Rockwell without conflict? Was he a bigot? Who qualifies as "unpersuadable?" Do the former slaveholders who, having lost the Civil war, claimed that they'd never defended slavery make the cut? What of the neighbors of Jews who smiled at them one moment, and then looted their homes and turned them over to Nazis the next? And what are we to say of the promoters of "conversion therapy" who claim to "love the sinner" even as they deprive him of the right of family? Are they unconflicted? Are they unpersuadable?
Alwan's definition of a bigot, as a "global" label encompassing their humanity, as someone who is wholly unpersuadable, wholly without conflict, and wholly without doubt, is not a description of humans, it is a description of myth. And it a definition to which those who live under the power of actual bigots enjoy no access.
Alwan is unhappy that I am raising this point:
I worried, when I published a long post defending Alec Baldwin against charges of bigotry for calling someone a "cocksucking fag," that I ran the risk of being seen as defending the indefensible. I knew that if the post got any attention, readers who are unfamiliar with my reputation as a (hardcore) liberal might interpret it as a particularly sophisticated piece of crypto-conservatism or closeted bigotry. And I also worried that friends who know me better might wonder how it is I could possibly make such a defense: my motives would be suspect. Indeed, the point of Coates' marking a portion of my argument as "bizarre," "terrible," and "telling" is to signal – without openly calling me a bigot, a ploy that would be too embarrassingly obvious – the fact that my motives are in question: I'm a white guy defending another white guy, not someone making a principled argument (no matter how wrongheaded) about what I believe to be right. I am, possibly, a closeted bigot, dressing up my bigotry in a sophisticated argument; not, as I intend to be, a self-critiquing liberal who wishes to hold liberals – for the sake of consistency, intellectual honesty, and fairness – to their own liberal principles.
If I thought Alwan were a bigot, I would call him one and then make the argument. I am not questioning his motives. I am questioning his knowledge of the world. I am happy to read that he is "self-critiquing liberal." Hopefully he will take the following critique in that spirit: Wes Alwan's understanding of the word "bigot," is ignorant of the word's origins, history and its current usage, especially its usage by those most affected by bigotry. This ignorance is a luxury afforded him by identity. People who live in the thrall of actual racists, and actual homophobes, can't employ Alwan's definition because  it would not accurately describe anyone they have ever met.
Very few white people in the 19th century—indeed very few slave-holders—were without conflict and without doubt when considering black people. Many of them were persuadable and akratic. (A great word, by the way.) Some manumitted the enslaved. Others taught them to read, even though it was against the law. Others bore children by them, and sometimes even loved those children. And others still argued that white people should be enslaved too. These people were conflicted, complicated and bigoted. I suspect that the same is true for many homophobic "love the sinner, hate the sin" bigots today.
Perhaps we are now entering a new age wherein we will do violence to our language and Osama Bin Laden will no longer be a terrorist, but "a person who enjoyed a career killing innocent people." Rush Limbaugh will not be a racist, but "a man who has made a career saying racist things." Nathan Bedford Forrest will not have been a white supremacist but "someone who seemed to believe that things would be better if white people held most of the power in our society." Louis Farrakhan will not be an anti-Semite but "someone who exhibits a pattern of making comments against people who identify themselves as Jewish."
I am doubtful that such an age is dawning. In the meantime, I hope a self-identified "self-critiquing liberal" like Alwan--and I mean this--will see that while some people reach for labels simply to conduct a mythical witch-hunt, others reach for labels because in their world witches are very real, and are not the hunted, but the hunters. We will see whether being labeled a "bigot" is ultimately toxic to Alec Baldwin's job prospects. There is no such need to wait on the toxicity of being labeled a "cock-sucking faggot."