How Amazon Prime Air Reinforces Our National Anxieties About Drones
What will become of us in this aerially threatening near future? How will we keep the machines from taking over our pristine skies?
This article is from the archive of our partner
.
Amazon CEO Jeff Bezos freaked us all out when he announced on Sunday's 60 Minutes that the online retailer hopes to ship some customers' purchases via drone by 2015, using the unmanned gadgets to cut down delivery time to 30 minutes.
Oh, the humanity, we lamented. What will become of us in this aerially threatening near future? How will we keep the machines from taking over our pristine skies?
The problem is, they already are. There is currently a widely populated underground drone market, and the flying objects are already fairly common within certain industries.
NBC, for one, had no qualms over demonstrating use of their own HD video drone during a segment this week.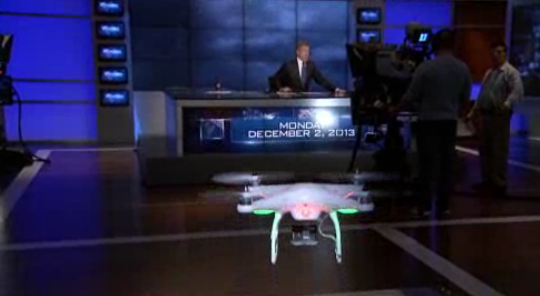 According to NBC, unmanned vehicles are used to photograph scenes in conflict zones abroad; by American real estate agents to showcase properties; by farmers to spray crops; and by Hollywood production companies when shooting films internationally.
Commercial use of drones in the U.S. is banned by the FAA, even as the government works towards figuring out how to regulate the market and bring the lucrative industry to light.
USA Today remarks that, once legalized, these drones could prove to be a boon for the U.S. economy:
Once the FAA drafts its drone regulations, integrating the devices into U.S. airspace could boost the economy by at least $13.6 billion in the first three years and the economic benefit may top $82 billion between 2015 and 2025, the AUVSI estimated earlier this year. It could also create more than 70,000 new jobs, including 34,000 manufacturing positions, in the first three years, the group forecast. In 10 years, it projects 100,000 jobs will be added.
Drone consultant Patrick Egan warns that those numbers may be deflated by regulation-related charges. Still, the figures are impressive, and provide support for the expectation that commercial drones will soon be legal and ubiquitous.
Bezos's announcement is mundane in another way. At least two international companies are already making moves towards putting a very similar plan into action. Quartz reports that Australia's Zookal, a textbook rental startup, and China's Shunfeng Express, an established package delivery service, are far outpacing Amazon drone-wise:
Zookal's fleet of six Flirtey [drones] can deliver packages within two to three minutes, locating the customer via the Flirtey Android app... breathing down Zookal's neck is Shunfeng Express, one of China's biggest parcel delivery services, which began testing drone delivery back in September. The city police where SF Express is testing its drones, which can fly as high as 100 meters, are so far permitting the drone flights. 
So, if domestic drones are already in broad use, years before they are expected to be federally approved, and if international companies are making speedy progress on a technology Amazon is only just starting to explore, why did Bezos's words cause such an uproar? Bragging rights.
Brad Stone, who wrote a book about Amazon that was published this year, argues in Bloomberg Businessweek that Bezos may be pursuing the very possibly inefficient drone delivery program to prove his company is cool:
The aerial drone is actually the perfect vehicle—not for delivering packages, but for evoking Amazon's indomitable spirit of innovation. Many customers this holiday season are considering the character of the companies where they spend their hard-earned dollars. Amazon would rather customers consider the new products and inventions coming down the pipeline and not the ramifications of its ever-accelerating, increasingly disruptive business model.
Bezos may have simply been the most visible entrepreneur to roll out a drone-driven business. (And right before the holiday shopping season.) It took Bezos — whose purchase of The Washington Post cemented his image as a risk-taking game changer in the eyes of the U.S. public — and trusted journalist Charlie Rose to bring to the forefront our national anxieties surrounding drones. The concerns are legendary: That they aren't safe; could replace humans in certain jobs; and, of course, have been used to seek out and kill individuals targeted by the government. Not to mention the Pakistani and Afghan civilians, and even American citizens who weren't necessarily targeted.
The Amazon drone delivery announcement went further, bringing to light fears that aren't directly related to drones, but rather what they represent: Our inability to conquer technologies that scare us; a fundamental lack of privacy from the government or private corporations; and the dismal feeling that our future, for the first time in American history, may be bleaker than our past.
This article is from the archive of our partner The Wire.