Allegations Against the ATF: Using The Mentally Disabled as Pawns
An investigation by a Milwaukee newspaper reveals shocking behavior by federal law enforcement officials and prompts bipartisan concern among Washington's oversight community.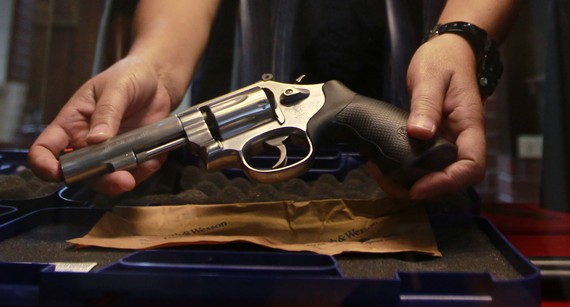 Here's a late-arriving candidate for 2013's most horrific story of the year, government-abuse-of-powers edition. According to a detailed report posted last Sunday by John Diedrich and Raquel Rutledge of the Milwaukee Journal Sentinel, agents from the Bureau of Alcohol, Tobacco, Firearms, and Explosives in at least five cities have used mentally disabled people as pawns in "storefront" undercover sting operations. The journalists first explain:
It wasn't.
The Journal Sentinel reviewed thousands of pages of court records, police reports and other documents and interviewed dozens of people involved in six ATF operations nationwide that were publicly praised by the ATF in recent years for nabbing violent criminals and making cities safer.
What did the journalist's find? What are federal officials reportedly doing in your name and on your dime? From Sunday's report:
■ ATF agents befriended mentally disabled people to drum up business and later arrested them in at least four cities in addition to Milwaukee. In Wichita, Kan., ATF agents referred to a man with a low IQ as "slow-headed" before deciding to secretly use him as a key cog in their sting. And agents in Albuquerque, N.M., gave a brain-damaged drug addict with little knowledge of weapons a "tutorial" on machine guns, hoping he could find them one.
■ Agents in several cities opened undercover gun- and drug-buying operations in safe zones near churches and schools, allowed juveniles to come in and play video games and teens to smoke marijuana, and provided alcohol to underage youths. In Portland, attorneys for three teens who were charged said a female agent dressed provocatively, flirted with the boys and encouraged them to bring drugs and weapons to the store to sell.
■ As they did in Milwaukee, agents in other cities offered sky-high prices for guns, leading suspects to buy firearms at stores and turn around and sell them to undercover agents for a quick profit. In other stings, agents ran fake pawnshops and readily bought stolen items, such as electronics and bikes — no questions asked — spurring burglaries and theft. In Atlanta, agents bought guns that had been stolen just hours earlier, several ripped off from police cars.
■ Agents damaged buildings they rented for their operations, tearing out walls and rewiring electricity — then stuck landlords with the repair bills. A property owner in Portland said agents removed a parking lot spotlight,damaging her new $30,000 roof and causing leaks, before they shut down the operation and disappeared without a way for her to contact them.
■ Agents pressed suspects for specific firearms that could fetch tougher penalties in court. They allowed felons to walk out of the stores armed with guns. In Wichita, agents suggested a felon take a shotgun, saw it off and bring it back — and provided instructions on how to do it. The sawed-off gun allowed them to charge the man with a more serious crime.
■ In Pensacola, the ATF hired a felon to run its pawnshop. The move widened the pool of potential targets, boosting arrest numbers.Even those trying to sell guns legally could be charged if they knowingly sold to a felon. The ATF's pawnshop partner was later convicted of pointing a loaded gun at someone outside a bar. Instead of a stiff sentence typically handed down to repeat offenders in federal court, he got six months in jail — and a pat on the back from the prosecutor
In July, in response to the earlier work the newspaper published, the ATF implemented certain reforms covering some of these operations. Evidently those reforms are not enough. The ATF has not responded to the allegations contained in Sunday's report and so far federal officials have not made public any of the results of internal investigations underway into the alleged conduct. The ATF still is looking into it. And so is the Office of Inspector General at the Justice Department. From an update Tuesday at the Journal Sentinel's website:
An official with the U.S. Department of Justice said late Monday that the inspector general "can and should" expand his investigation into undercover storefront operations to include ATF's rogue tactics exposed Sunday by the Milwaukee Journal Sentinel.
Earlier Monday, the ATF asked Inspector General Michael Horowitz to expand his examination of storefront stings in light of the news organization's investigation. "ATF has appropriately brought these allegations to the inspector general's attention," said DOJ spokeswoman Ellen Canale.
But clearly there are problems here that go beyond mere incompetence or poor judgment. Larry Dupuis, the Legal Director of the ACLU of Wisconsin, shared this perspective with me late Tuesday via email:
It certainly looks as though ATF has a more systemic problem than one rogue undercover operation in Milwaukee. There appears to be a pattern of preying on vulnerable people to promote these operations and crossing the line between catching criminals and encouraging criminal behavior that would otherwise not occur in order to make an arrest. While in some instances there might be a place for carefully supervised undercover police work, this demonstrates the risks of allowing police to operate outside the law in the name of enforcing it.
The sense of the arbitrary and capricious nature of the government activity alleged here is something the journalists have rightly emphasized in their coverage. From the Journal Sentinel's weekend report:
Reacting to the latest newspaper report, a spokeswoman for Sen. Ron Johnson, the Wisconsin Republican, told me Tuesday via email:
We have constantly been told by ATF officials that this was an isolated incident and merely the result of inadequate supervision. It is now clear that is not the case after the Milwaukee Journal Sentinel reported similar botched ATF operations elsewhere around the country.  ATF is the primary agency entrusted with enforcing our gun laws but cannot seem to lawfully run a basic sting operation.  ATF must be held accountable for these reports through strenuous congressional oversight.
And Thursday, Wisconsin's other senator, Democrat Tammy Baldwin, will send this open letter to Michael Horowitz, the DOJ's Inspector General himself:
demanding that the Inspector General's office complete a comprehensive analysis of the failures associated with the operation in Milwaukee, as well as a review of the ATF's updated processes since details of the initial failed operation came to light.
Senator Baldwin is particularly frustrated, with good reason, because nearly a year has passed since the Wisconsin newspaper first detailed the allegations against the ATF. "It is my understanding that ATF conducted an internal review in response and had taken steps to address deficiencies identified in the failed operation in Milwaukee," she told Horowitz. What is not evident, however, is proof that the steps the ATF took this summer actually remedied the problems the newspaper has identified.
It's not just Congressional oversight that is needed-- although a public hearing sure would be nice. And no internal ATF review is ever going to fix the problems that now exist within this agency. The Justice Department, and the White House, must act quickly- much more quickly than they have acted so far because the latest revelations by the Journal Sentinel raise an obvious question: What assurances does anyone have that these federal officials aren't still preying upon citizens who have, in Senator Baldwin's phrase, "developmental disabilities"?
For example, the Journal Sentinel tells the harrowing story of Tony Bruner, with an IQ in the mid-50s, who is befriended and then manipulated by federal agents. They give him menial tasks (they know he is developmentally disabled). They feed him. They ask him to buy guns. And then they arrest him on multiple charges. A person with an IQ in the mid-50s, in case you didn't know, is operating at an intellectual capacity below the baseline for a finding of "mental retardation" as that standard is applied by courts in federal capital cases.
This from an executive branch whose Bureau of Prisons mistreats and abuses mentally ill prisoners. This from a judicial branch whose Supreme Court has permitted the execution of mentally disabled capital defendants despite case law designed to prohibit that practice. This from a legislative branch that long ago abdicated vigorous oversight over law enforcement operations in the name of fighting the war on terror.  Reporters Diedrich and Rutledge and their editors deserve an award for shining a light on this odious business.