Why Aren't There More Black Federal Judges in Alabama, Florida, and Georgia?
Why isn't the White House doing more to nominate judges of color to sit in states like Georgia, Alabama and Florida, where minorities are severely underrepresented?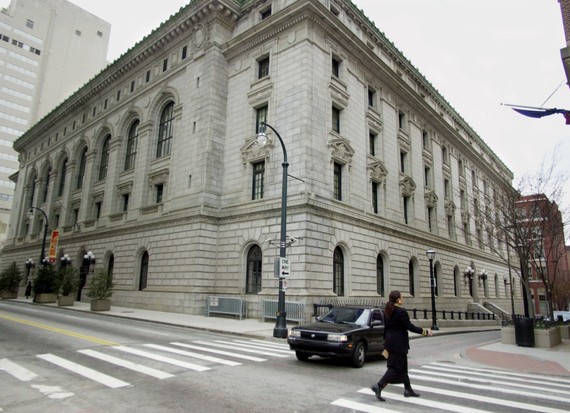 Most of the conversation about President Barack Obama's judicial nominations these days focuses on the unprecedented Republican push to block even those candidates with meticulous professional and personal qualifications. Although there are still regrettable incidents of "false equivalence" in the reporting of now-routine GOP filibusters of these nominees, there seems to be a growing consensus that the tactic in the Senate is as nihilistic as was the House's government shutdown: You can't have a rule of law without enough judges.
Another theme that has attracted some attention about judicial nominations, a counter-theme you could call it, posits that the White House initially did a poor job of quickly and efficiently nominating judicial candidates. There is no doubt that this was true—but that it was more true during the president's first term than it is today. The pace of these nominations has picked up—at last surpassing the pace of George W. Bush—and so, too have the number of candidates who are persons of color. Obama now is nominating women, and minorities, at a pace almost exactly double that of his immediate predecessor. It's quite laudable.
But this column isn't about either one of those things. It's about the dismal record this president has in successfully nominating black men and women to the federal courts in three states in the Deep South—Florida, Georgia and Alabama—which have significant minority populations that are grossly underrepresented on the federal benches there. Coming from a president who has nominated more women and candidates of color than any of his predecessors, this is both surprising and disappointing.
It is more so because President Obama has had success in nominating black candidates to the federal bench in Mississippi, as "Deep South" as America gets. Just last week, the Senate confirmed Debra Brown to a federal trial seat in the Northern District of Mississippi. She is the first black female judge in the state's history and her nomination was supported by both of Mississippi's Republican senators, Thad Cochran and Roger Wicker. In 2011, another black Mississippian, James E. Graves Jr., was nominated by President Obama and confirmed to the 5th U.S. Circuit Court of Appeals.
Despite these victories for diversity, the Congressional Black Caucus tells us that black judicial nominees for federal spots today are far more likely to face Senate opposition than their white counterparts. The case of Senator Marco Rubio's deplorable turnaround on the nomination of William Thomas in Florida—the senator first supported then withdrew his support—is only one live example. Senator Richard Burr, the Republican from North Carolina, also is impetuously stalling the nomination of a black female candidate for a federal spot there.
What accounts for this? Why has so much relative progress been made in Mississippi while so little progress has been made in those other Southern states? Why have Republican senators agreed to confirm some qualified black nominees for federal appeals court positions but blocked other qualified black candidates? Surely, the makeup of the Senate delegations from those states has something to do with it. Surely, the president's nominees do as well. But there is an arbitrary nature to the Senate's response to these nominations that undercuts the premise of its "advice and consent" role. And there is a lack of steel behind the White House's push for judicial diversity even as the nation's benches have become significantly more diverse.
11th U.S. Circuit Court of Appeals
The 11th U.S. Circuit Court of Appeals represents Alabama, Florida, and Georgia. Its territory comprises the highest percentage of blacks—approximately 25 percent—of any federal judicial circuit in the country. Today, there are eight judges on "active" status on the bench there and eight more on "senior" status. Of these 16 jurists, only one is black—Judge Charles Wilson, who was appointed by President Bill Clinton in 1999. Judge Wilson, in turn, replaced Judge Joseph Hatchett, the first black judge ever to serve in the 11th Circuit since its creation in 1981. There has never been a black female judge on the 11th Circuit.
There have been six vacancies on the 11th Circuit since President Obama took office in January 2009. He has not nominated a single black man or woman to fill them. He has nominated instead one Latino man and four white women. The Senate has confirmed two of these nominees—Adalberto Jordan and Beverly Martin, both of whom were Clinton district court appointees. As set forth below, there is currently a vacancy, for an "Alabama" spot on the 11th Circuit, that is so new the White House has not yet named a nominee for it.
By contrast, four of the 15 judges currently on the 4th U.S. Circuit Court of Appeals are black (two of whom were appointed to their post by President Obama, the other two by President George W. Bush). The territory of the 4th Circuit comprises a slightly smaller percentage of blacks—23 percent—than does the 11th Circuit. Even the 5th U.S. Circuit Court of Appeals, still by far the most conservative in the nation, has two black federal appeals judges—one appointed by President Obama, the other by Bill Clinton.
Alabama
The black population of Alabama in 1970, the first census year following the Voting Rights Act of 1965, was 26.2 percent. Today, according to U.S. Census Bureau figures, it is 26.5 percent. Yet there has never been a black woman on any federal court in Alabama. There have been only three black federal judges in the state's history—one of whom, Myron Thompson, now sits in senior status. Two of Alabama's 18 district court seats are now vacant—both of them have been empty since this past August.
There is only one Democratic member of Alabama's Congressional delegation— Representative Terri Sewell, a graduate of Harvard Law School—representing Birmingham. She's coordinating applicants for those positions (and would herself be a sensible nominee). But no matter whom her committee ultimately recommends, and no matter whom the president nominates, they will have to run the gauntlet of Alabama's two GOP senators, Richard Shelby and Jeff Sessions, both of whom have filibustered Obama's judicial nominees after denouncing such filibusters during the Bush Administration.
In 2009, President Obama nominated Abdul Kallon, a black man, to a federal district spot in Alabama. Kallon was quickly confirmed on a voice vote in the Senate and would make an excellent appellate judge. The president has not had an opportunity to nominate a black candidate from Alabama to the 11th Circuit. But he'll now have his chance. Two weeks ago, 11th Circuit Judge Joel Dubina, an appointee of George H.W. Bush, announced that he was taking senior status—another opportunity to recast the racial makeup of the federal appeals court.
Florida
The black population of Florida in 1970, the first census year following the Voting Rights Act of 1965, was 15.3 percent. Today, according to U.S. Census Bureau figures, it is 16.6 percent. Today, only three of the state's 37 federal trial judges are black women. The first, Marcia Cooke, arrived on the bench just nine years ago, a nominee of George W. Bush. The second, Mary Scriven, arrived in 2008, another Bush nominee. The third, Charlene Honeywell, was nominated by President Obama during his first term.
There are currently four federal district vacancies in Florida (and a fifth is on its way). To the spot vacated by the aforementioned Jordan, the president has nominated the aforementioned Thomas, who would become the first openly gay black man to serve on the federal bench.  The president has nominated another black man, Brian Davis, to another federal district position in Florida. Senator Rubio withdrew his hold on the Davis nomination in September but still opposes the Thomas bid. That leaves three vacancies for which the White House has not yet made a nomination.
One of those trial court vacancies was created recently by a promotion. Last week, to replace Judge Rosemary Barkett on the 11th Circuit, President Obama nominated a white woman named Robin S. Rosenbaum. He had appointed Judge Rosenbaum only last year to a spot in the Southern District of Florida, which she will leave if confirmed to the 11th Circuit. So there is no black 11th Circuit nominee from Alabama. And no black 11th Circuit nominee from Florida. Judge Wilson, the Clinton appointee, still stands alone.
Georgia
The black population of Georgia in 1970, the first census year following the Voting Rights Act of 1965, was 25.9 percent. Today, according to U.S. Census Bureau figures, it is 31.2 percent. Yet there have been a total of only four black federal judges in the state—and never more than two at a time. There has never been a black federal trial judge representing the Southern District of Georgia, one of the three judicial districts in the state. And there has never been a black female federal district judge in Georgia, a state that now has 18 district judges.
When President Barack Obama nominated a black woman to a federal trial spot in Georgia, when he selected a talented young lawyer named Natasha Perdew Silas, Georgia's Republican senators, Saxby Chambliss and Johnny Isakson, refused to assent (they were pushing their own black, female nominee, a magistrate judge named Linda Walker) even though they had opposed the use of filibusters for judicial nominations during the Bush Administration. In 2011, the Senate returned her nomination. The White House has not renominated her—a lost opportunity to fight a fight that is worth fighting.
It is episodes like this, and many others, that pushed members of the Georgia Democratic Congressional caucus to write a pointed letter to the White House complaining about the horse-trading President Obama has signaled he is willing to do with Senate Republicans over federal judicial nominees in the state. "We were disappointed, shocked and chagrined," the members of Congress wrote, that the White House would be so cavalier about the need "to ensure a representative federal judiciary" in the state.
What has Georgia Democrats so furious? Their Republican counterparts in the Senate say they will hold up the President's judicial nominations unless the White House cuts a deal that would see President Obama nominating to the federal bench in Georgia one candidate (Mark Cohen) who defended the state's onerous voter identification law in court and another (Michael Boggs) who as a state representative voted to retain Georgia's old state flag, replete with Confederate battle emblem. How would you like to be a black litigant in Georgia in front of such federal judges?
Postscript
The president's failure to nominate more black candidates in those three states, and his refusal to fight more strenuously for those black candidates he has nominated there, is not the typical give-and-take of politics. In context, it's a capitulation to southern Republican officials, including some of the very ones who helped doom the Voting Rights Act. Indeed, at a time when minorities are being disenfranchised by Republican officials in Florida and Alabama and other Southern states, the continuing lack of black representation on our federal benches sends another strong message of a tolerance for unequal justice.
It's fair to ask why the presence of judges of a particular race ought to matter. In a perfect world, it wouldn't. But the American legal system, and especially its criminal justice systems, still are riven by vast racial divides. Nowhere is this more true than in the Deep South, where racial disparity in sentencing still is profound and where black murder suspects are far more likely to be charged with a capital crime, and far more likely to be sentenced to death, than their white counterparts. President Obama, the noted constitutional scholar, knows all this. And yet he still fails to move decisively to remedy it.
He fails even though the obstructionists here aren't even pretending anymore to be holding up these particular judicial nominees on substantive grounds. I've covered this sort of thing before, in Oklahoma, where two Republican senators blocked the nomination of a highly qualified American Indian nominee to the federal bench-- without so much as a public explanation. The same thing is happening to many of these black judicial nominees. It's a modern version of interposition, a doctrine of defiance that has no footing in the Constitution.
"Things have changed in the South," United States Supreme Court Chief Justice John Roberts famously wrote in 2009 as he began to dismantle the Voting Rights Act. That was not exactly true then, it is not true now, and it will not be true until all southern federal courts are adequately staffed with judges of color, and especially black men and women. If this dynamic doesn't change between now and January 2017 when the president leaves office, it will be one of his most unfortunate legacies.