Why Are These Soldiers Reading The Atlantic During a Cockfight?
A Civil War historian zooms into a plate-glass negative and finds something unexpected.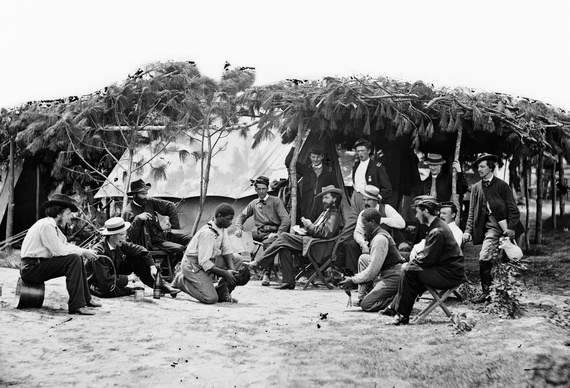 Click on the image to view a larger version. (
Timothy O'Sullivan/Library of Congress
)
In June 1864, Union General Ulysses S. Grant launched a 10-month siege of the strategically important railroad hub at Petersburg, Virginia. Throughout that time, Civil War photographers were on hand to capture hundreds of battlefield and camp scenes on glass plates. Washington-based Alexander Gardner sent two photographers into the field—Timothy O'Sullivan and David Knox.
As the siege was getting under way, O'Sullivan and Knox took two photos of a cock fight about to begin. Here, Union General Orlando B. Willcox (seated, center) and his staff gather around to watch as camp servants prepare to release the fowl for a fight to the death. Two of the soldiers hold small whips. Alcohol and cigars round out the brutal but genteel scene. A young soldier smiles broadly—a rare occurrence in Civil War photographs.
By zooming into the original glass plate negatives, another refinement emerges: Staff officer Levi C. Brackett, serving on General Willcox's staff, is displaying a copy of The Atlantic in both cock-fighting photos. It is the latest issue: July 1864.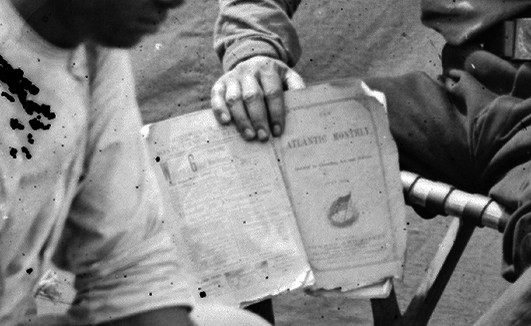 It is entirely fitting that the content of the July 1864 issue of The Atlantic addresses things relevant to the scene— alcohol, cigars, chickens, whips, and soldiers. The issue concludes with a summary of the military operation in which the soldiers pictured here are engaged. General Willcox's troops are themselves mentioned in print. We can only guess whether Brackett so deliberately displayed the periodical because of unit pride.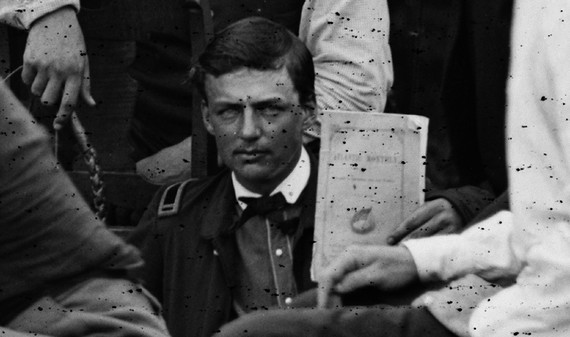 Whatever their motives, time moved for Brackett and the other soldiers just as it does for us today. Eight months and seven Atlantic issues later, the survivors among these men would see the capture of Petersburg, the fall of the Confederate capital at Richmond, Virginia, and a return to peacetime life. But here in the pages of the magazine, and in the camp scenes captured on that warm August day, time is forever frozen, allowing us to contemplate a small part of American history. Using these primary sources, a century and a half seems a whole lot shorter.