Suing Over a Prayer: Two Steely Women of Greece, New York
Attending town meetings can be awkward when the Supreme Court is currently hearing your lawsuit over the prayer in those meetings.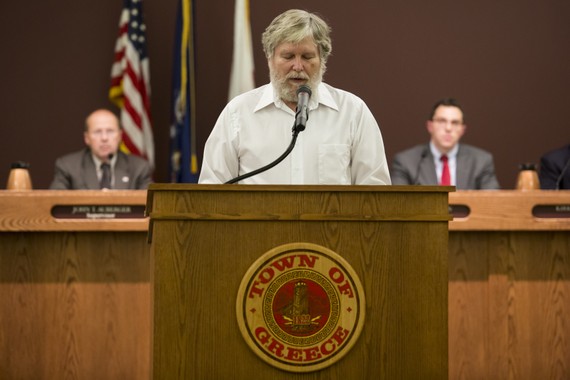 Linda Stephens doesn't look like someone spoiling for a fight. She is slight and soft-spoken, favors bright-colored corduroys, and pins her long, grey hair to the side with bobby pins. She worked for two decades as a school librarian, then retired to a yellow house on a quiet, tree-lined street in upstate New York. But five years ago, Stephens and her friend Susan Galloway grew tired of sitting through Christian prayer sessions at their Town Board meetings. So they sued. And what began as a small dispute in a town of 96,000 will end, years later, in the Supreme Court.
This morning, the Court will hear oral arguments in Greece v. Galloway. Stephens (who is an atheist) and Galloway (who is Jewish) jointly sued their town in 2008. They claimed that the town of Greece violated the Constitution by opening its monthly Town Board meetings with a Christian prayer for nearly a decade. (In 2008, after Stephens and Galloway complained about the prayer practice, the town invited three non-Christians to deliver the prayer.) Specifically, Stephens and Galloway argued that the town's prayer practice violates the Establishment Clause of the First Amendment. The text of the Constitution provides that "Congress shall make no law respecting an establishment of religion," but the provision has been interpreted more broadly to prohibit any government body from aligning itself with a religion. Establishment Clause jurisprudence is notoriously chaotic, and Greece v. Galloway is one of the more high-profile cases of the term. Court watchers are speculating that the Court may seize Galloway as an opportunity to impose order onto a famously scattershot corner of the law.
But Galloway is compelling in other ways as well. Cases that land at the Supreme Court often involve a dispute with some faceless corporation or the disembodied opposition of "the United States." This case is more intimate. At the most recent Town Board meeting—the last before oral arguments—Stephens sat in a beige plastic chair in a near-empty room and stared down the five Town Board members seated before her. The opening prayer, delivered by Reverend Louis Sirianni of the St. Mark's Church, seemed unabashedly directed at Stephens. Sirianni began with the pointed observation that chaplains had been opening American legislative sessions with a prayer for centuries. There had been a denominational dispute over the prayer delivered at the opening session of the First Continental Congress in 1774, Sirianni noted, but Samuel Adams had quieted the controversy by declaring that he could hear a prayer from any "gentleman of piety and virtue," for he was "no bigot."
Stephens, dressed in plum corduroys and a violet-speckled sweater, sat quietly with her hands folded. But she later said the prayer had struck a nerve: she believed Sirianni was conveying the message that "anyone who objects to prayers before the Greece Town Board is a bigot." When I called Sirianni a few weeks later, he denied that this was his intent. He said what he meant was that the Founders believed the act of praying before legislative meetings was more important than the denomination of the prayer-giver.
In an email, Stephens said she has been harassed over the past few years. She received an anonymous letter warning her that "lawsuits can be detrimental" and suggesting that she take up knitting or basket weaving because "it appears you have little to occupy yourself." In the middle of the night someone dug up her mailbox, smashed it to pieces, and placed the remnants on the roof of her car. Her backyard pool was vandalized.
Plaintiffs in high-profile public prayer cases have faced far worse. Last year, a Rhode Island student who sued to remove an eight-foot prayer from the wall of her high school's auditorium required a police escort at school. Plaintiffs in the 2000 school prayer case Santa Fe v. Doe brought their suit anonymously out of fear of harassment. Stephens's grievances may be comparatively minor. But it does require a certain courage to bring an Establishment Clause lawsuit in a relatively quiet, religious town. Long after the Court has handed down its decision and the court watchers have moved on, Stephens and Galloway will still be in Greece, living with the consequences of their legal action.