Meet the Pope's New BFF
The bishop of Rome's close relationship with a modest, septualingual American cardinal is unprecedented.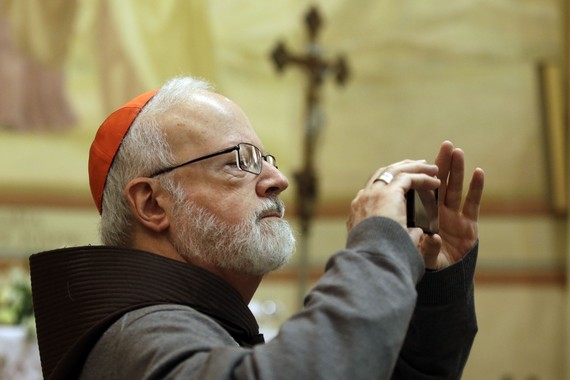 S
tephen Colbert may be—as he bragged in character last month at the Alfred E. Smith Memorial Foundation Dinner—"America's most famous Catholic." But he has serious competition for the title of most important Catholic in the United States. Until recently that distinction arguably belonged to Cardinal Timothy Dolan, head of the powerful New York Archdiocese and the president of the U.S. Conference of Catholic Bishops. When the charismatic Dolan's term wraps up next week at the bishops' annual meeting in Baltimore, however, all eyes will turn to a man in a simple brown cassock with a Santa beard and a direct line to the pope: Boston Cardinal Séan O'Malley.
In the months since Pope Francis's election, it's become clear that O'Malley is the closest thing to a papal BFF. He is the only North American member of the Cabinet that Francis formed to advise him. As the world knows by now, Francis does not hesitate to make full use of his cell-phone plan, making it possible for him to call O'Malley—and O'Malley to call him—without involving aides. But the two also email each other directly, resulting in an unprecedented level of communication and giving American Catholics a voice in this unusually collaborative papacy.
"No other popes have had close relationships with an American at that level," says Stephen Schneck, director of the Institute for Policy Research & Catholic Studies at the Catholic University of America. Schneck notes that Pope Paul VI had close ties to some lower-ranking Americans, such as now-Cardinal Justin Rigali, who served for a time as his English translator. "But to the best of my knowledge," he says, "there's nothing that compares to the very close relationship that Cardinal O'Malley has with Pope Francis."
One reason O'Malley and the pope have been in such close contact is that they speak the same language—literally. Unlike his predecessors, Francis isn't comfortable communicating in English; his first public use of English as pope didn't come until Oct. 18. This will make it harder for the pope to speak one-on-one with American prelates, as surprisingly few of them are fluent in Spanish or Italian. Even Dolan, who spent more than six years stationed in Rome, lacks real fluency in those languages.
O'Malley, however, not only speaks seven languages, he also has a Ph.D. in Spanish and Portuguese literature. In each of his posts, he has worked closely with local Hispanic communities, and even launched Washington's first Spanish-language newspaper, El Pregonero, when he headed the Hispanic Catholic Center in the capital. And it's more than just a matter of vocabulary. One of the least-appreciated aspects of the new pope is the extent to which he was formed by Latin America and not by the theologians who have held sway in American and European Catholic circles over the past few decades. O'Malley's first appointment as a bishop was in the Virgin Islands for nine years, and he has at times been closer to his Latin American colleagues than to his peers in the U.S.
Writing last spring about O'Malley's friendship with Francis, Catholic commentator Rocco Palmo noted that when O'Malley was installed as archbishop of Boston in 2003, one of only two cardinals in attendance was Oscar Rodriguez, the Honduran leader who leads the new papal Cabinet. O'Malley, Rodriguez, and Francis are all strongly shaped as well by communio theology—a focus on mercy and caring and reaching out to those in need—that has been embraced with special fervor in the Latin world.
If O'Malley and Francis share a theological affinity, it is matched by their preference for modest living and populist faith. O'Malley is a Franciscan whose preference forwearing his Capuchin habit instead of more ceremonial robes has come in for ribbing from some colleagues. Like the pope, he has chosen simple living quarters, downsizing from the more palatial digs of his predecessors. And in 2006, O'Malley became the first cardinal to have a personal blog: CardinalSeansBlog.org.
As a member of the pope's advisory Cabinet, O'Malley will weigh in on and help propose church reforms. But given his papal friendship, the Boston cardinal will also serve as an unofficial adviser on major appointments in the U.S., including the important choice of a replacement for Cardinal Francis George in Chicago. Earlier this fall, O'Malley was a key player in the decision to deal swiftly with a dicey situation in Newark, N.J., where Archbishop John Myers was under fire for his handling of a sexually abusive priest. At O'Malley's urging and with his guidance, the pope chose and appointed a well-regarded successor for Myers in just a matter of weeks.
And while O'Malley should not be viewed as the pope's mouthpiece in the U.S., he has taken on the role of defending Francis in an uncharacteristically public and combative way. In early August, O'Malley gave the keynote address for the annual convention of the Knights of Columbus, using the occasion to push back against criticism of the pope's relative silence on abortion. "I think [the pope] speaks of love and mercy to give people the context for the church's teaching on abortion," O'Malley told the crowd of 2,000 conservative Catholics. "The truth without mercy would be cold, off-putting, and ready to wound. The truth isn't a wet rag that you throw in someone's face."
At the moment, all eyes are on Pope Francis, who continues to captivate Catholics and non-Catholics alike. And that's just how the publicity-averse O'Malley likes it. But as this pope navigates the tricky job of trying to prod a reluctant Roman Curia along the path of reform and takes on the task of shaping the next generation of American Catholic leaders, the cardinal from Boston will be just a smartphone away.