How Not to Hold an 'Oversight' Hearing
At a time of overcrowded prisons, cost overruns, and serious allegations of abuse and neglect, the Senate Judiciary Committee plays patty-cake with the Bureau of Prisons chief.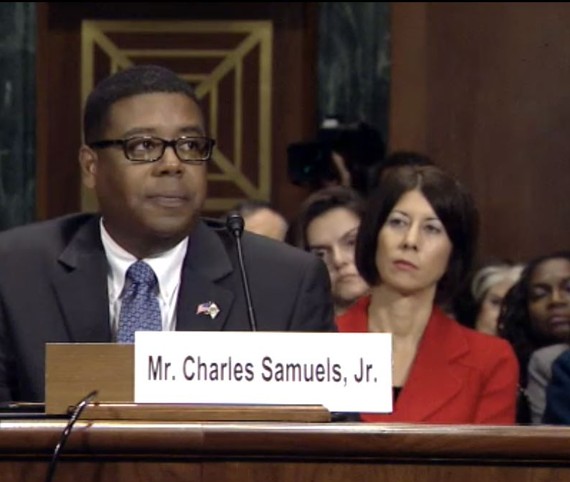 I guess it all depends on your definition of "oversight."
If you think Congressional "oversight" of an unelected official who controls the everyday lives of over 200,000 American prisoners ought to include probing questions and candid answers about dubious life-or-death practices and policies, then you surely would have been disappointed Wednesday morning watching members of the Senate Judiciary Committee play patty-cake with Bureau of Prisons Director Charles Samuels.
But if you think "oversight" ought to include a series of mini-speeches by lawmakers, followed by a litany of shallow, leading questions posed to a bureaucrat who responds by talking past those lawmakers in empty sound-bites that offer no insight or candor, then you would have been satisfied by Wednesday's performance on Capitol Hill.
There need not be a hostile exchange of questions and answers during congressional hearings. They need not look or sound like cross-examinations. I get that lawmakers must be respectful of administration officials, and vice versa. But is it really too much to ask our national legislators to demand answers from  an official who rarely makes public appearances and even more rarely testifies under oath about his job? The "oversight" part of Wednesday's so-called "Oversight of the Bureau of Prisons & Cost-Effective Strategies for Reducing Recidivism" was an utter waste of time.
At a time when the nation's federal prisons are terribly overcrowded, and the focus of litigation alleging the most horrible brutality on the part of corrections officers, Committee members were content to spend much of their allotted time Wednesday morning asking Samuels softball questions about prison safety and praising him for tiny glories— like the BOP's recent decision, made amid significant political pressure from East Coast politicians, to keep female inmates at the federal prison in Danbury, Connecticut, near their homes and families in the Northeast instead of transferring them to the South.
Only Senator Richard Durbin, the Democrat from Illinois, mustered up a serious question for the prisons chief. In fact, he asked one of the questions I had asked someone to ask of Samuels. Senator Durbin wanted to know: What had the Bureau of Prisons done since June 2012, the last time Samuels appeared before the Judiciary Committee, to study the relationship between solitary confinement and mental illness among federal inmates? It's a question that goes to the heart of the BOP's most controversial practice—as well as one that directly implicates the "cost" component of confinement.
Samuels told the Committee that there are approximately 4,000 fewer inmates in "restricted housing" today than there were then but, given the bureaucratic nature of prison-speak, it's hard to know precisely what that means.  Samuels did not even mention mentally ill federal prisoners in his response to Senator Durbin's question about them. The senator, for his part, inexplicably did not press the BOP chief for such a response, and then the pair moved on to talk about the relative costs of confinement at Guantanamo Bay, Cuba, as opposed to confinement on the American mainland.
That was it. From this Committee, that single question and non-responsive answer was the extent of anything that could be remotely considered "oversight" in the classic sense of that word. Sure, they talked about how expensive it is to house federal prisoners—far more expensive than it is to house state prisoners. And they talked about how important it is to ensure the safety of correctional officers. And they talked about all the shiny programs the BOP says it employs to help inmates prepare themselves for their eventual release.
But true accountability and transparency? No. Your senators permitted Samuels to ramble through his answers—the testimonial equivalent of a filibuster—or used him as a mere prop to make their own points. For example, Senator Charles Grassley, the Republican from Iowa, warned that too much prison reform would lead to higher crime—and then he quickly left for another hearing. And senators from both parties talked about the need for sentencing reform as a way to reduce the BOP's budget—an excellent point that, alas, has absolutely nothing to do with Samuel's job performance or whether he is presiding over a Bureau of Prisons that is complying with federal law and constitutional norms.
Here is the link to Samuels' testimony, as prepared for delivery (he spoke only for a few minutes). He first mentioned the deaths of two corrections officers without mentioning the deaths (by suicide, for example) of any of the federal inmates in his care. He mentioned the increased use of "pepper spray" without commenting upon its use against mentally ill prisoners. He complained about overcrowding without acknowledging its grim impact upon those same inmates.  Here in full is the extent of what the director said about the mentally ill within his prisons:
I have focused significant resources on the mental health of inmates who are placed in SHUs to ensure we are doing everything we can to work with these inmates.
There was no discussion at this "oversight" hearing of what those "significant resources" are, what they might mean to mentally ill prisoners, or whether you and I (or Congress) might also consider them "significant." There was no information offered about the reforms the Bureau of Prisons has implemented in the area of mental-health care for inmates as a direct result of two civil rights lawsuits now pending against it in Colorado (more on that in an upcoming column).
There was no discussion at all, in other words, of an issue that is obviously relevant at a hearing about "cost-effective strategies for reducing recidivism: It is cost-effective, is it not, to provide better mental health care for inmates so that they are not mentally ill when they are released from prison? Senator Durbin surely knows this. So does Senator Leahy. So, I suspect, do the Republican senators on the Committee. And so does Director Samuels. Exactly how these officials are going to solve this difficult problem if they don't even have the courage to discuss it in public is a question no one on this Committee, predictably, was willing to ask.