Dzhokhar Tsarnaev, Defender of the Constitution
The Boston bombing suspect is back in federal court to argue he has a constitutional right to speak to his lawyers without "special" restrictions on his communications.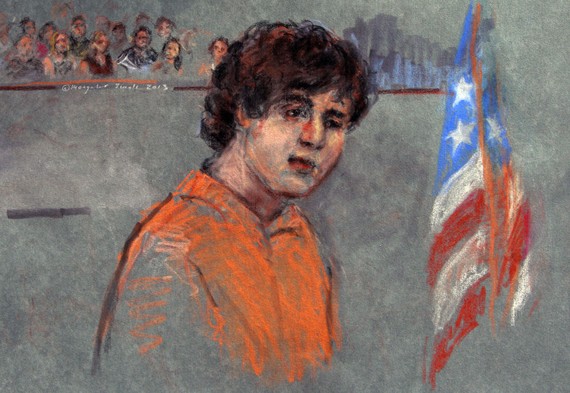 Even if you have little sympathy for Boston bombing suspect Dzhokhar Tsarnaev, you ought to support his lawyers' efforts to curtail the government's sprawling use of so-called "Special Administrative Measures" in his case. Whatever you think of him, and the capital crimes of which he stands accused, he has a right to counsel, a right to counsel who can privately and effectively communicate with him, and the Justice Department's efforts to undermine that right in this instance are unfair and perhaps even unconstitutional.
First employed in 1996, SAMs are designed to prevent criminal defendants— before, during or after their trial—from inciting violence behind bars through secret communications with their lawyers or others. The attorney general may authorize the prison's restrictions on an inmate's mail, on his telephone calls, and on his visits with lawyers or access to media, if he or she finds that "there is a substantial risk that a prisoner's communications or contacts with persons could result in death or serious bodily injury to persons."
In the 17 years since SAMs were first authorized their scope has been expanded by the terror attacks of September 11, 2001 and by the sort of "mission creep" that is inevitable whenever bureaucracy is combined with a lack of strong judicial oversight. Where exactly does that put us today? If the government is permitted to impose restrictions on Tsarnaev's fair-trial rights based upon the justifications it has offered in this case it could very well impose such restrictions on virtually any criminal defendant awaiting trial in a capital case.
Tsarnaev's attorneys and federal lawyers will argue this issue in federal court in Boston Tuesday morning. And while the dispute is unlikely to delay Tsarnaev's trial, it's an important moment in this latest terrorism trial of the century. Are the feds here are using the SAMs against Tsarnaev because they think he's  plotting to wage a terror war from detention? Or are the feds restricting his communications because they don't want the notorious prisoner to become ever more of a political symbol than he already is? And does the Constitution even allow a judge to hazard an answer about which?
Tsarnaev's Argument
Defense attorneys in this case—including the inestimable Judith Clarke—led off their request to end the special measures imposed on them and their client with two temporal arguments. It took four months, they told U.S. District Gerald O'Toole, for Attorney General Eric Holder to implement the communication  restrictions upon Tsarnaev and his lawyers. And there are no allegations, much less evidence, that the defendant during that time communicated or attempted to communicate in any sinister way to justify the imposition of the SAMs. Here is the crucial paragraph from the defense motion:
[T]he underlying charges arising from the Marathon bombing and ensuring events in Watertown, for which Mr. Tsarnaev is awaiting trial, are grave. However, the government has not alleged, nor is the defense away of any evidence to suggest, that these events were directed by others still at large or that Mr. Tsarnaev ever had operational authority to direct the activities of others... Nor is there any evidence whatsoever of co-conspirators with whom Mr. Tsarnaev could arrange further terrorist or criminal activities.
The defense says the SAMs cannot lawfully be imposed because Tsarnaev told his friends before his arrest to take his stuff or because his worldwide notoriety since his arrest has generated "nearly one thousand pieces of unsolicited mail." It would be perverse, Tsarnaev's attorneys argue, to punish him for letters he neither sought nor has responded to. Nor should the restrictions be imposed because his mother in May released portions of a phone call with him to gin up sympathy for her son. Preventing sympathy for a defendant is not part of the legal calculus of the SAMs, the defense argues. Here is the link to Tsarnaev's "Motion to Vacate Special Administrative Measures.
The Federal Response
The Justice Department responded to this motion first by making a procedural argument. Judge O'Toole "lacks jurisdiction to hear the motion" at this time because Tsarnaev failed to comply with the requirements of the Prison Litigation Reform Act, a federal law that generally requires inmates to exhaust their administrative remedies before seeking relief in  court. Tsarnaev needs to ask prison administrators to release him from the restrictions, federal lawyers argue, and only if (or when) they do not can he come back to court for help. This is the just the latest version of federal government's standard terror law line: "Don't-worry-your-pretty-little-head-about-it-judge."
On the merits,  the Justice Department says that Tsarnaev merits the restrictions on his communications with his lawyers, and others, because he inspired "others to commit acts of terrorism." Here's their argument:
Tsarnaev's desire to inspire others to commits acts of terrorism is evident in the message he wrote in pen on the inside of the boat where he took refuge after his own ability to commit terrorist acts was exhausted. He wrote: The U.S. government is killing our innocent civilians but most of you already know that. As a M[uslim] I can't stand to see such evil go unpunished, we Muslims are one body, you hurt one you hurt us all . . . [T]he ummah [i.e. the Muslim people] is beginning to rise]. . . . Know you are fighting men who look into the barrel of your gun and see heaven, now how can you compete with that. We are promised victory and we will surely get it."

This was a clarion call to radical militants to follow in his wake. Tsarnaev's self-evident goal in writing these words was to motivate others to commit acts of the same or similar nature, putting the American people at constant risk.
There is "nothing speculative" about Tsarnaev's "ability to inspire others through his words in light of his past deeds," federal lawyers told Judge O'Toole. Not only has he subsequently made it into the July 2013 issue of Inspire magazine, an Al Qaeda publication, he's also been the subject of a Rolling Stone cover, the feds write. They also cite a Boston Globe story published this summer titled "Some radicals make heroes of Tsarnaev brothers," for the proposition that the defendant's "world-wide notoriety as a successful terrorist, couple with his avowed desire to inspire others" justifies the SAMs.
To federal officials, Tsarnaev's text message to his friends about his backpack demonstrated "his willingness to use others to advance his illegal ends." His decision to smash his cellphone "before finding a hiding place" demonstrated "a knowledge of basic tradecraft used by terrorists seeking to avoid detection." Just think about those allegations in the context of any criminal case. Every criminal defendant who eludes arrest, or throws away a cellphone, or seeks to give away his stuff, could be subject to these measure if the feds says so.
The Justice Department also, predictably, trotted out some of the very favorable terror law rulings it received on this issue from lower court judges in the years immediately following the 9/11 attacks. "Tsarnaev ignores the lessons of history," the feds told Judge O'Toole. "For example, imprisoned Sheikh Abdel Rahman urged his followers to wage jihad to obtain his release. Violent attacks and murders followed release of those communications." All of a sudden, a domestic mass murder suspect—and that is all Tsarnaev is, when you stop to think about it—is the Blind Sheikh.
The feds next argue that the SAMs are constitutional "because they are reasonably related to the legitimate penological interest of ensuring that Tsarnaev does not cause harm either inside or outside the prison walls by engaging in forbidden communication with third parties." And the Justice Department then cites several instances where defense attorneys worked with federal officials to amend and clarify the restrictions to make them more palatable to the defense. For this reason, too, they argue, the SAMs aren't punitive or violative of Tsarnaev's due process or first amendment rights. Here is the link to the Justice Department response.
Tsarnaev's Reply
Last week, Tsarnaev's lawyers responded to the government's brief. "The government obviously has no intention of lifting the SAMs and has made clear its position," the defense asserts, so whatever administrative remedies had to be exhausted under the Prison Litigation Reform Act clearly have been exhausted. Besides, they told Judge O'Toole, both he as a sitting judge in a capital case, and they as attorneys representing a capital defendant, are not bound by the requirements Congress has imposed upon prison inmates.
Defense attorneys understood after reading the government's filing that they had to address the "boat writing" issue and they did-- in a most powerful and provocative way. From their Reply:
The government's continuing and repeated references to Mr. Tsarnaev's alleged writings inside of the boat where he was hiding are ironic. On their face, Mr. Tsarnaev's alleged words simply state the motive for his actions, a declaration in anticipation of his own death. There is no express call for others to take up arms.

While the government may view these words as an implied "clarion call" to other would-be radicals (Opp. at 7), it was law enforcement that originally leaked existence of the alleged boat writings to the press and it is the government that continues to broadcast the "clarion" by repeating, emphasizing, and attributing inspirational significance to these words in the SAMs implementation memorandum and public court filings (emphasis added by me).
The defense also responded to the argument made by federal lawyers that the conduct of Tsarnaev's mother justified the impositions of the restrictions on his ability to communicate. From their Reply:
The government's latest characterization of statements to the press by Mr. Tsarnaev's mother just weeks after his arrest as reflecting willingness to be a "mouthpiece" for him in expressing radical views is patently inaccurate.

Mr. Tsarnaev's mother referred to the fact of innocent civilian deaths around the world in the press coverage quoted by the government not as justification for what her sons were alleged to have done but to express her distraught belief at the time that they, too, had become innocent victims of violence. She then went on to play portions of a recorded call with Mr. Tsarnaev concerning his physical recovery and ability to eat.

These actions of a grieving mother in the immediate aftermath of shocking events, thousands of miles away from her dead and wounded sons, have nothing to do with inspiring further violence and do not justify restrictions on Mr. Tsarnaev or his counsel.
The rest of the Tsarnaev Reply last week consists of a forceful argument for why it is unconstitutional for the Justice Department, on behalf of local federal prosecutors, to micromanage communications between a capital defendant and his defense team. "The SAMs were not a product of considered BOP judgment to which deference might be due," they told Judge O' Toole. "Indeed, Fort Devens was getting by without incident for four months before the SAMs appeared." The harm to this defendant's constitutional rights is obvious and concrete, they say, the possibility that this defendant will cause violence"is so theoretical and remote as to be practically non-existent."
Postscript
There is little doubt that restrictive measures are justifiable in certain circumstances involving certain defendants. Although the United States Supreme Court has never directly ruled on the merits of such rules there is little doubt that the Court would endorse them in some fashion. Some prisoners do need to be muzzled. But there is a great deal of doubt that those restrictions are warranted by the circumstances that exist in this case.
Whatever he may be, Dzhokhar Tsarnaev is no Sheik Abdel Rahman, or at least did nothing in the four months before the restrictions were imposed upon him to indicate that he has designs on becoming the leader of a terror conspiracy from his cell. The government says, in essence, that it's better to err on the side of caution, on the side of silence. But the history of this nation's criminal cases tell another story.  We allow even the most despised suspects to have fair trials, aided by fully informed lawyers, who like their clients retain certain core First Amendment rights.
As I said above, the resolution of this issue won't determine Tsarnaev's fate. But the expansion of the use of these measures, and the way it has been justified in this case, ought to trouble anyone and everyone who cares about the balance between the government and the individual in criminal cases. You may have nothing in common with the Boston bombing suspect. But if the feds can bar him from communicating privately and effectively with his attorneys before he is even convicted they one day may be able to prevent you from doing so as well.