Connecting With My Father's Wartime Loss, 70 Years Later
A long-lost letter sheds light on friendships forged among soldiers.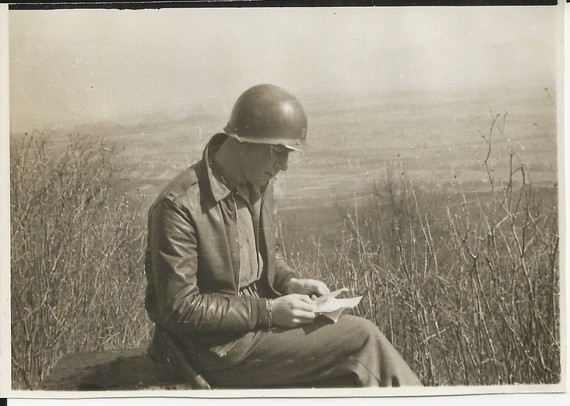 The note arrived from a stranger named Don Gould of Fall River, Massachusetts.
"I am in possession of a letter written many years ago by, I believe, your father," he wrote. He had found it going through his mother's effects after her death and had no clue how she had come to possess it. He tracked me down through an online search. My first thought was this Mr. Gould was a long-lost half brother, but that was not the case.
Attached were two immaculately preserved sheets of onion-skin carbon paper, filled to the outer margins with dense black type and my father's name at the end. The letter, dated December 1, 1943, was dispatched from "somewhere in Italy," and addressed to "My Dear Mr. & Mrs. Gregson." Its purpose was evident from the opening sentence.
"I've been a long time writing this, first because I wanted letters from the War Department to precede this one, and secondly because I just didn't know what to say or how to say it. I'm sure you'll understand what I mean."
What followed was a vivid account of my father's friendship with the Gregsons' son John, a fellow officer tapped to take part in the "Big Show," the Allies' first amphibious landing in Europe nine months before D-Day. "From the time we left Camp Stewart, and during our stay in North Africa, we became close friends," my father wrote. The two men from Western Pennsylvania "chummed around continuously … sharing the same tent and the same room on the ship" that would transport them from Tripoli to the heel of Italy's coast in early September, 1943, part of what the Army would call Operation Avalanche.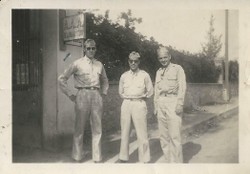 The voyage "was very pleasant," my father wrote the Gregsons. "We realized what might be in store, but our spirits remained high and no thoughts of danger ever entered the picture. It was more or less a fatalistic attitude."
Italy had surrendered to the Allies on September 8, but German troops remained in full force the next day when the 450-ship convoy carrying my dad and Gregson hit the beach near Salerno. Intense fighting ensued for several weeks, with U.S. and British troops capturing the Port of Naples on October 1, placing southern Italy firmly in Allied hands.
My father had a few stock war stories—including run-ins with Generals Patton and Eisenhower, and a velvet-lined box that once held his Purple Heart. But he had never shared with my family the sort of blow-by-blow descriptions he sent the Gregsons.
"John and I were assigned to the same assault boat," he wrote. "It was still dark when we landed and the welcome was none too friendly. We managed to make our way inland, but not too far as the firing was quite heavy.  Since we weren't able to carry out our original mission onshore, John and I helped the anti-aircraft troops set up a gun which later got credit for knocking out two enemy tanks and chasing back several snipers."
By mid-day their assignments split—my dad proceeded inland, while John went up the beach to check on anti-aircraft troops. When my father returned three hours later no one had news from Gregson. Darkness came and my father gathered his friend's equipment and kept it close.
"The next day, with still no sign of John, I checked with the Graves Registration section, but I was afraid to do that, more afraid than I've ever been of anything," he wrote. He found Gregson's grave the following day. A chaplain assured him that his body had not been mutilated and that he'd probably been hit by sniper fire. Weeks later, the memory of his friend still hovered. "Frequently, as we sit in our tent at night one of us will remark, 'I'd give my right arm to see Greg walk in right now'—that's what we all thought of him."
Growing up in the 1960s, I was enthralled with World War II adventures, watching "Combat" and "The Gallant Men" on TV, wearing a plastic camouflage helmet to dinner and making my mother serve me ice cream in a tin can so I could feel the metallic effect of spooning my dessert like it was hard tack eaten in a bunker, my trusty Hasbro M-1 rifle by my side. I used to pore over my father's Army scrapbooks, with photos of him and his buddies in all sorts of poses, including a batch taken in German uniforms, marching in goose step and giving their best Nazi glares.
I never heard my father mention the name John Gregson—he played no part in our family's narrative. But as I reached the end of the letter, I realized I might, as a child, have been touching a piece of the Gregson legacy all along.
"In helping to collect his equipment," my father wrote to the Gregsons,
"I held back one item. John had a camera which, with your permission I'd either like to purchase or use until after the war, and return to you personally." I'd never considered the camera that had to produce those scrapbook snaps I'd loved. Had it been Gregson's?
I called Mr. Gould to thank him for this time capsule. We were both left to wonder how his mother had come into my father's sympathy letter and why she kept it so perfectly for nearly 70 years. Was she a friend of my dad's? The girl Lieutenant Gregson left behind?
Mr. Gould sent me a microfiche copy of an article from the Wellsboro, PA Gazette dated Dec. 30, 1943, with a front-page story headlined, "Lieut. John Gregson With First Assault Troops in Italy Killed on Scouting Mission."
My father died in 2010. I'll never know if he made the trip from Pittsburgh to return John's camera to his parents in Wellsboro. But I now know a dimension of him I rarely saw while he was alive, and which may only truly be understood by those who've served in wartime: What can those of us who never had to face our own "Operation Avalanche" ever truly know of the bonds and turning points forged from that experience? That my father's letter raised more questions than it answered seems appropriate.
"This letter has been very hard for me to write, but I hope it's what you want to know," he wrote to Mr. & Mrs. Gregson. "I close by passing on the deepest sentiments of all of us and say that your grievance is ours. Respectfully, Captain Milton Ripp."