Are Today's Cops Too Quick to Shoot?
When unarmed civilians are killed, questions arise over how law enforcement officers are trained to deploy deadly force.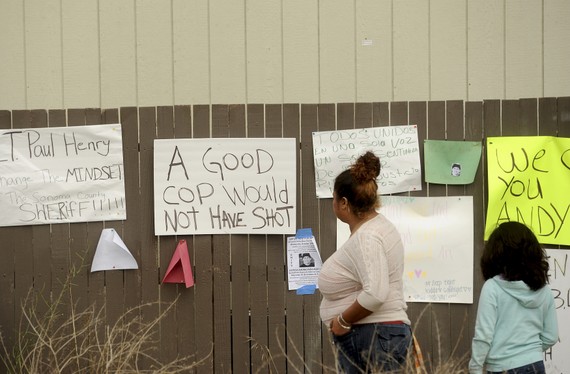 "The deputy's mindset was that he was fearful that he was going to be shot," said Santa Rosa Police Lt. Paul Henry in a news conference, after a Sonoma County Sheriff's deputy shot and killed 13-year-old Andy Lopez, who was carrying a pellet rifle in northern California late last month. According to the Sheriff's department, two deputies first saw the boy holding the plastic gun that resembled an assault rifle on a routine midday round. Federal law requires replica guns to have an orange tip, but the toy rifle Lopez held was missing one. The deputies kneeled behind their patrol car's doors and shouted to get his attention. As Lopez turned in response, Deputy Erick Gelhaus fired his weapon, hitting Lopez seven times and killing him at the scene.
A teenager holding what appears to be an AK-47 may very well be an alarming visual, and a regular citizen would understandably be frightened and react accordingly. The question now being asked, however, is whether Gelhaus, a 24-year veteran of the Sheriff's office, a firearms training expert, and a uniformed law enforcement officer entrusted with a gun, should have proceeded with greater caution.
Andy Lopez's death grabbed national headlines and left a community dazed and in despair, with hundreds rallying in front of the Sheriff's headquarters in Santa Rosa on Tuesday. The uproar surrounding the tragic death of a young teen is likely what prompted the FBI to launch an investigation into the incident, a review that is very rarely afforded to police officer-involved shootings. Andy Lopez is hardly the first unsuspecting civilian to die at the hands of an officer in uniform, and given the culture of police camaraderie and the protections often furnished to law enforcement officials in use-of-force incidents, he will likely not be the last.
Police-involved shootings and use-of-force incidents are on the rise in cities all across the nation—everywhere from Los Angeles to Las Vegas to Milwaukee. In some cases, the growth is striking. In Philadelphia, for example, shootings by police officers rose to the highest level in a decade in 2012, despite the decline in violent crime. It's hard to know how to interpret the differences in data from year to year: factors like underreported data in previous years and the dearth of national data of civilian deaths by police must be considered.
But police officers who don't hesitate to draw their guns and shoot in a pinch can be found in cities all over the U.S., as recent cases have shown. Even before Lopez's death, the issue was in the public eye. In the frenzy of the Christopher Dorner pursuit, LAPD officers mistakenly opened fire on a truck that didn't at all match the description of the vehicle in question.The two innocent women inside, who were carrying newspapers, were injured from the gun shots and broken glass. Last month, an unarmed man named Jonathan Ferrell was shot to death by police officers in North Carolina while he sought help after being injured in a car crash. Also in September, an unarmed mother in a vehicle on Capitol Hill was fatally shot by DC police after ramming a security checkpoint and striking a Secret Service officer with her car.
The Feds have taken notice. In Las Vegas, for example, following an investigative series on the LVPD by the Las Vegas Review Journal, the Department of Justice conducted a federal civil rights probe, necessitated by "the lack of accountability" in the department. The DOJ cited inconsistent training and tactical errors amongst the 75 findings and recommendations it issued.
Groups like the Stolen Lives Project and the National Police Accountability Project (NPAP), an undertaking of the National Lawyers Guild, are working to demonstrate that this "lack of accountability" isn't unique to cities like Las Vegas. Members of the Stolen Lives project collect and document news and information about people, like Ramarley Graham from the Bronx, who they feel lost their lives to police officers' abuse of authority and use of excessive or unwarranted deadly force. Graham, an unarmed 18 year old who was gunned down by NYPD officers who followed him into his parents' home and shot him at close range, is one of the 21 documented people killed by the NYPD last year. The groups raise questions about underreported or overlooked cases of police brutality, and stress that police misconduct is going unchecked by the justice system.
One question such groups are increasingly posing is whether the lack of consequences for officers involved fatal shootings may be sending the wrong message to future law enforcement agents. Officers who fatally shoot a suspect or even an unarmed civilian are overwhelmingly cleared of wrongdoing following a standard internal investigation of the incident. In New York, for example, no on-duty officer has been indicted for such a shooting since 2007. In Las Vegas, while an investigation found that many of the 378 shootings since 1990 could have actually been avoided, they have each been deemed justified, and no officer has ever been fired because of an on-duty shooting. In Los Angeles, even where the police department has been operating under external oversight, in almost all of the 90 incidents of weapons being fired in a three-year span, the Police Chief found that the officers involved acted appropriately. Normal procedure for police departments usually dictates that an officer involved in a shooting is suspended, sometimes with pay, while an investigation is ongoing. In most cases, the officer returns to duty after the suspension.
Attorney David Robinson, a former Detroit city police officer, has batted for both teams—first defending police officers against allegations of unlawful use of force, and now litigating against police officers in misconduct cases in state and federal court. "When the police investigate their own," he says, "there is a 'blue sympathy'—a tendency to see things in a blue hue. When a police officer says, 'I feared for my life', it has a certain resonance that automatically implies that it must have happened the way that officer said it did." Arnoldo Casillas, the attorney representing the family of Andy Lopez, expanded on the camaraderie, saying, "these guys know that their own department is going to rally behind them, they're going to round up the wagons around them to protect them, and they know that their version [of the story] is going to be viewed a little bit uncritically... It is, for all intents and purposes, a blanket immunity." Santa Rosa Police Lt. Paul Henry was confident that the Sherriff's Department and the Police Department were following long established protocol in their investigations. "We will be identifying and interviewing witnesses, collecting physical evidence, examining that evidence and we have interviewed the deputies," said Henry. "I would expect that our investigation will take somewhere between two and three months to complete. Once we finish, we will forward our report and our investigation to the Sonoma County District Attorney's office and they'll review it and make a determination on what, if any, criminal charges are going to be filed." Henry also said that apart from the independent Santa Rosa Police Department's criminal investigation of the incident, the Sherriff's Department is conducting an internal affairs investigation. "So there are two completely separate, completely autonomous investigations."
Officers are not trained to shoot to wound, as opposed to kill; instead they are taught to aim for the chest, where chance of contact is high. It just so happens that bullets to the chest often result in a fatality. The law also bolsters officers' personal judgment as they are "entitled to use whatever force is reasonably necessary." "If an officer feels threatened, of course he can use force," Robinson said. Whether force is necessary could be up to the officer in the confrontation and is grounded in his perception of the potential threat. "But an officer who creates the threat"—i.e. through needlessly escalating a situation—"can not turn around and justify the use of force when he has created the threat." That is where things get dicey. Manufactured threats do not justify use of force, but the circumstances in which that threat appeared may be defined by the officer.
While law enforcement agencies have their own use-of-force policies, they are usually guided by a Justice Department policy that allows officers to use deadly force when there is "a reasonable belief that the subject of such force poses an imminent danger of death or serious physical injury." But there's plenty of room for individuals to disagree about what constitutes "reasonable belief." To secure legal safeguards within this framework, an officer's account of the confrontation is crucial. In the event of the Lopez shooting, the story provided to the press by the two deputies in question conflicts with multiple eyewitness reports stating that deputies shouted from the vehicle and fired immediately after getting out of the vehicle.
Standard training procedures are being dragged into the limelight as well, however. In the wake of a messy shooting where NYPD cops injured bystanders in a teeming Times Square, experts examined the need for reforms in weaponry and training for officers assigned to high traffic neighborhoods. Independent studies in both Tennessee and Missouri pressed the need for reforms in use-of-force training as well, indicating that good training should reduce "the number of shootings that didn't need to happen." Proposals were made for officers to be trained in de-escalation techniques and crisis management in addition to use of force training. Recommendations for reform included better methods for dealing with mentally ill suspects. Two incidents where LAPD officers flagrantly shot at and killed unarmed civilians who were autistic demonstrated the dire need for such additions in police training. Stressing the need for more public accountability, suggestions have been made that investigations of use-of-force incidents should be more transparent.
The environment, culture and infrastructure of law enforcement fosters a high level of trust among the clan, and minimizes fear of retribution for officers who draw their weapons. "While it's often the case, a police officer is not ever going to write in a report, 'I was scared'," says Robinson."It's always going to be, 'I feared for my life', because that's the magic language. But a police officer is a human being first, and he gets scared when he goes down dark alleys just like you and me." The difference is that the officer is equipped with a gun. And when he's scared, he's legally allowed to use it.