5 Questions for Federal Prisons Chief When He Comes to Capitol Hill
Senators should demand that Charles Samuels account for the federal system's mistreatment of mentally ill inmates.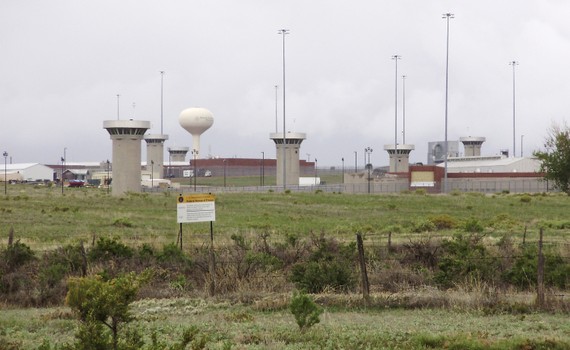 The Senate Judiciary Committee welcomes back to Capitol Hill tomorrow morning Charles Samuels, the director of the Bureau of Prisons, for a hearing about "cost-effective strategies for reducing recidivism." (Spoiler alert: Start by providing adequate mental health care for inmates). This means that the lawmakers will have the opportunity to seek face-to-face answers from a man who has direct control over the lives of about 200,000 people and yet who is among the least accountable in all of government.
The last time Samuels came before Congress in public, in June 2012, he delivered a long statement defending the BOP's policies and practices of solitary confinement. "Inmate safety and well being is of the utmost importance to the Bureau," he said, before explaining why it is necessary to lock up federal prisoners in isolation for long periods. Pressed to acknowledge the substantial constitutional questions raised about the abuse and neglect of mentally ill prisoners in federal custody, Samuels tried to reassure lawmakers that there were enough mental health experts in prisons offering enough mental health care to alleviate the problem.
In the 17 months since that appearance, however, the problem of the BOP's mistreatment of mentally ill prisoners has not gone away. In fact, from the government's perspective (and from the perspective of the inmates) you could argue it has gotten worse. Two civil rights lawsuits filed in Colorado alleging systematic abuse at ADX-Florence, the "Supermax" facility that houses some of the nation's most notorious prisoners, are now proceeding toward discovery and trial. Prison officials there soon will be deposed, forced to testify under oath and to release documents shedding light on the deplorable treatment of inmates.
In  a perfect world, under the rubric of "cost-effective strategies for reducing recidivism," Samuels would be pressed by federal lawmakers in public tomorrow to explain how it is "cost-effective" for federal prisons to 1) cause inmates to become mentally ill and then 2) not adequately treat those inmates. Alas, we do not live in a perfect world. I've asked two members of the Senate Judiciary Committee to pass along the following questions to Samuels but I don't have much confidence this will happen. I fear instead that tomorrow's hearing will be another beauty pageant, where the director says all the pretty little things lawmakers want to hear without candidly addressing the critical reforms that must come to the Bureau of Prisons.
If I were on Capitol Hill tomorrow, sitting across the room with the BOP director, here are five of the questions I would ask him:
There have been at least two suicides at ADX-Florence/Supermax since 2010—Jose Martin Vega and Robert Gerald Knott. In both instances, the local coroner, to whom the bodies were transferred post-mortem, revealed that the men were shackled after they killed themselves and before they left the prison. Is it BOP policy to shackle dead inmates before they leave prison? If not, what has the BOP done about ADX-Florence's policy to the contrary. If so, can the BOP explain why this policy is necessary and/or justified?
 
BOP policy precludes the placement of mentally ill prisoners at ADX-Florence. And yet mentally ill prisoners are routinely placed there—and then deprived, because of other policies, from getting psychotropic medicine while they are there. The inmates who have been treated in this fashion include Jose Martin Vega, who hanged himself in 2010, Jack Powers, Harold Cunningham, Ernest Shaifer and at least five other inmates. Can the BOP explain or justify why officials at ADX-Florence appear to be violating BOP policy with respect to these inmates?
 
In 2012 you testified on Capitol Hill that the Bureau of Prisons had not studied the effects of isolation on prisoners' mental health. What, specifically, have you done since then to learn about this subject? What books or reports or studies have you read? Which experts have you talked to?
 
In 2012, there were reportedly only two mental health professionals, both psychologists, responsible for approximately 450 inmates at ADX-Florence in Colorado. How many mental health professionals—doctors—currently work at ADX? More than two? What other specific steps has the BOP taken since 2012 to address the mental health of inmates there? How many more (or fewer) mental health specialists are currently employed by the BOP compared with June 2012?
 
Are you concerned about people with untreated mental illness being released from the ADX directly into the community? If not, why not? If so, what specifically are you doing to address the dangers you perceive in releasing mentally ill inmates back into neighborhoods and communities?
I will let you know tomorrow if any of these questions are asked, or answered, when Director Samuels testifies on Capitol Hill.