12,000 Days Later, Texas Still Won't Release Jerry Hartfield From Custody
In 1980, the Texas courts determined that Hartfield deserved a new trial. Instead, he got another 33 years in prison without a valid conviction. Today, state lawyers still say he merits no relief.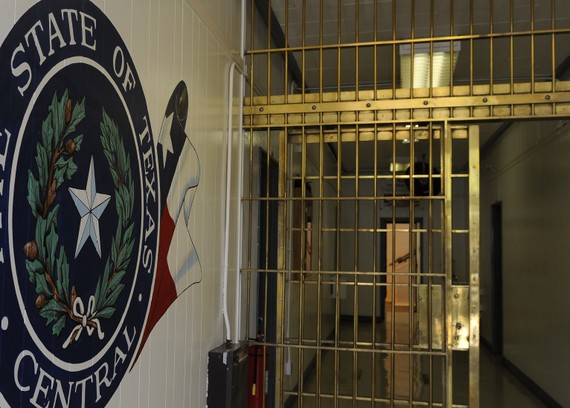 You may or may not remember the remarkable story of Jerry Hartfield. He is the Texas man who has been languishing in prison now for nearly 12,000 days—more than 33 years—even though his murder conviction and life sentence were overturned and a new trial was ordered in his case in 1980. He is the man who fell through the cracks of a justice system still struggling to rectify its monumental error—and who is still falling.
In June, the Texas Court of Criminal Appeals, with a great deal of prodding from the federal courts, confirmed that Hartfield was currently in custody for no good reason—under penalty of no "conviction or sentence," the state judges ruled. And yet he still has not been released. Instead, prosecutors intend to retry him and are fighting to keep him in prison pending that retrial. What kind of trial? A trial at which there is likely to be precious little physical evidence against the defendant because, his attorneys say, it may have been lost over time.
Facing a retrial he could win, Hartfield says he is entitled to get help now, today, because his constitutional right to a speedy trial has long since been violated. If the Sixth Amendment means anything anymore, the defense says, it means that the state must try a man at some point before he has spent a third of a century behind bars for no legitimate reason. He should be immediately released from custody, they say, even if prosecutors want to re-try him for a murder they say he committed in 1977.
Texas cannot—and thankfully does not—dispute that Hartfield has a right to argue that his speedy trial right has been violated. But state lawyers are blocking an immediate review of that issue by arguing that the must make his claim by filing a regular motion in his newly pending retrial case—and that he cannot appeal such a ruling until after that retrial. Having been chastised in this case by the state's highest criminal court, that is to say, Texas wants to make Hartfield wait another year or two before he gets to even ask a higher court to be freed.
In its new court filings, the state cites case after case for the proposition that Hartfield's lawyers have made the wrong procedural path to help their client. But there is no case in Texas—or evidently anywhere else—that any lawyer has cited that even remotely tracks the egregious facts of this case. Texas has screwed up so royally, has so long violated the constitutional rights of this man, that there is literally no dispositive legal precedent state lawyers can cite to help them justify his continuing confinement.
On Tuesday, nearly six months after the highest criminal court in Texas acknowledged the wrong done to Hartfield, there will be a hearing in the case held by the trial judge who presumably will write the next chapter of this sad story. Eventually he will issue a ruling, which the losing side then will appeal, which will generate a new round of briefing and many more months (or even years) of delay. And every new day this man spends in custody pending his retrial, every new day the state lags in remedying this manifest error, represents a new violation of law.
If Jerry Hartfield were a rich man, or a white man, or a savvy man, or a man living near the nation's media centers, he long ago would have become an international cause celebre. There would be public protests and earnest letters to Texas officials from civil libertarians and concerned politicians. There would be emergency federal court motions. There would be television coverage. There would be a constant clamoring to fix this mistake. Hartfield now is 57 years old and had his original sentence been upheld he could have been paroled by now.
But Jerry Hartfield is a poor man, a black man, a man with an IQ once registered at 51, and he is stuck in the middle of a criminal justice system in a state that still can be medieval in its treatment of such men. And so the same authority that has imprisoned him unlawfully for 33 years can argue in court with a straight face that the Texas Court of Criminal Appeals didn't mean what it wrote when it wrote that Hartfield could seek the relief he has requested in the manner in which his attorneys have chosen.