When Halloween Means a Personal Visit From the Police
Registered sex offenders are subject to special rules on Halloween night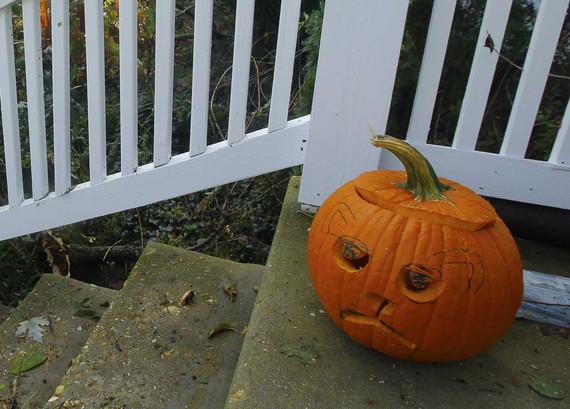 On October 31, a dark, undecorated house might be a sign of folks who just aren't into Halloween. But the house might also belong to someone who isn't allowed to participate in the holiday. A growing number of states are making Halloween particularly tricky for registered sex offenders. Whether through legislation or heightened surveillance, individuals with the "sex offender" label may be banned from decorating their houses, answering the knocks of trick-or-treaters, or even being at a residence where candy is handed out. Some states, including Missouri, North Carolina, Ohio, Tennessee and Texas, place specific restrictions on all registered sex offenders, while others, like Florida and Georgia, only target offenders on parole or in conditional release programs.
In Maryland, registered offenders receive flyers in the mail with jack-o-lantern illustrations and the words "No candy at this residence," which they are required to post on their front doors.
Virginia keeps its paroled sex offenders away from trick-or-treaters by holding mandatory "educational sessions" and drug and alcohol screenings on Halloween night.
In Nevada, this is the 9th year of "Operation Scarecrow," where Halloween decorations, handing out candy, and even having the porch light on during certain hours are all "direct violations" for sex offenders.  Public Safety officers visit as many sex offender residences as they can during the evening.
Similarly, in California, "Operation Boo" is enforced by officials conducting unannounced Halloween night checkups to make sure that offenders are inside their homes without porch lights on.
2013 is the first year that such a law has existed in Illinois, where it is now illegal for child sex offenders "to participate in a holiday event involving children under 18 years of age, including but not limited to distributing candy or other items to children on Halloween."
On an occasion that is probably scarier for parents of young children than anyone else—what if a drunk driver plows through as my child crosses the street in the dark? (A valid concern) What if someone's handing out poisoned candy? (Less valid, but scary nonetheless)—these policies ostensibly relieve at least one worry: that a neighborhood sex offender will somehow use the holiday to prey upon children. But it's also not clear this worry is well-founded, as there are few records of attacks or kidnappings by sex offenders, or anyone else, on October 31 of any year. Elizabeth Letourneau of the Medical University of South Carolina is often quoted talking about her 2009 study, "How Safe Are Trick-or-Treaters? An Analysis of Child Sex Crime Rates on Halloween," saying "We almost called this paper 'Halloween: The Safest Day of the Year' because it was just so incredibly rare to see anything happen on that day."
Psychotherapist Andrew Extein, writing in the Huffington Post last week, re-stated this idea in his broader take-down of states' Halloween sex offender treatment:
The reality is that there has never been a recorded case of abuse or abduction by a registered sex offender on Halloween. Most offenders already comply with strict parole and registration requirements, and many are constantly tracked with GPS monitors. A large number of registrants who are forced to comply with Halloween restrictions have never been charged with offenses against children.
The ACLU unsuccessfully challenged Missouri's law restricting the activities of sex offenders on Halloween in 2008. "I think it's kind of silly that people are raising the constitutional right of people to hand out candy on Halloween," the AP reported then-Missouri state senator John Loudon saying at the time, responding to the ACLU's argument that the law could single out sex offenders as defenseless targets for Halloween mischief, or leave offenders confused about whether or not they are allowed to help their own children with their costumes.
Clearly lawmakers in other states agree with him. Only time will tell whether challenges will be brought in those states as well.