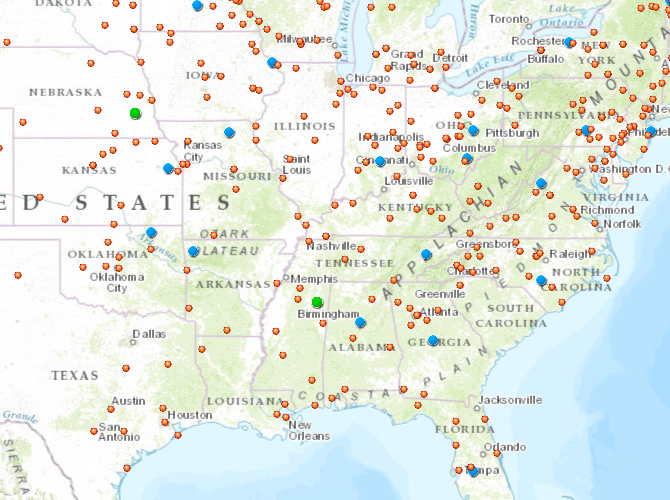 We continue to highlight the best responses to our question of where to travel for American Futures. Today, readers tell us about towns in Mississippi, Colorado, and Nebraska. 
The image above is a screenshot of the interactive map you will find on our Geoblog. Green dots represent the cities discussed today; blue dots are previously featured cities, and red dots illustrate the hundreds of other suggestions from readers. 
Tupelo

, MS

 (2010 population: 34,546)
Tupelo

 is a Mississippi rarity—fairly progressive with a rich past that's surprisingly lacking in racial conflict. It's a pretty place in the northeastern part of the state. Its downtown is sort of gentrifying and is, if not thriving, at least hanging in there. At the same time, 

Tupelo

 is fighting the typical battle of white middle-class flight to the surrounding smaller towns. Despite that, there's a pace and style of life to the place that draws people in and holds them there.
Salida, CO (2010 population: 5,236)
Salida's an old railroad and mill town that is successfully transitioning into a center for arts and crafts. Its old Victorian-era downtown is being restored as many of the previously vacant and derelict buildings now house galleries, shops, bookstores, restaurants and bars, many of which have apartments on the upper floors. An old utility plant on the river has been turned into a performing arts facility. There's a local independent radio station (KHEN) with much local volunteer programming. The Cirrus can enjoy Harriet Alexander Field on the west side of town. 
Lincoln

, NE

 (2010 population: 258,379)
The city surprises me with its increasing diversity, just drive down 27th street and marvel at the wide variety of ethnic foods available in this capital of corn. This is a booming, vibrant city. Plus if you've never been to the Nebraska state capital building, do so; its a gorgeous art deco masterpiece filled with mosaics and murals. Puts every other state capital building to shame.
And:
 

Is 

Lincoln

 utopia? I've just moved back after attending college here 8 years ago and it's so much cooler than I remember: art, music, bicycles, organic veggies, other queer people. It's recently been named to a number of lists like "happiest and healthiest city in America." I'm normally skeptical of those kinds of ratings, but I believe it could actually be true in this case. I moved here and instantly had job offers with a $20,000 income increase. It's almost eerie how much better life is here.

It's also not as white as you'd think. I heard recently that 7% or 8% of the 

Lincoln

 population are immigrants/refugees. Now that's interesting.
We want to hear what you think about this article. Submit a letter to the editor or write to letters@theatlantic.com.
James Fallows
is a staff writer at
The Atlantic
and has written for the magazine since the late 1970s. He has reported extensively from outside the United States and once worked as President Jimmy Carter's chief speechwriter. He and his wife,
Deborah Fallows
, are the authors of the 2018 book
Our Towns: A 100,000-Mile Journey Into the Heart of America
, which was a national best seller and is the basis of a forthcoming HBO documentary.