Want a Fair Trial? Pay for Your Own Lawyer
White and black, rich and poor, different standards in different states — what two high-profile cases show about uneven justice in America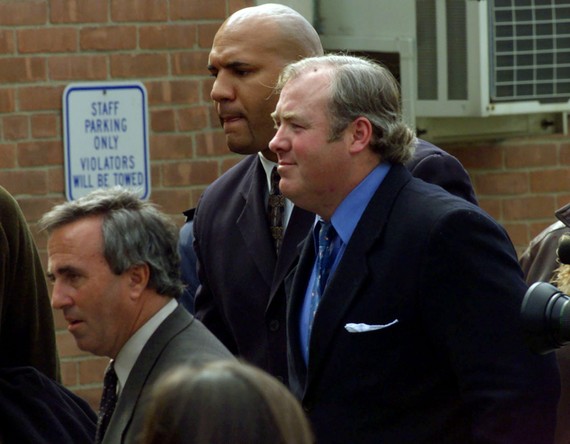 Earlier this week, a Connecticut judge overturned the conviction of Michael Skakel, a nephew of Ethel Kennedy, who was convicted in 2002 of murdering a young women named Martha Moxley in 1975. Skakel deserves a new trial, the state judge concluded, because his trial lawyer, Mickey Sherman, had failed to provide him with adequate representation. Here is the link to the lengthy court order.
Earlier this month, the Supreme Court of New Jersey refused to overturn the conviction of Terrence Miller, a nephew of no one rich and famous, who was convicted of drug charges in 2007. Miller did not deserve a new trial, the majority concluded, even though his court-appointed trial attorney did not meet the defendant until the day of trial, knew nothing about the evidence or witnesses against him, and had not tried a criminal case in seven years. Here is the link to The Atlantic's coverage of the Miller case.
In the Skakel case, which involved a white defendant who was able to afford his own counsel, the court ultimately engaged in a searing evaluation of Sherman's work on behalf of his client.  Even though the lawyer was actively involved in representing Skakel, even though he was present and engaged in the case, the court concluded that Sherman failed in several different material ways to properly defend the client.
"The defense of a serious felony prosecution requires attention to detail, an energetic investigation and a coherent plan of defense capable executed," Connecticut Superior Court Judge Thomas Bishop wrote near the end of a 136-page memorandum order. "Trial counsel's failures in each of these areas of representation were significant and, ultimately, fatal to a constitutionally adequate defense."
In the Miller case, which involved a black defendant who was indigent, the court engaged in no such searing review. Even though Miller's trial judge should have delayed the trial to allow court-appointed counsel to prepare a defense, the New Jersey justices declared, that trial judge did not "abuse his discretion" when he refused to do so. Never mind "an energetic investigation and a coherent plan of defense capable executed," which obviously never occurred in the Miller case, the New Jersey justices decided that a lawyer didn't even need to have a "rapport" with his client to adequately represent him.
It is impossible to square the results of Skakel and Miller. But there are several factors that help explain them. The difference between rich and poor justice explain them. So does the difference between black and white. And Connecticut's definition of "adequate representation" clearly is different from the standard of "adequate representation" in New Jersey. The problem is that when it comes to Sixth Amendment fair trial rights for criminal defendants, there are supposed to be national standards, constitutional norms, below which no state can go. Ultimately, it's the United States Supreme Court that is responsible for this unequal justice.
For some context and perspective, I asked Stephen Bright, a lecturer at Yale Law School who is one of the nation's foremost experts on the right to counsel and indigent defense. Explain how two such contradictory rulings could come to be, I asked. Here's how he responded:
These two decisions confirm what Justice [Thurgood] Marshall predicted in Strickland v. Washington, the case that set the standard for determining whether a defendant received effective assistance of counsel – reasonably effective counsel under prevailing professional norms. He said it is "so malleable that, in practice, it will either have no grip at all or will yield excessive variation in the manner in which the Sixth Amendment is interpreted and applied by different courts." Remarkably, Justice Marshall, the only member of the Court who had ever tried a case, was the sole dissenter in Strickland. 

Marshall also criticized the majority for adopting presumptions of competence as the starting point for deciding an ineffectiveness claim.  No matter how incompetent the lawyer, the Court decreed that "counsel is strongly presumed to have rendered adequate assistance," and, no matter how clueless, the lawyer is presumed to have "made all significant decisions in the exercise of reasonable professional judgment." These presumptions very often have no relation to reality, but they help mask incompetence.

Justice Marshall also criticized the majority for requiring that even upon a showing of deficient performance, the defendant must show prejudice, that is that "there is a reasonable probability that, but for counsel's unprofessional errors, the result of the proceeding would have been different."  This basically lets a court shrug off even the most egregious incompetence of a lawyer by saying that the outcome would not have been any different if the defendant had been represented by a competent lawyer ...

Given how malleable the standard is and the subjective judgment of whether incompetence made a difference, race and class come into play in how judges decide ineffectiveness claims.
Here's what Bright had to say specifically about Miller:
In Terrence Miller, the majority focuses primarily on the judge's discretion to grant or deny the continuance – and applies a balancing test and decides it was not an abuse of discretion, even though judges should not do it in the future – and then on whether prejudice should be presumed.   It should have been, but the Supreme Court prohibited presuming prejudice in such situations in United States v. Cronic, 466 U.S. 648 (1984).

In Cronic, the Court said prejudice could not be presumed even in a case where the government spent 4 ½ years putting its case together, charged Cronic with 13 counts  of  check  kiting in a case that involved thousands of documents;  Cronic was assigned a young, real estate lawyer, who had never tried a case, and was given 25 days to prepare for trial.  This decision is as outrageous as Strickland.  Once the judges in Miller get past that, they find it an uncomplicated case that would have come out the same way even if counsel had ample time to prepare.
And here was his analysis on Skakel:
In Michael Skakel, the judge engaged in the facts of the case, what the lawyer did and didn't do, what could have been done and what difference it made.  This is of course the opinion of just one Superior Court judge.  Some members of the Connecticut Supreme Court may see it differently and Strickland gives them free rein to come out wherever they want.

With regard to the justice of rich and poor, compare the Supreme Court's decision in Morris v. Slappy, in which the Supreme Court, much like the NJ court in Miller, upheld substituting one public defender for another at the last minute over the objection of Slappy (and the lawyer instead of supporting Slappy, said that he was ready for trial, leaving Slappy with no counsel at all on the most important issue, his right to counsel) with United States v. Gonzalez-Lopez, where a defendant who had retained counsel was erroneously denied that lawyer at trial.  The Court holds that the case must be reversed because of the denial of counsel, but states that its decision does not apply in the cases of poor defendants like Slappy.

Public defenders are fungible; retained lawyers are not.