Understanding the Strength of Capitol Hill's Security Team
The Capitol Police force was tested Thursday, giving chase to a driver who ran into a security checkpoint and hit an officer. But after years of handling similar, and more deadly, emergency situations, the force was well-prepared.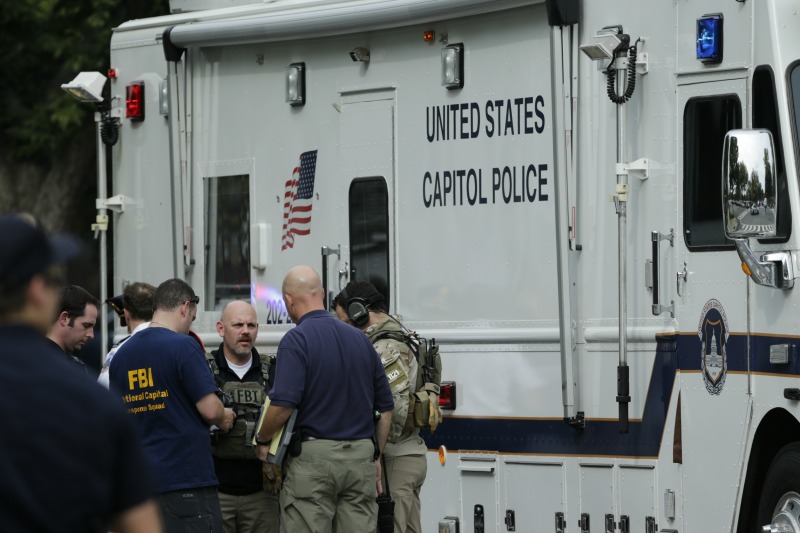 Security at the U.S. Capitol was tested on Thursday, but it was certainly not the first time.
As recently as three weeks ago, when 13 people were killed in shootings at the Navy Yard just blocks away, Congress was put in lockdown and the chambers recessed as a precautionary measure.
Indeed, the Capitol has been substantially hardened against attacks and other emergency situations since a 1998 shooting inside the building and the Sept. 11, 2001, terrorist attacks.
Security systems and processes—such as magnetometers to detect metal objects—are now in place at building entrances, and emergency evacuation measures are in place for the complex. Systems are also in place to safeguard electronic communications for Congress, and relocation drills are held regularly. Mail-screening processes have been moved to off-site locations to thwart the use of regular mail to deliver deadly chemicals.
Security personnel have also been increased. At the time of the 1998 shooting, there were about 1,200 Capitol Police officers. At the time of the Navy Yard shooting last month, the force included 1,724 sworn officers (plus 353 civilian staffers), some equipped with more-powerful high-caliber weapons, night-vision capabilities, and better gear to protect themselves from bullets.
In the 1998 attack, a lone gunman with a history of mental illness entered a first-floor entrance of the Capitol with tourists, then burst through a security checkpoint, shot and killed two officers, and bolted into nearby offices of then-House Republican Whip Tom DeLay. The rampage by Russell Weston Jr. jarred Congress to tighten security for the Capitol and surrounding areas.
As late as the 1990s, the area in and around the Capitol resembled a college campus or park, with much of that feeling owed to the redesign by renowned architect Frederick Law Olmsted in the 1870s. But today, the Capitol complex that includes the House and Senate office buildings, and the nearby Supreme Court and Library of Congress, has become a labyrinth of jersey barriers, blocked-off streets and building entrances, and traffic checkpoints. The security even extends underground. The Capitol Visitor Center, constructed and officially opened in December 2008 under the East Front plaza, now serves as the security screening funnel for visitors to the Capitol.
Of course, Weston's attack—and the failed targeting of the Capitol on 9/11—certainly weren't the only times in history that violence has threatened the building. In 1814, British forces set fire to the Capitol. In 1835, President Jackson was almost assassinated outside the Capitol rotunda. And in 1954, four Puerto Rican nationalists wounded five lawmakers when they fired guns from the visitors' gallery above the House floor.