A week ago at this time, my wife and I were in Eastport, Maine -- and I was flying the hour-long ferry route down to Portland, Maine, to pick up Kai Ryssdal of Marketplace and his engineer, Brendan Willard, and take them back to Eastport.
That day along the coast of Maine was clear but very windy. When I was coming into Portland, by myself, that was no problem. The runways there are big, one was aligned with the wind, and I could sink very smoothly toward a "have we touched down yet? I didn't feel anything" landing. Of course that was with no one else aboard to witness it and no cameras running.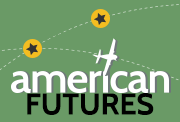 Reinvention and resilience across the nation
Read more
It was a different story back in Eastport. The wind was getting stronger and gustier, it was a little off the alignment of the (only) runway, and -- the biggest challenge -- the Eastport airport has no weather-reporting equipment to let you know before landing the wind's direction and strength and (if you were on an instrument approach) how high the ceiling was.
The videos below show our approach to Eastport, from two perspectives. The first is from inside the cockpit, filmed by Marketplace's Brendan Willard in the back seat. The chatter you'll hear between Kai Ryssdal and me has to do with the in-cockpit readings we got a few minutes before landing, showing that the crosswind at 3000' altitude was more than 50 knots, which is very strong. We could tell -- by looking at the ocean surface, at the trees, at flags -- that it was nowhere near that strong at ground level. That was good in preparing for a landing, since we would never have tried to land in a 50-knot wind. But it was bad in that it guaranteed "wind shear," or an abrupt change in wind velocity and/or direction, somewhere between 3000 feet and ground level.