Let's step away from the nightmares of national government to the successes, or at least the innovations and attempted improvements, at the local and regional level.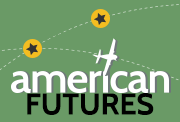 Reinvention and resilience across the nation
Read more
For these past two weeks my wife and I have been in San Diego, first for the Atlantic Meets the Pacific conference (which this year concentrated on neuroscience,  cancer research, and other life-sciences topics) and then for a stay at UC San Diego's IR/PS, its Graduate School of International Relations and Pacific Studies.*  This was a planned furlough from our American Futures journey, which resumes in Maine next week -- but inevitably it reminded us of two issues we keep running into as we travel.
The first, of course, involves beer. Everyone knows about the incredible craft brew renaissance / explosion in the San Diego area. In addition to the places that non-Californian drinkers might have heard of -- Stone, Ballast Point, Green Flash, Mission, Ale Smith, Coronado, etc -- new brewpubs seem to be opening up all the time, often in industrial-warehouse buildings. This past week we went with an (over-age-21) contingent of UCSD  IR/PS students to a nice industrial-zone brewery called Rough Draft.