The F-35 Fighter Jet Program Has Precisely 719 Problems
That sure sounds like a lot, particularly for something costing taxpayers $400 billion.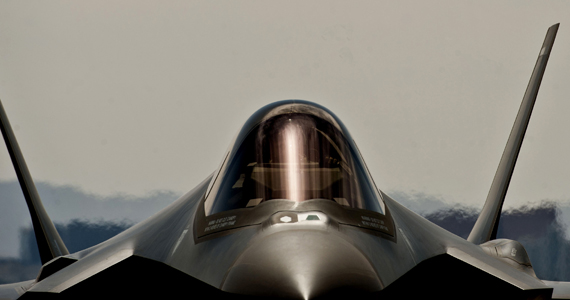 The beleaguered F-35 program has yet another problem on its hands. Actually, make that 719 problems.
A recent report from the Pentagon's internal watchdog reveals that the next gen fighter jet is plagued with hundreds of issues. The Defense Department's Inspector General conducted a series of quality assurance assessments that found the Joint Program Office and Defense Contract Management Agency performed "inadequate oversight," failing to adhere to widely adopted quality management protocols while losing control of contractors that have already sunk an estimated$400 billion taxpayer dollars into what is the most expensive weapons system ever developed by the U.S. government.
The IG's 126-page report concluded that prime contractor Lockheed Martin and its subcontractors Northrop Grumman, BAE Systems, L-3 Display Systems, Honeywell Aerospace and United Technologies Corporation "did not follow disciplined AS9100 Quality Management System practices," citing 363 findings, which documented 719 issues that could "adversely affect aircraft performance, reliability, maintainability, and ultimately cost."
Among the numerous oversight shortcomings, the IG found that JPO failed to:
Ensure that Lockheed Martin and its subcontractors were applying rigor to design, manufacturing, and quality assurance processes.
Flow down critical safety item requirements.
Ensure that Lockheed Martin flowed down quality assurance and technical requirements to subcontractors.
Establish an effective quality assurance organization.
Ensure that the Defense Contract Management Agency perform adequate quality assurance oversight.
In addition, the Defense Contract Management Agency did not sufficiently perform Government quality assurance oversight of F-35 contractors.
In a statement received by Defense News, F-35 JPO spokesman Joe DellaVedova said the report was "thorough, professional, well-documented and useful to the F-35 Enterprise." He also said many of the issues in the report had been previously documented and addressed, noting that the IG conducted the report between Feb. 2012 and July 2013. Lockheed Martin told ABC News that the IG's report is "based on data that's more than 16 months old and [a] majority of the Corrective Action Requests identified have been closed."