The Alarming Mistakes Police Made After the Boston Bombing
As an unarmed Dzhokhar Tsarnaev lay confined in a backyard boat officers sprayed bullets into neighboring houses.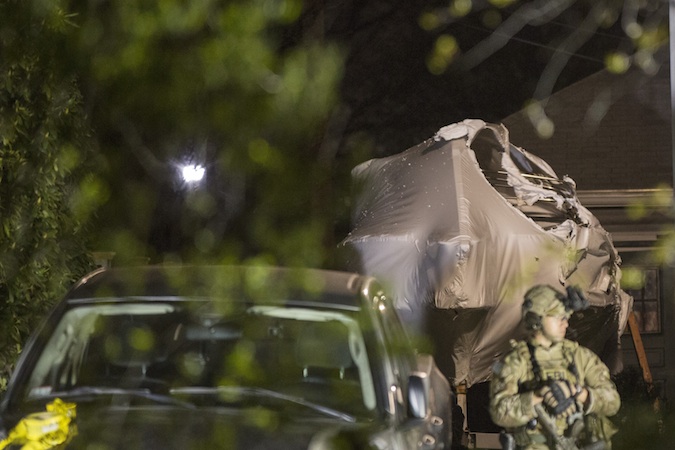 Remember the scene of Boston area police surrounding the backyard boat where a bloodied Dzhokhar Tsarnaev lay in hiding? The Boston Globe has published an interview with the people who own the boat, the backyard, and the house. And it doesn't inspire confidence in law enforcement's response to terrorism.
Let's return to the scene. Tamerlan Tsarnaev is dead. Metro Boston is shut down and a whole neighborhood of people confined to their homes to catch one young man. Unbeknownst to police, Dzhokar is hiding inside the perimeter they set up -- they somehow failed to look in the boat during their yard-to-yard search, and finally lifted the order on residents to stay indoors. Enter David Henneberry:
As he and more than a million others in the area waited inside their homes while police scoured Watertown for Dzhokhar Tsarnaev, Henneberry noticed from his back window that some padding he used to protect the hull of his 24-foot boat had fallen to the ground from beneath the shrink-wrap. It was a windy day, so it didn't strike him as suspicious. "But it was driving him nuts," said Beth Henneberry, his wife, who spent the day at home with him. "He wanted to fix it." So when authorities lifted the lockdown on the evening of April 19, the 66-year-old ambled out his back door and went to repair the buffer. As he did that, he noticed a strap that secured the shrink-wrap to the hull had become loose. "I said, 'Hmmm. I'm going to check the boat,'" he said.

He grabbed a stepladder and put it beside the boat, which he called Slip Away II. Then he lifted a piece of shrink-wrap that covered a Plexiglas door, allowing him to look inside. He immediately noticed blood splattered on the deck. When he looked near the console, he spotted a body curled in a fetal position, wearing a hoodie and dark shoes. "I thought, 'Oh my god, he's in there,'" Henneberry said. He dropped the flap, scrambled down the ladder, and ran into the house. He looked at his wife and said, "He's in the boat! He's in our boat!" "He was shaken," his wife said. "We were both shaken.''

He immediately called 911.
So police get word that their suspect is curled up bleeding in the back of a boat. They surround the yard. As previously reported, a sort of shootout occurs -- that is to say, police initially talk of "exchanging gunfire" with Dzhokhar, but later it turns out he doesn't have a gun. They shoot many rounds at an unarmed person. Of course, they had good reason to be on edge, and couldn't know that the kid was unarmed, so let's give them the benefit of the doubt for firing their weapons.
Even if we do, consider this:
On that April evening, the only time he became nervous, he said, was when an officer came to their neighbor's — where the couple had taken refuge — to ask whether he had any gas inside the boat. He told them the tank had about 40 gallons... Some neighbors, whose homes were also taken over by police and strafed by automatic weapons, are also coping with the lingering impact of what happened here six months ago. Olga Ciuc, who lives two doors down on Franklin Street, refuses to sleep in her old bedroom, which overlooks their backyard, and remains too afraid to walk her dog at night. "What happened here was crazy," she said. Her husband, Dumitru, said he and other neighbors are now more vigilant. "There's a greater sense of insecurity," he said, showing the bullet holes in the back of their house, in their fence, and in their grill. "You just don't know what's going to happen; you don't know who's a friend and who's an enemy."
The Boston Globe article reports these details matter-of-factly and without comment. Does anyone else find it disturbing that Boston area police, confronted with an unarmed suspect in a backyard boat, fired so many bullets so wildly that multiple adjacent houses were strafed and neighbors two doors down found bullets in multiple locations? Recall that police had time to surround the yard and the boat, and to position themselves in surrounding yards. Determined to fire on the boat, couldn't they put themselves at an angle where a spray of bullets wouldn't threaten people and property in surrounding homes?
Reading old coverage, I see that questions were raised about this at the time:
A call went out over the police radio. "They have a boat with blood on it, and they believe someone's on the boat," it said. Police officials initially said the boat was in the backyard of a house just outside the perimeter of the area where investigators had conducted door-to-door searches all day. But Commissioner Davis, of the Boston police, said this week that the boat had been inside the perimeter.

"It was an area that should have been checked," he said. "We are not sure how long he was in the boat. There was a pool of blood near where the car was dumped about four or five blocks away from the boat."

It is still not clear what prompted officers to fire into the boat. "Shots fired, multiple shots!" someone was heard saying on the radio, before another call went out: "All units hold your fire! Hold your fire."

Commissioner Davis said that "we will have to see what prompted the volley of shots before the cease-fire was ordered by a superintendent of the Boston police."
Here's part of a Washington Post story:
One characterized it as "the fog of war" and said that in a highly charged atmosphere, one accidental shot could have caused what police call "contagious fire."
I don't want to minimize the pressure that police were under that day, or to understate the risks that they faced. But however generously or harshly one judges the performance of law enforcement, an explanation of what went wrong is needed to prevent future mishaps, and "the fog of war," a metaphor born on chaotic battlefields, is not an acceptable explanation for a barrage of apparently inaccurate shots fired at a single unarmed suspect already confined in a boat beneath a tarp.
Recall too that, days later, law enforcement officials--one FBI agent and two detectives from the Massachusetts State Police--investigating the Boston bombing would shoot and kill an unarmed Ibragim Todashev at the end of an interrogation.
These episodes also bring to mind the Los Angeles area manhunt for Christopher Dorner, the disgruntled former LAPD officer who went on a killing spree. Police were chasing a 6 foot tall, 270 pound black man. Early one morning, they opened fire on a vehicle believing Dorner was inside. As it turned out, they were firing on two women delivering newspapers: Maggie Carranza, 47, and her 71-year-old mother, Emma Hernandez. They later said that there was no warning at all before police began riddling their vehicle with bullets. David Perdue, a skinny white man, had a similar experience:
Perdue left his Redondo Beach home and was driving through Torrance to the beach for some early morning surfing on Thursday when he was stopped. Officers guarding the home of a law enforcement official targeted by Dorner questioned him because his Honda Ridgeline pickup truck resembled the vehicle investigators believed Dorner was driving. Seconds after he drove away, Perdue's truck was broadsided by a Torrance police car at the corner of Flagler Land and Beryl Street, said his attorney Robert Sheahen. "These lunatics broadsided the side of his truck, spun him around and started shooting at him," Sheahen said. "Now they're attempting to say they couldn't tell if the guy they were shooting at was a white guy or a black guy because David's airbag went off."

Perdue suffered a concussion and a shoulder injury in the attack, which took place minutes after LAPD officers opened fire on another pickup truck nearby. In that instance, two women delivering newspapers were targeted. One woman was shot twice in the back and the other was injured by broken glass. 
Again, it bears mentioning that police were under tremendous pressure. Dorner was said to be targeting anyone in uniform. But criticizing or absolving the officers involved isn't the point. A frank, thorough accounting of the mistakes police made and the reasons they made them is the only way to prevent future instances of manhunts where police put the public in as much danger as the suspects.