No One's Really Monitoring the Pipeline in Your Back Yard
The U.S. transports crude oil, petroleum, and natural gas through a nearly 2.5 million-mile pipeline network. Who's standing watch to deal with leaks and explosions?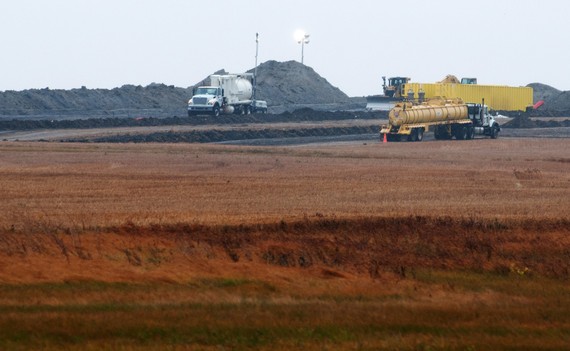 Last Friday the Associated Press reported that approximately 300 oil pipeline spills have occurred in North Dakota since January 2012 – and that none of those spills were reported to North Dakota residents and landowners. This sort of news raises the question of who, if anyone, is paying attention to the integrity and efficacy of America's pipelines.
The most recent publicly known spill in North Dakota was discovered by a wheat farmer in Tioga, near the northwestern corner of the state, on September 29. Over 865,000 gallons of oil, enough to ooze over seven acres of land, had leaked from a Tesoro Logistics pipeline. Tesoro didn't know about the leak until the farmer, Steven Jensen, called another oil company with a pipeline in the Tioga area to report that oil was gurgling up from the ground on his property. After being relayed to Tesoro the same day, notice of the problem got to the North Dakota Department of Health, whose officials did not alert the public of the accident until several days later, according to the New York Times. According to the AP, "officials kept it quiet for 11 days - and only said something after the AP asked about it."
It was after asking about the Tesoro spill, which officials say was swiftly contained and posed no threat to humans or wildlife, that the AP discovered the hundreds of other spills that have escaped public notice over the past two years. The state of North Dakota is not legally obliged to report oil spills to the public, but regulators are currently reviewing their policies and "thresholds" for reporting these incidents in the future. Lynn Helms, director of the state's mineral resources department, said regulators worry about "over-reporting" spills, and want to keep the public informed "but not overwhelmed by little incidents."
Notifying the public about spills is one thing, but what about detecting leaks in the first place? Surely there's a better alert method than waiting for a landowner to step in a puddle of oil.
Or maybe not: A 2012 study commissioned by the federal Pipeline and Hazardous Materials Safety Administration found that emergency responders or members of the public are more likely to detect oil pipeline spills than the pipeline companies themselves.
The PHMSA is responsible for regulating the operation of the nation's 2.5 million miles of crude oil, refined petroleum, and natural gas pipelines. But the agency puts forth relatively few guidelines, rules, or standards regarding pipeline inspection and leak detection. And in September, PHMSA administrator Jeffrey Wiese publicly admitted that he has "very few tools to work with" to create and enforce pipeline safety rules, and that the entire regulatory process in this area is "kind of dying." The PHMSA has been chronically short of safety inspectors for years now.
A couple of existing safety rules, established in 1968 and 1979, concern the construction and installation of new pipelines—with strict specifications for how deep they must be built and how much pressure they must be able to withstand —but pipelines built in prior years didn't undergo any of that regulation. And those older pipelines are still in use today, operating without regular inspections.  ProPublica delved into this issue, and others, in its heavily-reported overview of American pipeline safety in 2012.
There are some sophisticated tools for monitoring pipeline conditions – most notably, "smart pigs," which travel through pipelines to detect signs of corrosion or deformation (earlier iterations of this technology were simple bales of straw that made squealing sounds as they moved through the pipes, hence the piggy moniker)—but these machines are not used routinely or uniformly. Some newer pipelines have automatic or remote-controlled shutoff valves to mitigate damage from leaks—but they're expensive. According to the American Petroleum Institute, American crude oil and petroleum pipeline operators invested over $1 billion on "integrity management" in 2011, the same year President Obama signed into law the Pipeline Safety, Regulatory Certainty, and Job Creation Act—which has been criticized for failing to make automatic shutoff valves mandatory, instead stipulating that PHMSA must conduct a thorough analysis of whether the valves are "economically feasible" for the industry.
If pipeline companies want to stave off the public relations messes that accompany major spills like last month's in North Dakota, or the Kalamazoo River disaster of 2010, they will have to invest in preventative measures such as replacing decades-old and structurally unsound pipes, installing automatic shutoff valves, and inspecting the lines more frequently. Of course, public consternation may not be motivation enough for the industry to raise its standards, in which case, the pipelines may go on leaking all over the country for years to come. It's doubtful that state and federal agencies will be able to do much more: The Pipeline Safety, Regulatory Certainty, and Job Creation Act of 2011 authorized PHMSA to impose higher fines than ever before on oil and gas companies behind major accidents; last month, as he lamented his agency's lack of control in this arena, Wiese said, "Do I think I can hurt a major international corporation with a $2 million civil penalty? No."