At Louisiana's Most Notorious Prison, a Clash of Testament
A recent New York Times article praises the penitentiary's Bible study program—and barely mentions the numerous lawsuits it's facing for inhumane conditions.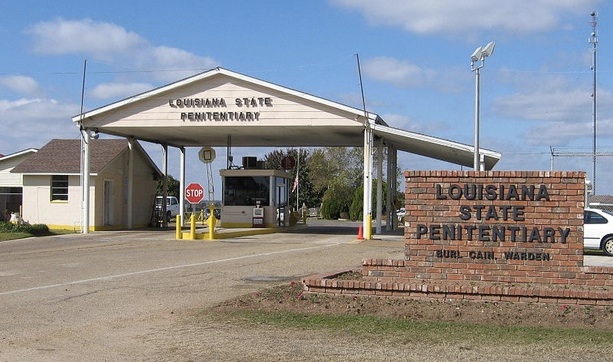 By any reasonable measure it has been a difficult period for those in charge of the notorious state prison in Angola, Louisiana--for the state lawmakers who oversee and authorize the funding of the endeavor, for the governor who proudly presides over the Department of Corrections, and for all of those in that state who care about how the rest of the world perceives their criminal justice system.
Last week, amid international fanfare, one of the prison's most famous former inmates, Herman Wallace, was ordered freed by a federal judge (from another prison) after spending 40 years in solitary confinement at Angola for a crime he almost certainly didn't commit. Three days later, he died of cancer that had gone largely untreated at the prison. "I am free," Wallace said, just before he died, his demise a grim reminder of a life spent mostly alone in a 6' by 9' foot cell inside a facility that was once part of a Deep South plantation.
In August, the prison's iconic warden, Burl Cain, apologized publicly for violating a federal court order in another lawsuit. This one, still pending, was brought by inmates who alleged they'd been kept in confinement in such brutal heat, without cross ventilation, that their constitutional rights were violated. "It's the price offenders pay for their crimes against humanity," said a lawyer representing the prison.
And the month before that, in July, four members of Congress wrote a letter to the Justice Department, asking federal officials to investigate the prison's "egregious and extensive" use of solitary confinement. "We have reason to believe," the Congressmen wrote, "that Louisiana DOC employees have colluded with persons from the Office of the Louisiana Attorney General to fabricate violations of prison rules to unjustifiably punish inmates."
So you can imagine how pleased Cain and company must have been last weekend when The New York Times published a piece about their prison titled "Bible College Helps Some At Louisiana Prison Find Peace." Indeed, you can't pay for the sort of good publicity the newspaper just gave to those beleaguered prison officials, especially on the eve of jury selection in the trial of inmate Barry Edge, the last of the so-called "Angola 5" to be prosecuted for the death of a corrections officer during a botched 1999 escape.
Here's an illustrative passage from the Times:
But Burl Cain, the warden since 1995, says the impact has gone well beyond spreading religion among the inmates. He calls the Bible college central to the transformation of Angola from one of the most fearsome prisons in the country to one of the more mellow, at least for those deemed to be cooperative. Watching men quietly saunter from open dormitories to church, many with Bible in hand and dressed in T-shirts of their choice, it can hardly seem like a maximum-security facility, although multiple daily lineups for inmate counts are a reminder.
The Times piece suggested that life at the prison is much safer these days for both inmates and guards because of this new-found religious activity and because "court supervision and a parade of reforming wardens improved staff training and introduced vocational and G.E.D. programs." While reporting on those inmates who aren't necessarily involved in the prison's missionary work, reporter Eric Eckholm offered this:
But life is much harder for some inmates than others. Some 1,600 live in more traditional cell blocks because they are considered dangerous, are being punished or need protection. Some of them are allowed outside, in individual cages, for only an hour a day. Some work in the farms for pennies per hour, guarded by a horse-mounted armed officer.
This is essentially all the Times has to say about those inmates who "are considered dangerous, are being punished or need protection." But of course one could argue that it is those inmates in particular that Times' readers need to know about most because they are the ones whom pious prison officials aren't parading before reporters. And the phrasing itself-- "are being punished or need protection"-- begs the question of how Angola classifies its prisoners, and why, and whether its classifications are reasonable.
For context and a different perspective on what life is really like inside that prison, I showed the Times piece to several people with long experience working with prisoners at Angola. All were critical of the article. And all were dubious of the role of religion as a wholly positive factor at Angola. "I'm not an expert on Christianity," said Ben Cohen (no relation), a lawyer who represents capital defendants and others there. "But the prison is run on fear, not the prospects of redemption. Inmates, guards, even lawyers are afraid of Cain."
I showed the Times piece to Jackie Sumell, a New York filmmaker who has studied the effects of solitary confinement. Sumell has spent time inside the prison, and her criticism of the policies and practices at Angola recently was documented in Herman's House, a film about Wallace that aired on PBS. Sumell is a longtime critic of Cain's, no doubt, and when I asked her for her reaction to the Times' story she offered these allegations, which we were unable to independently verify:
I have been visiting inmates in Angola for 12 years. Warden Cain strategically and effectively disempowers inmates at his facility by making extreme examples out of "the few" as a means to terrify the many who are forced to live inside the walls of Angola. In some examples, men have faced more decades of solitary confinement for not adhering to strict Christian codes and maintaining their political beliefs. It has been my experience working with formerly incarcerated men that many, even after they are released, continue to fear the notoriously retributive wrath of Burl Cain.
I showed the article to Mercedes Montagnes, the deputy director of the Promise of Justice Initiative, which represents the plaintiffs in the "heat" litigation mentioned above. Here is what she had to say about Angola, a perspective similar to allegations she has made in court in the pending lawsuit:
Angola continues to confine men in heat that would be illegal for any of the animals on the farm, provides them with little or negligent medical care, punishes the mentally ill with severe lock-down procedures and uses searches and solitary confinement as punishment, even when they are no longer necessary.

While there is a focus on religion, the prison prevents prison ministers from meeting with inmates' families, supporting pardon or parole applications, or even communicate privately with inmates through letters. While some inmates appear to be able to secure favors through acts of devotion, the system does not foster hope, dignity or justice for the vast majority of men that work the fields, and fill the camps at Angola.
I showed the article to Stephen Bright, a lecturer at Yale Law School who also is president of the Southern Center for Human Rights, a leading civil rights law firm that focuses upon men and women incarcerated in the nation's prisons and jails. Bright is one of the nation's foremost experts on indigent defense and one of the most sober legal analysts I know. His take on religion at Angola:
I visited Angola when I served on the Commission on Safety and Abuse in America's Prisons in 05-06. Warden Cain told us proudly about the Bible College, saying that it was open to Muslims, Jews, Buddhists and other religions. But what was taught in the class we watched was a very strict version of Southern Baptist Christianity. We also visited a number of Christian churches on the prison grounds and the prison's radio station, which was all gospel all the time...

Education and practice of one's religion can be very important in prisons, particularly one like Angola where many prisoners will never be released. But there is an important difference between providing classes and religious indoctrination. One way an inmate gains some privileges at Angola is by graduating from the college, becoming an "assistant minister," and preaching Christianity to other inmates.

Louisiana has an obligation to provide educational programs other than the Bible College donated by a Southern Baptist Theological Seminary. Inmates have many religions besides Christianity - and their beliefs should be respected and accommodated. And obviously, there are many other educational programs that could be provided.

It is simply not accurate to attribute the drop in violence at Angola to the Bible College and Warden Cain.The violence at Angola was under control by the time that Cain was made warden.
And then I showed the Times piece to James Ridgeway, the veteran investigative journalist with a long history of reporting on prisons. His response:
Everyone from the evangelical press to Oprah to Charlie Rose to the New York Times have pitched in to portray Burl Cain as the nation's leading prison reformer. He is without question a genius PR man. But if you don't believe in his version of a Christian God or your views of what Christianity amounts to, are different from those of the warden, you don't qualify for "redemption." You are pointed down to Hell, not up to Heaven. Even the Angola prisoner who tried to start a yoga class ran up against a wall.
Ridgeway, who is the director and editor of the well-respected prison watchdog site Solitary Watch, surely must have felt a sense of deja vu when he read Eckholm's piece. Let me take you back now nearly four years, to January 2010, to the lede of a Ridgeway piece titled "The Mark of Cain":
The Associated Press today put out a laudatory piece on Warden Burl Cain's program of Christian education at the Louisiana State Penitentiary at Angola. The article, which was picked up by the New York Times, San Francisco Chronicle, and dozens of other publications, is sure to advance Cain's reputation as a great prison reformer.

The AP piece depicts Angola as a onetime den of violence and despair that has been transformed by Cain into a safe and orderly community where "everyone has a job" and where "students crowd into classrooms to study toward a college degree." The prison's bloody past, Cain tells the AP, was "all because of a lack of hope"--a situation the warden has treated with the dual remedy of education and redemption, in part through a degree program in Christian Ministry.

There's another side to this story, of course, and it's a whole lot grimmer than the AP piece would suggest. More than 90 percent of the 5,200 men Angola will die there, thanks to the states harsh sentencing policies. Much of the work on the 18,000-acre former slave plantation consists of backbreaking labor in the cotton, corn, and soybean fields, presided over by armed guards on horseback.

Some inmates do not work at all because they are kept in isolation in their cells, in the prison's notorious Camp J disciplinary unit or in long-term solitary confinement. (Among Angola's most widely known prisoners are former Black Panthers Herman Wallace and Albert Woodfox, members of the Angola 3, who have been in solitary for more than 37 years.)

An inmate's fate at Angola depends upon how he measures up to the warden's standards, which are rooted firmly in his personal religious dogma. Cain believes that there is only one path toward rehabilitation, and it runs through Christian redemption. (According to Herman Wallace, Cain has at least once offered to release him from solitary if he renounced his political beliefs and accepted Jesus Christ as his savior.)
Sound familiar? There is more. One year later, writing for Mother Jones, Ridgeway again reported on the pervasive role of religion at Angola in a piece titled "God's Own Warden." This lengthy piece, in particular, is essential in offering a dissenting view of life inside that prison. It also undermines one of the central premises of the Times' piece. As Ridgeway wrote:
In fact, there is considerable evidence that the turnaround at Angola began two decades before Cain became warden, in the 1970s, when a prisoner lawsuit forced the facility into federal oversight and a series of reforms began. According to Burk Foster, a professor of criminal justice at Saginaw Valley State University in Michigan and the leading historian of Angola, by the mid-1980s Angola was already the most secure prison in the South. Prison violence is down dramatically across the country; the prison murder rate has fallen more than 90 percent (PDF) nationwide in the last three decades.
I get the lure of a "Bibles-working-in-prison" story, especially when the prison is one of the most brutal in the nation. But a piece that centers around the claim that Angola is one of "the more mellow" prisons in America is regrettable, especially at a time when prison officials there are besieged by claims alleging precisely the opposite.
On Wednesday, as if to prove the point, investigators working for the Center for Constitutional Rights and the International Federation for Human Rights released a report concluding that "conditions on death row" at Angola "can constitute torture" and violate international law and constitutional norms. As for Cain, he gets the last word. Cain did not specifically deny the particular allegations made above. Instead, he offered this defense:
I believe that the mission of modern corrections is to protect the public by correcting deviant behavior through moral rehabilitation. I have faith in people and moral people are not criminals. If we want prison systems that accept a 50% recidivism rate then we have business as usual and change is not in order. Angola is a safe prison, we have a staff of professional correctional employees (60% of whom are female), and manage over 6300 adult male inmates of which 0ver 95% won't ever be released.

It's safe for anyone to walk anywhere within the 18,000 acre prison without cat calls or disrespect. We tour over 2,000 people each month, from 12 years old and up, without incident as part of our public service of education and crime deterrence. We are visited by criminal justice professionals from around the world and many states are copying our programs and events to experience the type of reduction in inmate on inmate violence that Angola has accomplished over the last 18 years.

If this is bad, then we should go back as we were. Personally, I do not attend church except occasionally at the prison. I am proud that the Louisiana State Penitentiary is recognized and accredited by the American Correctional Association as being a great model facility whose operational policies and procedures exemplify what is best in achieving less recidivism and less victimization.

I applaud the Louisiana Department of Corrections for having established itself as the most progressive prison system in the United States. It is disheartening that a few who resist change and want business as usual would attack our progress. I am proud that our staff and inmates will continue to plow new ruts for others who want to venture in the direction of positive change for all people affected by violence.