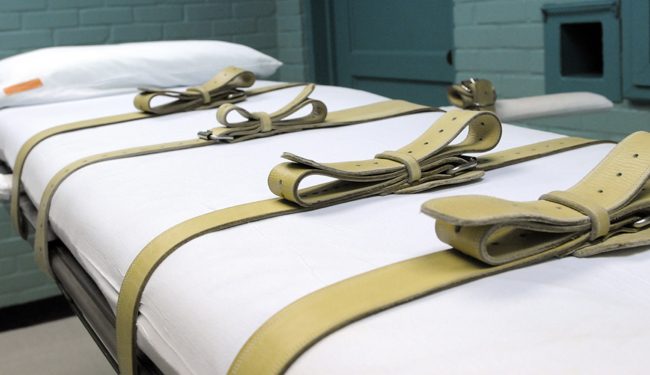 Death-penalty opponents may have another talking point to add to their growing list of grievances about capital punishment: Just 2 percent of U.S. counties account for most of the country's death row population and executions, according to a study released today by the Death Penalty Information Center.
Through last year, 62 counties—or about 2 percent of the nation's 3,143—have executed 685 death-row inmates, or 52 percent, of the 1,320 total in the U.S. since capital punishment was reinstated in 1976. Texas's Harris County, which comprises Houston, led all counties with 115 executions. Dallas County was second with 50.
"The death penalty in practice has proved to be administered unfairly, and this is another example of that," Richard Dieter, DPIC's executive director, told National Journal. "The theory is the worst of the worst get the death penalty, but the reality is those that do are in high urban cities where prosecutors have lots of resources."
Death-penalty debates often get reduced to a breakdown of which states still execute (32) and which don't (18). It's generally known that a handful of states such as Texas, Florida, and Ohio carry out the majority of executions, but the county-by-county breakdown, like one might find in an analysis of presidential elections, provides more insight on the geographically small footprint of capital punishment in the U.S.
Eighty-five percent of counties, including a majority in Texas, have not had an execution in 40 years. Four of 254 counties in Texas have amassed about half of all the state's executions.
And while a small percentage of counties are carrying out the bulk of executions, the economic burdens of the death penalty are shared by taxpayers across the state. The report concludes:
This peculiar exercise of discretion results in enormous expenses being passed on to taxpayers across the state. Moreover, the correlation between the high use of the death penalty and a high rate of error means that courts in these states will be occupied for years with costly appeals and retrials. Some states have recently chosen to opt out of this process, at great savings to their taxpayers.
The uneven concentration of death-row inmates and executions does not appear to be abating; if anything, it's getting worse. Nine counties were responsible for 35 percent of death sentences in the U.S. last year, and 10 accounted for 27 percent of all death row inmates at the start of 2013.
Twenty-eight people have been executed this year, compared with 43 in 2012 and 2011, and a record-high 98 in 1999.