The Gun Lobbying Group You Don't Hear About
The NSSF is the NRA's smaller, highly effective cousin.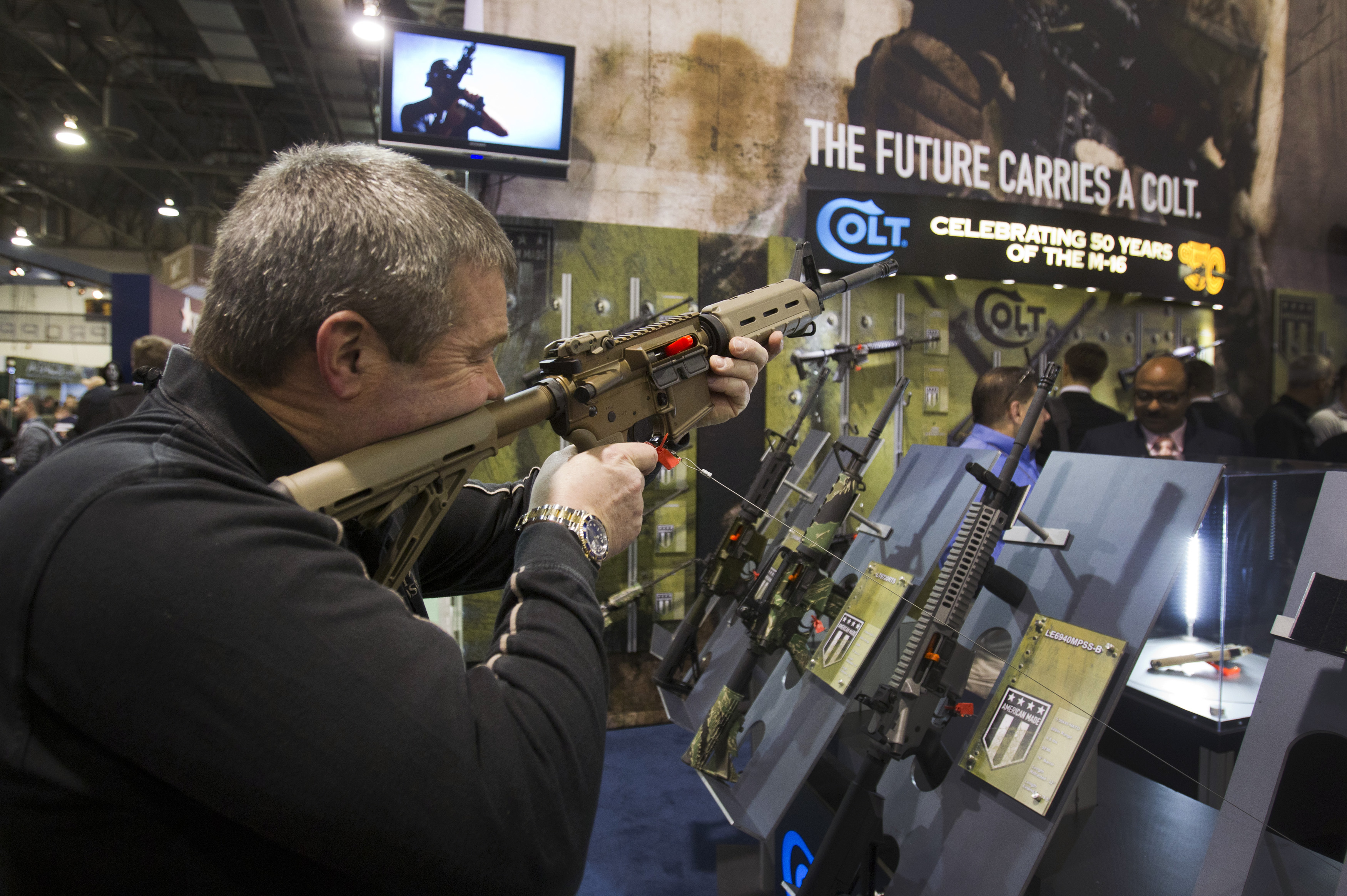 From Sandy Hook Elementary in Newtown, Connecticut, you can drive a narrow, two-lane road to Washington Avenue, cross the highway, and arrive about five minutes later at the headquarters of the National Shooting Sports Foundation, the nation's "other" gun lobby. You've likely never heard of the NSSF—they've kept a lower public profile than the National Rifle Association, but they've been quietly shaping American gun culture for more than half a century. Now, they've begun to play a much more influential role in politics.
Every year from 1998 through 2010, the NRA spent at least ten times more than the NSSF on direct lobbying. Today those numbers are converging—the NRA has spent $1.7 million so far in 2013, compared to $1.1 million spent by the NSSF, mostly in efforts to loosen state requirements for concealed carry permits. The NRA still boasts the political muscle to sway the outcome of major legislation, but the big gun lobby's intervention is conspicuous and subject to ridicule, and an NRA campaign contribution can sometimes become a political liability—in a 2013 PPP poll, 39% of respondents said they would be less likely to vote for a candidate backed by the NRA, whereas only 26% said they'd be more likely to. This April, when Senator Mitch McConnell (the NRA's single biggest recipient of campaign contributions) used procedural tactics to block an expanded background check bill, NRA Board member Adolphous Busch publicly resigned from the organization, saying the group "clearly places priority on the needs of gun and ammunition manufacturers while disregarding the opinions of [its] 4 million individual members."
The NSSF has no such conflicting constituencies—its 8000 members are gun and ammunition manufacturers and dealers. Before accepting the chief executive position at the NSSF, Steve Sanetti was President of gunmaker Sturm, Ruger, & Co. for 28 years. Now he hosts all the big manufacturers at the annual SHOT show (Shooting, Hunting, Outdoor Trade show), the world's biggest gun show, which is owned and managed by the NSSF. The show fills more than 630,000 square feet of exhibition space, and attendance is limited to trade professionals—among the 62,000 attendees are buyers for commercial sporting goods stores and military or law enforcement agencies. This is where the latest products are unveiled from big names such as Winchester, Remington, Ruger, Glock, and Smith & Wesson, as well as many aspiring upstarts. Endless racks bristle with every variant of the AR-15 rifle, now all rebranded "modern sporting rifles" through an NSSF marketing campaign which warns "if someone calls an AR-15-style rifle an 'assault weapon,' he or she either supports banning these firearms or does not understand their function and sporting use, or both. Please correct them."
On the trade floor you'll also find everything from thermal imaging scopes to long-range sniper rifles to military submachine guns, often modeled by "booth babes" in low-cut tops, surrounded by flashy video displays—it's the Stark Expo of the Ironman movies, minus Robert Downey, Jr. Extensive media coverage ensures that gun enthusiasts at home can keep up with the daily press conferences and product releases.
The enormous scale of the SHOT show (which ranks among the 25 largest trade shows of any kind in the US) is a reminder that guns are a big business, and the NSSF reinforces that notion with several publications touting the economic impact of their industry. Their latest report claims that "companies that sell firearms, ammunition and hunting equipment employ as many as 99,820… and generate an additional 120,310 jobs in supplier and ancillary industries." The NSSF claims that the hunting and shooting industries contribute $33 billion to the U.S. economy each year. (Meanwhile, the Pacific Institute of Research and Evaluation estimates the annual economic costs of gun violence at $174 billion.) This summer, NSSF Senior Vice President Larry Keane wielded those big numbers to cudgel state Democratic leaders in Connecticut for having passed new gun control laws in April, on the heels of the December Sandy Hook shooting. "As major contributors to the state's economy, we find it unacceptable for lawmakers to propose banning our products and hindering the ability of Connecticut companies to grow their businesses, create more good-paying manufacturing jobs, and contribute hundreds of millions in taxes," Keane wrote. In the same letter, he withdrew NSSF support for a proposed state park on the original site of the Colt gun factory, calling state officials hypocrites for supporting both the park and new gun laws.
Historically, the NSSF has cultivated close—though sometimes controversial—relationships with state and national parks systems. Last year, NSSF Director of Public Relations Patrick Rothwell lobbied in support of the Sportsman's Act of 2012, which included a number of provisions regarding conservation of public lands, access and fees for hunters, and a clause that would have exempted ammunition from regulation by the Environmental Protection Agency. Ecologists objected, saying the lead bullets and chemicals in gunpowder are dangerous to certain habitats. Faced with opposition on both budgetary and environmental grounds, the bill ultimately failed.
The NSSF hasn't always been at odds with the EPA. In 1970, when the nation celebrated the very first Earth Day and Richard Nixon created the Environmental Protection Agency by executive order, the NSSF began to lobby Congress to enact a National Hunting and Fishing Day, which promoted the notion of hunter as conservationist. Two years later, when Nixon signed the proclamation of National Hunting and Fishing Day, he urged "all citizens to join with our outdoor sportsmen in the wise use of our natural resources and in insuring the proper management for the benefit of future generations." This PR for the gun industry came at a good time—the number of gun homicides in the U.S. had more than doubled over the course of the preceding decade.
This year, with gun deaths expected to exceed 31,000, and with the public more acutely aware of every tragic shooting, the NSSF managed to grab some positive headlines for a gesture of political compromise. During the senate hearings in the confirmation of B. Todd Jones to head the Bureau of Alcohol, Tobacco, Firearms and Explosives, the NSSF issued an open letter, endorsing President Obama's nominee. A close reading reveals that the statement of support is hardly a ringing endorsement: "Undoubtedly, we will disagree with the ATF from time-to-time and are fully prepared to take the steps necessary to represent the interest of our industry members, but we are confident that under Mr. Jones we can agree to disagree with ATF in a mutually respectful manner." However lukewarm, the letter was a surprising development—together with the NRA, the NSSF had pressured legislators to block every previous nominee for the ATF directorship since 2006. But under the threat of the "nuclear option" to change filibuster rules, Senate leaders had already agreed to confirm all of Obama's appointments this summer. With Jones's appointment a foregone conclusion, the main effect of the NSSF endorsement was to soften the headlines that would have otherwise prevailed (i.e. "ATF director finally confirmed after seven years of gun lobby resistance").
Whenever the public image of the gun industry has faced scrutiny, the NSSF has countered with a positive message about guns. In addition to PR campaigns emphasizing the economic and environmental impact of their industry, they've also extolled the merits of hunting and shooting as a family and youth activity. Their Families Afield program aims to eliminate state minimum age requirements so that parents can take even young children hunting, which they say is "one of the safest recreational activities enjoyed by families in the United States."
Since 1999, the NSSF has coordinated a safety initiative to distribute gun locks to law enforcement agencies, which in turn pass them on to gun owners, free of charge. The ostensible goal of Project ChildSafe—to prevent unsupervised children from firing these guns—seems unimpeachable, but the implementation has been plagued by problems. Hundreds of thousands of the flimsy, fragile locks were recalled. Then, when a $50 million Department of Justice grant dried up and the NSSF was obliged to finance the lock giveaway on its own, the program was scaled back significantly. Some police departments severed ties with Project ChildSafe, frustrated that they'd received no locks for years, despite continuing public demand.
The program languished until this June, when the NSSF announced its new initiative, S.A.F.E. Summer, promising a $1 million reinvestment in Project ChildSafe. The online press release includes a sidebar with a smiling headshot of country music singer Travis Tritt, and a link to an audio file. The 30-second PSA opens with an up-tempo instrumental.
Hi, I'm Travis Tritt, and I want to talk to you about a serious subject: gun safety. The best way to prevent a gun accident is to learn how to safely handle and store your firearms, and keep them away from young children. Firearms accidents are at an all-time low, and that's good news, but we can do more, and education is the key. Learn more at projectchildsafe.org.
The anodyne PSA contains no specific instructions about safe gun storage, and includes one whopping factual error—according to the latest data available from the CDC, fatal gun accidents are actually at a record high. The rosy assessment does sound reassuring though—which is the point. Nobody listening to this ad will learn anything practicable about gun safety, but they will come away with the impression that the gun industry is promoting responsible gun ownership, and that gun accidents aren't much of a concern anyway, since they're increasingly rare. (In other words, "We care about this problem, which is not much of a problem.")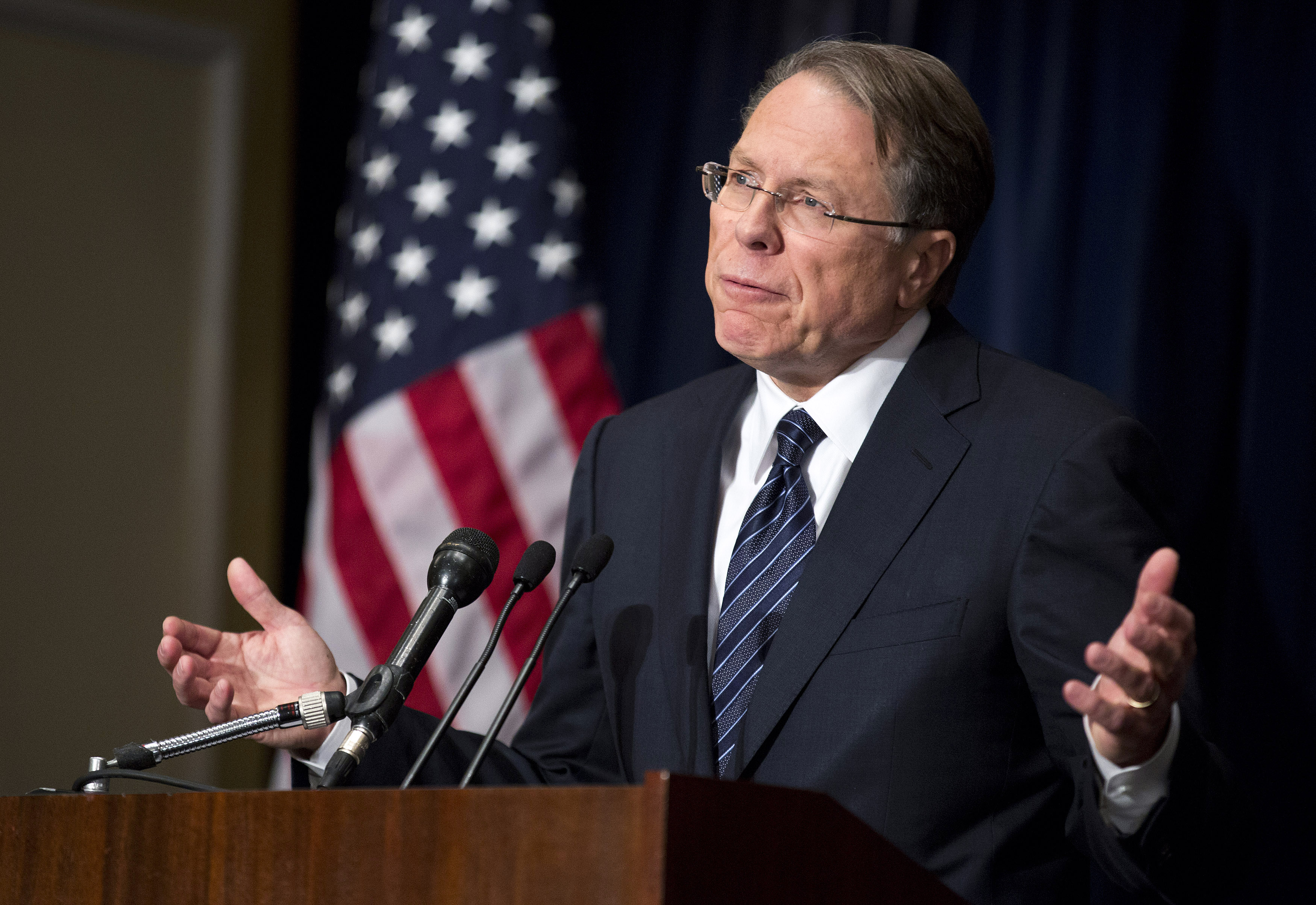 It's this sort of messaging savvy that portends a growing role for the NSSF. Meanwhile, the NRA has seemed to do more harm than good for the public image of the industry, repelling even longtime supporters of gun rights. It didn't help when, simultaneous to NRA Executive Vice President Wayne LaPierre's post-Newtown press conference (in which he asserted that guns wouldn't represent much of a danger if more people carried them), a man in Pennsylvania shot and killed three of his neighbors and injured three cops in a shootout. Then, last month, the wife of NRA Board Member Ted Nugent was arrested on gun charges at DFW airport, bringing the gun control debate to the gossip pages. Recent polls indicate flagging support for the NRA among its own members, including some who have called for reform from within. For now, the NRA still dwarfs the NSSF on multiple fronts: membership dues for NSSF totaled $3.2 million in 2011, compared to the NRA's $102.6 million. But as the NRA battles itself and everyone else in public, the NSSF quietly continues—with increasing efficacy—to advance the industry's political agenda.