Obama's Road to Damascus: The War for Regime Change in Syria
The more Obama lobbies Congress, the greater the danger for mission creep.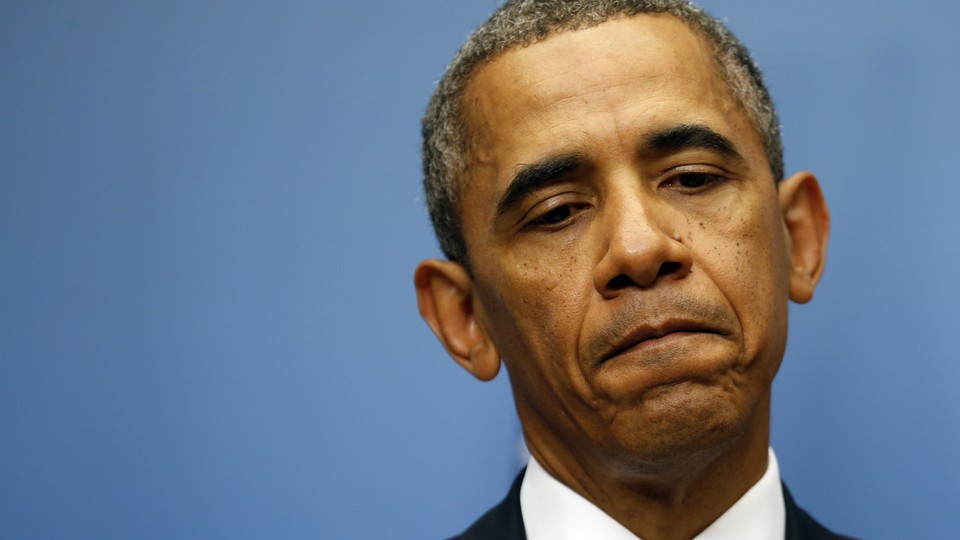 A war that begins to punish Assad for using chemical weapons is likely to turn into a grander campaign to overthrow the Syrian tyrant. Obama is about to walk the road to Damascus: the president who sought to end Middle Eastern conflict will convert to the goal of violent regime change.    

When the White House first outlined the use of force in Syria, the aims were described as limited, controlled, and proportionate. Missile strikes would chastise Assad, degrade his military forces, and deter the further use of chemical weapons--a quick punitive expedition. Washington has long hoped for Assad's departure as part of a new transitional regime in Syria, but this was not the immediate objective. "I want to make clear," said White House spokesman Jay Carney: "the options that we are considering are not about regime change."

But if it isn't a war for regime change already, it may well be soon.

First of all, Assad could retaliate against U.S. military installations in the region or against Israel--essentially forcing the president's hand. If Assad's forces kill Americans or Israelis, then Washington will go for the jugular.

But even if the Syrian regime absorbs a U.S. strike, Obama could still walk the road to Damascus. The president may face domestic pressure to escalate the goals. For sure, the American public is weary of fighting in the wake of Afghanistan and Iraq. But precisely because people are so sick of war, the administration may try to sell the campaign by describing Assad as uniquely evil. How then can we let this devil remain in power?

And for Americans, overthrowing a demonic tyrant is at least a comprehensible goal. By contrast, a quick shot across the bows makes little sense to anyone. If Assad quits using chemical weapons and goes back to slaughtering his people with conventional arms--you call that a victory?

The more effort Obama invests in winning congressional backing, the more he'll be tempted to raise the stakes. Is he really going to spend all this political capital--all this wooing and arm-twisting--just to dump some ordinance into Syria and go home?

The mission creep is already happening. Obama has toughened his line in a bid to win the backing of hawks like John McCain. The use of force, Obama said: "fits into a broader strategy that can bring about over time the kind of strengthening of the opposition and the diplomatic, economic and political pressure required--so that ultimately we have a transition that can bring peace and stability, not only to Syria but to the region."

After the rockets' red glare streaks across the Levant, the United States will own the conflict. We will leave the audience and join the actors on stage. Suddenly, Washington will be expected to respond to every major event in Syria. If the rebels commit atrocities, or Assad's forces capture a city, all eyes will turn to Obama: what now, Mr. President? Rather than face a neverending story of intractable conflict, the White House will seek resolution through regime change.

Both military success and failure could spur the United States to escalate its goals. If U.S. missile strikes go more smoothly than expected and Assad's support crumbles, we may naturally heighten our ambitions.

More surprisingly, if Washington faces battlefield failure, Obama will also be tempted to go after Assad. Like a gambler on a losing streak, the White House may double down in a bid to win it all back. At this point, we've planted the flag and cannot allow the rebels to lose.

Are we ready for regime change? There's no coherent Syrian opposition and jihadist groups are running rampant. Trying to patch together a new government could suck all the oxygen out of Obama's second term.

After his revelation on the road to Damascus, Paul was blinded for three days. Let's hope Obama can see the path ahead with greater clarity.