From Boulder, Colorado: Notes on a Thousand-Year Flood
A resident recollects the wet and fearful days at the center of a historic natural disaster.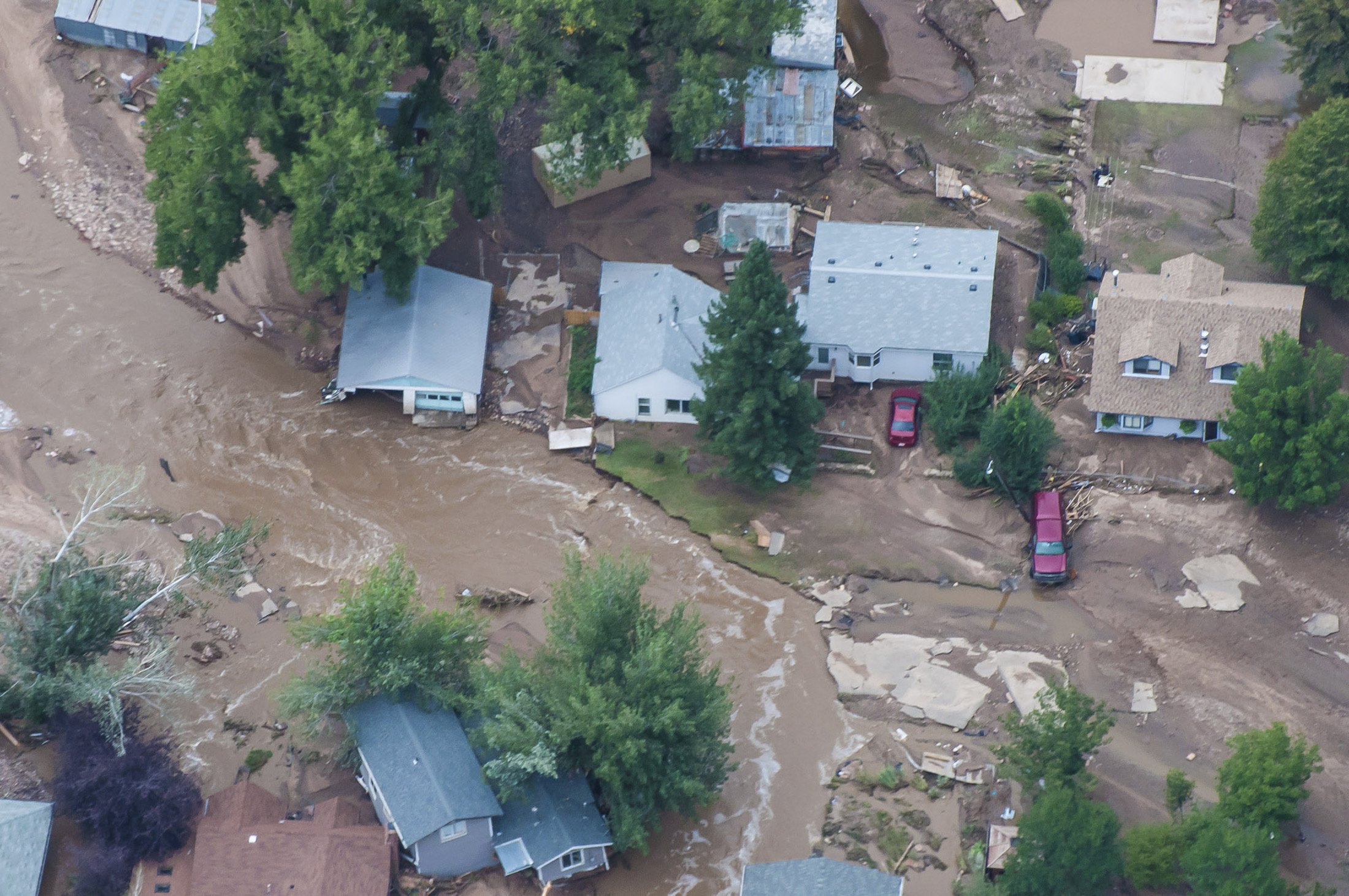 Wednesday, September 11
The rain begins to fall in Boulder on Wednesday. It's heavier than usual, but I figure it will blow over the way storms do in Colorado. I pick up my son Theo from preschool and my daughter Maya from second grade as the water begins to pool and lap across Foothills Parkway.
My husband Julien and I had driven through Jamestown to hike along the St. Vrain River just the weekend before. We'd visited Lyons and Estes Park not long before that. I would have observed them more carefully if I'd known it would be the last time I'd see these charming mountain towns, hosts of music festivals and summer tourists. Because by the time this storm ends, none of these towns will be the same.
Thursday, September 12
School is cancelled as the rain continues. The news grows increasingly alarming. When I try to venture out, the water in the streets is too high for my car, so I turn back and stay in. Water geysers up from the manhole covers in the streets. Boulder officials tell us to "shelter in place."
I should work, but can't concentrate so I nervously clean as we listen to reports of a twenty-foot wall of water rushing down nearby Left Hand Canyon. Water starts to flood into our neighbors' basement, so Julien heads over with our wet vac to help.
Our basement begins to flood later that evening. At first we're able to fight it back with the wet vac and some mops. Maya and Theo push water toward the drain with brooms. Our neighbor reports the sewer is backing up into his house. Our front door is unlocked, drenched neighbors wandering in, consulting, and commiserating. The water seeps in from the foundation now, faster than we can remove it. The kids bring their toys upstairs as we go room by room salvaging. At some point I open a bottle of wine to calm myself down. I drink the entire bottle that night.
As I shuffle stuff from my office upstairs, I vow to live differently in the future, aspiring to the minimalism depicted in the old photo of Steve Jobs sitting cross legged on the floor of his house furnished with just a lamp and a cup of tea. From now on I will immediately throw out all non-functional pens instead of lazily returning them to the penholder until I find one that works.
The Internet and landline go down. The only sources of information are the radio and the TV, which tell us the surrounding roads around us are impassable, yet we should seek higher ground in the event of an evacuation. The nearby Baseline Reservoir dam is showing signs of damage as the rain continues to pelt—if it doesn't hold the only option for us is to climb onto the roof. We hear flood sirens in the distance. I panic as the water rises in our basement. Julien tells me it's not going to rise so high that we'll have to leave and I try to believe him. I don't know which way to flee with my kids if it comes to that. My brother and parents call and try to look up exit routes for me. I throw my wallet, cell phone, checkbook, clothes and snacks for the kids in a suitcase.
We are so busy coping with the flood in our basement that four-year-old Theo turns free range.  He helps himself to cookies, watches monster truck videos on an endless loop, and dumps all the toys I've carried up and placed neatly in his closet all over his floor. I finally put the kids to bed around 11 and hope I won't have to wake them in a few hours to evacuate.
Boulder absorbs more rain than it ever has in a 24-hour period.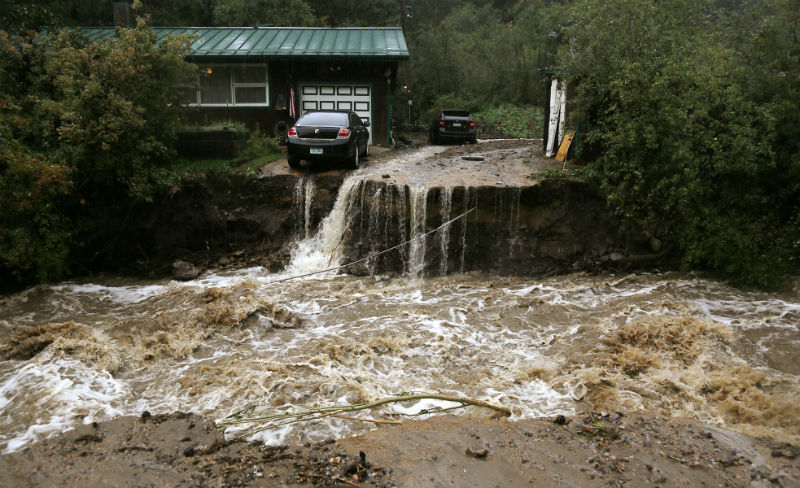 Friday, September 13
It's still raining. A neighbor comes to use our toilet as sewers continue to back up into his house. I use the Wi-Fi at his. Maybe between our entire neighborhood we can cobble together one functioning house.
Boulder officials hold a press conference from my daughter's elementary school. "That's the mural in the cafeteria!" she says as we watch the grim-faced men and women talking about the toll this ongoing storm is taking. A dazed, sopping raccoon wanders across our driveway.
When the rain stops briefly and some roads clear, Julien drives off to find a pump but fans are sold out at every store. "Get on your social network and ask people to lend us fans," he tells me. I post a message on Facebook using our neighbor's Wi-Fi, and within minutes there are many offers.
We know we're fortunate—entire sections of towns have been wiped away or stranded, and several people have died. The missing number in the hundreds.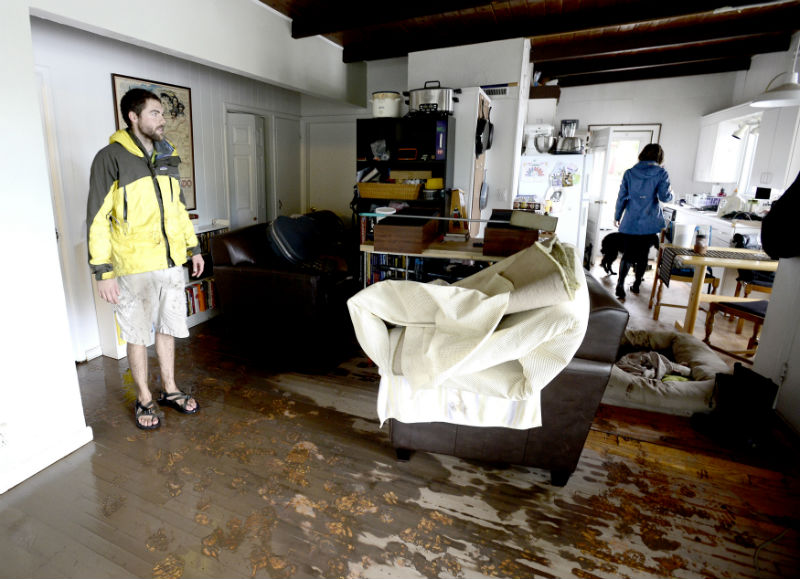 Saturday, September 14
The damage to our neighborhood is stark. Driveway-sized dumpsters sit everywhere. One has labeled a pile "CONTAMINATED," to discourage dumpster diving in belongings covered with fecal matter, I suppose. Generators power pumps shooting sewer water out of people's basements through fire hoses.
Down the street, a neighbor's sewer line collapsed. The street is filled with cleanup crew trucks and porta-potties. All the family's belongings are strewn over the yard, like a sodden eviction. Tomatoes have ripened and rolled away. The woman who owns the home sits outside, sorting through wet pictures, flicking them severely onto the ground, her expression the most extreme frown I've ever seen. There is no emoticon for her emotion—a mixture of anger, sadness, and disgust. I want to tell her I'm sorry, but she doesn't look up, so I leave her alone.
Humvees rumble down the street and the noise of military helicopters overhead is constant as the National Guard rescues hundreds of people and their pets from the mountains, the largest airlift since Hurricane Katrina. All the emergency personnel are tending to these evacuees—no one has been to our neighborhood. But my neighbors have it covered. When an email goes out about an elderly woman living alone with her basement filled with filth, volunteers rally in minutes with pumps and other equipment. There are so many competent survivalists, I'm glad there wasn't an entrance exam to live here because I wouldn't pass.
Maya clamors to play with someone, but all the children have been sent away to grandparents or friends, and ours appear to be the last kids on the block. Theo saw on TV a railroad track floating up over a raging torrent. In his toy-crammed room, he elevates a wooden railroad track with Jenga blocks, telling me that this will save it from the flood.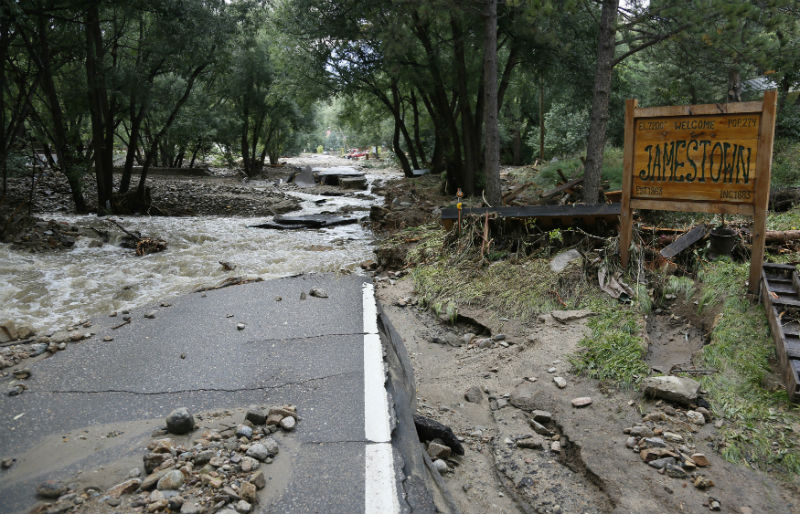 Sunday, September 15
We're officially a federal disaster area now. Guys in white hazmat suits have moved in. "Disaster Relief" trucks overtake our neighborhood. I never knew about the sheer variety of companies peddling this service. We start to rip out our carpet. You can tell we're amateurs because everyone else's carpets come out in neat rolls, while ours is heaped in jagged shards. Maya and I heave the soggy lumps out to the driveway while Julien cuts.
Gentlemen callers leave their business cards in our screen door: Drywallers, junk haulers, men with trucks, pumps, heavy equipment. The hotel down the street fills with contractors.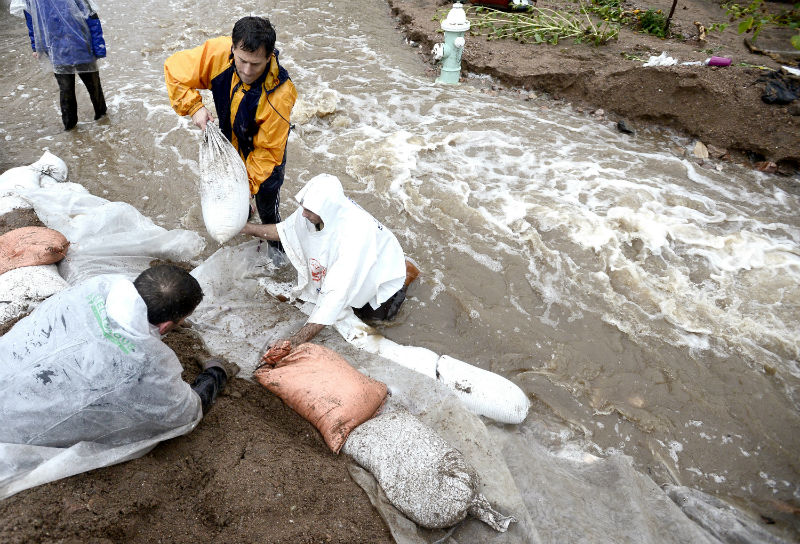 Monday, September 16
It's still raining, though it breaks now and then. School is cancelled for two more days and my parents arrive from Denver to take our kids so we can bleach the entire basement, mold-fighting action we learned was necessary from our cheery Vietnam Vet neighbor Dell, who's always steady in a catastrophe, and coordinated loaning pumps to everyone.
Our carpet pile out front beckons junk haulers who want us to pay them to take it away. We have to keep it until all the insurance adjusters and FEMA contractors have viewed this sad mess.
One junk hauler is convinced I brokered some kind of deal with him in my rusty Spanish yesterday. But then some Christian groups stop by and offer to haul our junk off for free. I never would have pictured myself the target of Christian do-goodery.
The city of Boulder has placed dumpsters around town for free disposal. I jog by one and find it comically overwhelmed. It's the same size dumpster that each of my neighbors has filled from one house. Junk covers the entire parking lot and traffic jams up as families stream in with ruined belongings.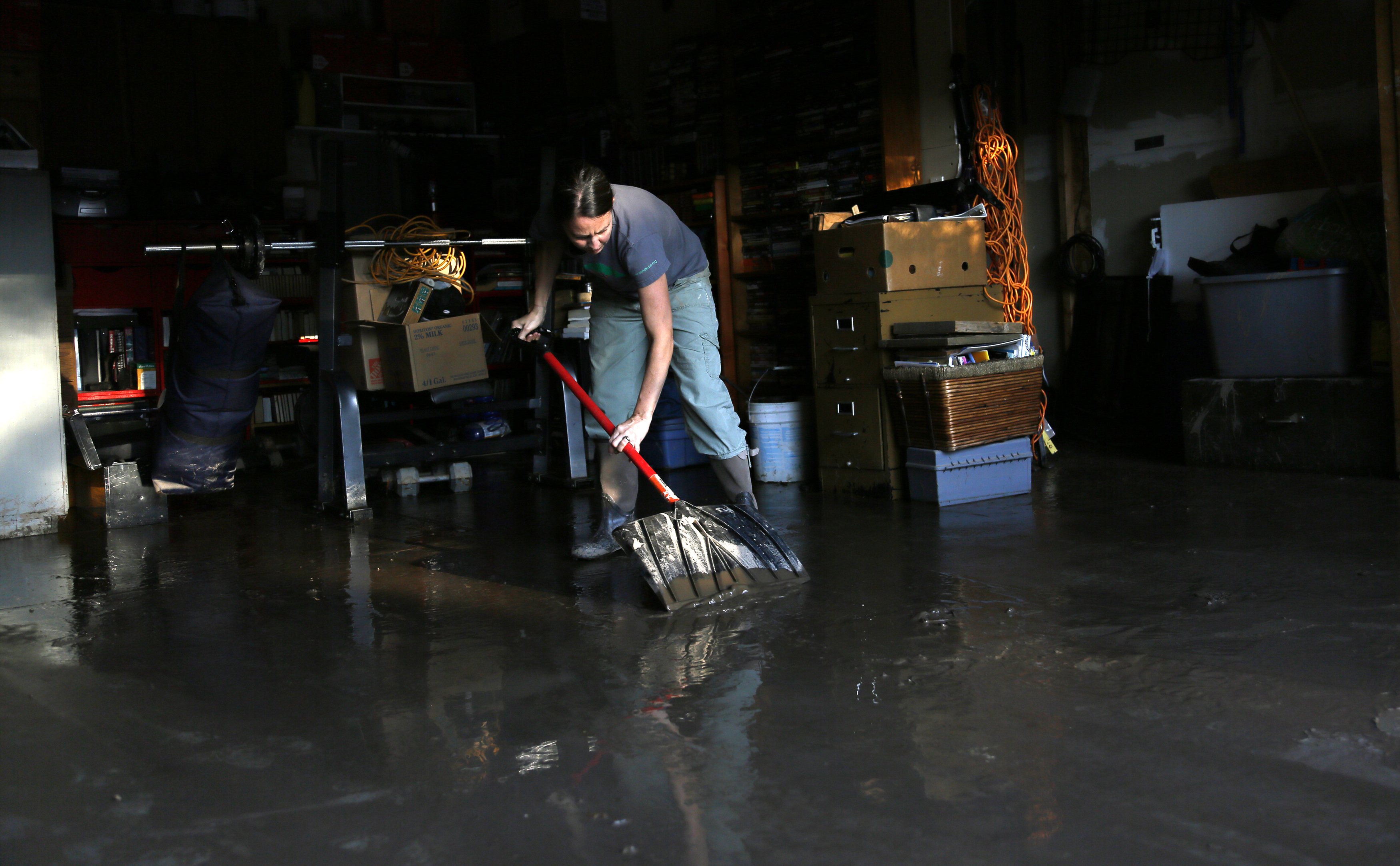 Tuesday, September 17
The insurance adjusters come today and gave us the news we'd already figured out—flood insurance doesn't cover most flood damage. Or as this affable Texan adjuster put it, "With all due respect, they consider your basement just a hole in the ground." He and his wife search our house carefully to find something, anything, the insurance would compensate us for. Foundation walls are one of the few items covered, along with some drywall repair. But there will be nothing for belongings, ruined flooring, cabinets, mold or mildew.
The Internet is working again. I check our bank account and discover that since the chaos started I've overdrawn our account by $7.50, triggering a penalty. My eyes well over as I gather all the cash I can find in the house--$31, and rush over to the bank to make a deposit. My sturdy neighbors surely own some kind of disaster utility vest with a secured waterproof pocket for checkbooks that they wear at all times during an emergency. I've shamed them this day.
I try to gather myself before I go into the bank. But when I start to talk I cry. The teller looks at me with pity, erases the fee and tells me she's happy to help.
We'll drain our bank account just to get rid of the water damage, and plan to live with ripped up floors and hole-filled walls indefinitely.
My parents bring the kids back this afternoon so they can go to school tomorrow. Maya's school sends an email with guidelines on how to talk to our children about—among other things—the feces that have filled their homes.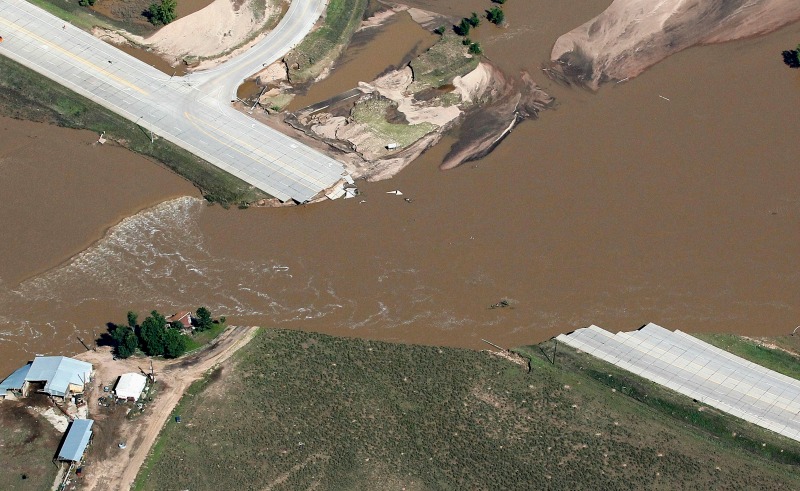 Wednesday, September 18
The FEMA contractor tells us that FEMA will deny our claim because we have flood insurance, useless though it is. Many others do not.
Julien works as a software engineer at the University Corporation for Atmospheric Research, where his meteorologist colleagues are calculating the probability of the big storm's precipitation frequency. Some suggest it was closer to a thousand-year flood than a hundred-year flood.
Maya comes home from school and tells me about all the kids who've lost toys, citing the exact height water or sewage rose to in each friend's home.
Yet these are the lucky stories. Ten people are dead. Hundreds are still unaccounted for.