A Handwritten Letter the Prison System Doesn't Want You to See
A fellow inmate shares an eyewitness account of the latest suicide at Supermax.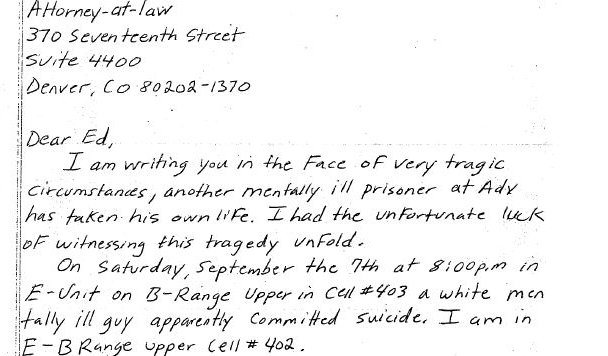 Last Wednesday, amid nationwide services commemorating the 12th anniversary of the terror attacks upon America, the Bureau of Prisons, through the Justice Department, issued a statement for "immediate release" to the media and the public. "Staff Assault Contained," was the headline of the one-paragraph announcement about an incident that had occurred behind bars that very morning. Here's how it read in its entirety:
At approximately 7 a.m., on September 11, 2013, an inmate at the United States Penitentiary, Administrative Maximum, Florence, Colorado, initiated an assault on a staff member using a homemade weapon.  Additional staff immediately responded and all were able to quickly and effectively restrain the inmate.  All three staff members were transported to a local hospital for evaluation and treatment of non-life threatening injuries. The FBI has been notified and an investigation of the incident is underway.
The feds wanted everyone to know, immediately, that prison officials had restrained a violent inmate who had inflicted "non-life threatening injuries" upon a few staff members. That's the kind of news the Bureau of Prisons likes to share with the world. It suggests to outsiders an environment within the nation's federal prison system where officials are in control — and capable of responding "quickly and efficiently" to warning signs of danger from inmates.
But what federal officials did not rush to disclose that day —  indeed, what it has not been publicly disclosed until now — is that another prisoner, a man named Robert Gerald Knott, was found hanging dead in his cell on September 7th, the evident victim of yet another suicide at ADX-Florence. That is definitely the sort of news that the Bureau of Prisons generally does not rush to trumpet to the world because it suggests to outsiders an unconstitutional level of chaos and disorder within the federal prison system that can result in the death of a man who is required by law to be protected from himself.
Knott's heretofore unacknowledged death is significant for several reasons. He was a notorious criminal whose long ago crimes were the subject of a made-for-television movie. But he was also one of the many inmates in the federal prison system suffering from untreated, or mistreated, mental illness. Indeed, Knott died in a prison run by obdurate bureaucrats who are the subject of several civil rights lawsuits, brought in federal court in Colorado, alleging the systemic abuse and neglect of mentally ill prisoners. (See The Atlantic's long-running series on these cases.)

The BOP wants to keep quiet about what happened (and why) to Knott on the day of his death — "an investigation continues," a spokesman told me late last week. But a fellow inmate, with a view of Knott's cell on the day he died, has shared his account with his lawyer, who in turn has shared that account with The Atlantic. The story this inmate tells, of the last dismal hours of Knott's life, offers rare insight into how the mentally ill still are treated in this prison — even as lawsuits challenging these treatments move closer toward trial.
The Life and Death of Robert Gerald Knott
Twenty-five years ago, Robert Knott made the papers — and television — because he and confederate named Jeffrey Duane Frost went on a three-state crime spree that lasted nearly two weeks. There were hostages. There were guns. There were car chases. There was a standoff. And ultimately, there was a shootout that resulted in two deaths. In the end, Frost was dead and so was Dana Bridges, a woman that he and Knott had kidnapped. The episode had started in Beatty, Nevada, and had ended, in sorrow, in Onalaska, Washington. Knott was quickly tried, convicted and sentenced to life in prison.
His severe mental illness predated this criminal conduct. Early in life, Knott was hospitalized with symptoms of depression and "command hallucinations." Later, court records reveal, he was diagnosed with schizophrenia. But none of this stopped officials from transferring him to ADX-Florence even though it does not contain a "mental health evaluation unit" like other federal prison facilities. More than a decade later, in April 2002, Knott was transferred to just such a unit in Springfield, Missouri, to be evaluated by a prison psychologist who promptly concluded that he was mentally ill and needed care in a prison psychiatric hospital. Knott objected to the diagnosis and refused the treatment.
"Throughout his incarceration in the Federal Bureau of Prisons," the doctor wrote in the background section of Knott's file, "Mr. Knott has been diagnosed with schizophrenia and antisocial personality disorder. He has been admitted to this facility for evaluation or treatment on six previous occasions." Of the 2002 evaluation, the government doctor noted that Knott "appeared uncooperative during much of the course of this evaluation, and it appears likely his lack of cooperation was due to his severe psychotic illness."
How does a man get this way? Is it nature? Is it nurture? Is it a bit of both? We know from Knott's records that his mother shot and killed his father when he was very young and that his adoptive parents were killed in an airplane crash when he was 15 years old. He turned to drugs and to a life of crime. But as his 2002 doctor noted in the file, Knott's mental illness always seemed to get worse when he was transferred back to Colorado, and it always seemed to get better when he was transferred to a suitable facility that offered appropriate mental health care.
But this time, the Bureau of Prisons didn't transfer Knott as quickly as it could have so he could get the medicine and treatment he needed. Instead, prison officials waited, and tried to treat him through methods that had already proven ineffective, until it was too late. In an email I received late last week, here's how the feds described what happened to Knott:
Inmate Robert Gerald Knott, Reg. No. 17508-086, was found unresponsive in his cell at the United States Penitentiary, Administrative Maximum, in Florence, Colorado on Saturday, September 7, 2013. Medical assistance was immediately summoned and efforts to resuscitate him were unsuccessful. He was pronounced dead at 8:37 p.m. His death is being investigated as an apparent suicide and local authorities will conduct an autopsy. The FBI has been notified along with the next of kin and an investigation of his death continues. Inmate Knott was a 48 year old male, sentenced in the District of Oregon to a Life term for Conspiracy to Kidnap and Kidnapping.  He arrived at this facility on February 13, 1995.
There is a grotesque ritual at Supermax — thoroughly unbecoming to our constitutional norms or just basic standards of decency. Federal prisoners who die in custody there are shackled post-mortem (or remain shackled) even as their corpses are transferred out of the facility. Local coroners report that they receive the bodies of dead prisoners still in chains. Knott's autopsy, if it has been completed, has not yet been made public. But at least one eyewitness, the inmate whose story you'll read below, says that prison officials indeed shackled Knott's arms and legs before they removed his body from his cell.
What the Eyewitness Saw

The day after Knott's death, an ADX-Florence inmate named Jabbar Currence wrote a letter to Ed Aro, a partner in the Denver office of legendary law firm Arnold & Porter. Aro has shared Currence's letter with me, and Currence, in turn, has consented to the use of his name even though it may subject him to retribution by prison officials. The inmate, sent to prison for drug offenses and sent to ADX-Florence for assaulting a corrections official, resides in the cell next to where Knott was housed. "I am writing you in the face of very tragic circumstances," Currence told Aro. "Another mentally ill prisoner at ADX has taken his own life. I had the unfortunate luck of witnessing this tragedy unfold."
You can see the entire letter for yourself here. This is the text at the heart of it:
I noticed that for approximately a week or two prior to this it seemed as if he was sinking into some progressively worser state of mind. He stop (sic) taking his medicine. I know because I would hear the nurse come to his door. He was normally real quiet but he began to yell, scream, talk out loud. It was incoherent speech...

But what is most disturbing is that evidently he was covering something in  his cell and staff were unable to see clearly in his cell because I would see and hear officers peeking in his cell and whispering to each other like he was some sort of spectacle, they never notified the Lt. or pyscholog (sic) about his bizarre behavior... They would infrequently open his outer door to peek inside without asking him was he ok or why he was doing what he was doing.

The two officers (name unknown now) discovered him hanging at 8:00 p.m., count time. The officers had come on the tier several times passing his cell even looking in and saying something to each other but not bothering to look and check real good. I estimate he was probably hanging for an hour or so. Also once he was discovered the amount of time staff took to respond is unacceptable. When they did respond, they were disorganized and improperly prepared. No nurse came. They didn't bring anything to cut him down with...

Food was scattered all over the cell. The drawings were of naked women, with toothpaste in the shower, the word "heaven" written on the wall. Ed I have seen a lot. But you are never prepared to see any human being fall into such a state of mental illness that he or she is forced to do the irreversible. Especially when you witness it play out before your eyes day by day.
Postscript
So Knott arrived at ADX-Florence after being diagnosed in 1990 with a significant mental illness. Throughout his stay in Colorado his diagnosis was confirmed by prison psychologists. Currence, his neighbor in the cell next door, says that Knott's condition worsened over the weeks leading up to the suicide, while the very officials in charge of Knott's welfare were being sued for failing to properly treat mentally ill inmates in their care (including inmate Jose Martin Vega who was psychotic and essentially untreated when he hanged himself in his cell in 2010).
Currence says that prison officials knew, or should have known, that Knott was getting worse — that they even talked to him near the end about getting him suitable help at another facility. Yet the inmate also alleges that on September 7th, the day of Knott's death, prison officials displayed precisely the sort of deliberate indifference to a mentally ill prisoner that is alleged in the pending lawsuits. The acknowledgement that Knott was not getting the treatment he needed in Colorado is significant both as a matter of law and fact because the BOP's own policies indicate that mentally ill prisoners "should not be referred for placement at" ADX-Florence in the first place.
It's not hard to see how Knott's death might impact the pending civil rights litigation over the care of prisoners like this. To the extent they make any public pronouncement at all, prison officials are likely to say that they cannot be held responsible for the irrational acts of inmates -- and that they cannot stop every suicide. Meanwhile, Ed Aro, the lawyer representing the inmates, says that the latest suicide suggests that prison officials aren't taking nearly seriously enough their constitutional obligations to provide adequate care and treatment.
"Although the BOP has made some changes at the ADX since we filed our lawsuit in 2012," Aro told me Tuesday, "its bungling of Robert Knott's treatment makes it crystal clear that it either doesn't care or is just fundamentally incapable of managing mental health care at the ADX." Shackled to the bitter end, Knott indeed may be gone from the prison. But his story surely won't be forgotten. Federal officials never had to answer for their treatment of him while he was alive. A federal judge may force them to answer for it now that he is dead.