'22 Lewd Chinese Women' and Other Courtroom Dramas
A U.S. circuit judge brings historic Asian-American trials back to life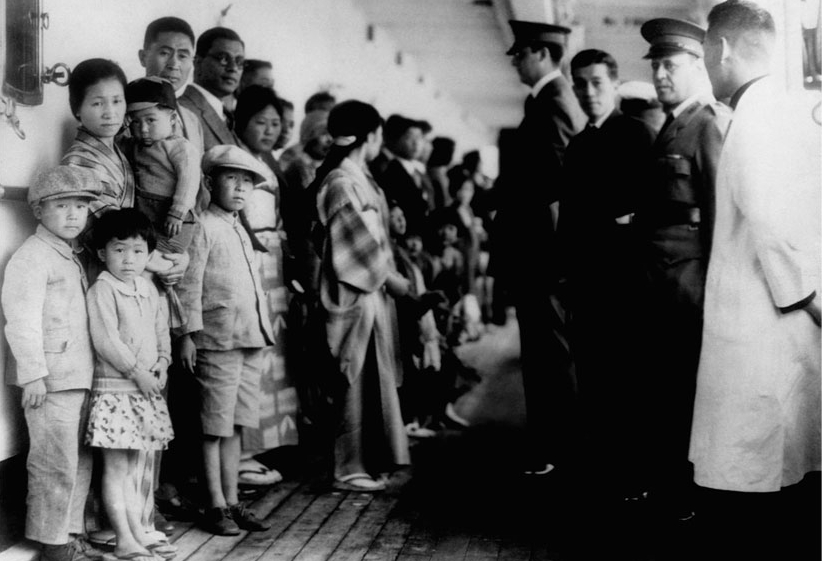 Asian families line up at Ellis Island in 1910. After the Chinese Exclusion Act passed in 1882, Chinese arrivals risked deportation if they couldn't prove that their husbands or fathers were U.S. citizens.
He sentenced financier Bernie Madoff to 150 years in prison and presided over cases ranging from the U.N. Oil for Food scandal to the long-running Google Books dispute.
For the last seven years, Judge Denny Chin of the U.S. Court of Appeals for the Second Circuit has also been writing historic reenactments of Asian American trials. (Of more than 180 federal appellate court judges nationwide, Chin is one of just four Asian Americans.) The newest one, titled 22 Lewd Chinese Women, will premiere at the National Asian Pacific American Bar Association's national convention in Kansas City this November.
It all began with The Trial of Ethel Rosenberg. In 2006, Judge Chin recruited some members of the Asian American Bar Association of New York (AABANY) to reenact the 1951 espionage trial before an annual conference of lawyers. Since then, Judge Chin; his wife, Kathy Hirata Chin, a partner at Cadwalader; and a core group from AABANY have produced a one-hour trial reenactment every year. They've focused on cases involving Asian Americans, starting with The Trial of Minoru Yasui, which challenged the legality of FDR's World War II curfew order for people of Japanese ancestry. Their reenactments have included the Depression-era Massie cases, involving an "honor killing" for the alleged gang-rape of a U.S. naval officer's wife, and the Tokyo Rose trial of Iva Toguri D'Aquino, who was convicted of treason after World War II and pardoned nearly 30 years later.
"It's fun as lawyers and judges to see how these cases were tried, for example, in the 1940s compared to how they're tried today," Judge Chin said in an interview at his chambers, once occupied by Justice Thurgood Marshall. "A good cross-examination back then is not that different from a good cross-examination today."
To produce a reenactment, the group pulls together excerpts from trial transcripts, testimony, and briefs, along with other original documents. (The Tokyo Rose case involved 6,000 pages.) Chin and his wife write the narration that weaves the excerpts together. Historic photographs, projected via PowerPoint, set the scene.
The reenactments offer a creative way for lawyers to earn Continuing Legal Education credits. But they also raise troubling issues. One reenactment involved the murder of Vincent Chin, an American of Chinese descent (no relation to the judge) who was fatally beaten in 1982 with a baseball bat on the night of his bachelor party. Witnesses recalled that Chin's murderers had shouted obscenities, blaming Asian Americans like Chin for the layoffs that were ripping through Detroit's auto industry.
Despite pleading guilty and no contest, respectively, to manslaughter, Ronald Ebens and his step-son, Michael Nitz, were sentenced to three years' probation, a $3,000 fine, and court costs of $260. The sentences galvanized the Asian American community and led to two federal criminal civil rights trials. Nitz was acquitted; Ebens was sentenced to 25 years in prison but was later acquitted in a retrial.
"That kind of resentment and the big questions about the verdict are similar to Trayvon Martin," said attorney Trinh Tran, who organized a reenactment of the Tokyo Rose trial while she was a law student at Hofstra. (AABANY's reenactments have also been presented at Fordham, NYU, Princeton, and University of California Hastings.)
The group's 2011 reenactment, Ozawa and Thind, stemmed from two 1920s Supreme Court cases presided over by Chief Justice and former President William Howard Taft. The story involved a Japanese man in Hawaii and an Indian man in Washington, each of whom tried to become naturalized U.S. citizens at a time when the law hadn't yet defined where Asians fit in. In the reenactment at the national conference in Atlanta in 2011, Ozawa's granddaughter Carol Leonard played the role of his daughter, her aunt Edith.
"It was heartbreaking for me to realize that after all the effort my grandfather expended, having written his own legal brief and taken his cause to the U.S. Supreme Court, he died 16 years before Congress finally removed racial restrictions for naturalization," Leonard said in an email. Ozawa would not live to see Pearl Harbor, the internment of Japanese Americans in its aftermath, or the death of his only son, George, on an Italian battlefield in 1943. (Two weeks before the premiere of Ozawa and Thind, George's unit — the all-Japanese-American 100th Infantry Battalion — received the Congressional Gold Medal.)
The group's upcoming reenactment, 22 Lewd Chinese Women, is based on an 1875 case that foreshadowed last year's Supreme Court ruling on Arizona's immigration law. The case, Chy Lung v. Freeman, involved nearly two dozen women who were aboard a ship that had sailed from China to San Francisco. Because the women were traveling alone, they were deemed by the California Commissioner of Immigration to be "lewd," and therefore prostitutes. Only a bond of $500 in gold would secure the release of each woman.
In the first case involving a Chinese litigant, the U.S. Supreme Court sided with the women, ruling that Congress, not the states, had the power to regulate immigration. It declared that California's law of requiring bond for an ill-defined class of people overstepped its bounds and that the women should be released.
The case was especially significant because, as Judge Chin explained, "the country was on the cusp of prohibiting the Chinese from entering." The same year the Supreme Court decided Chy Lung v. Freeman, Congress passed the Page Act, prohibiting Asian prostitutes and forced laborers from entering the country. The Chinese Exclusion Act, which barred Chinese immigration altogether, followed seven years later and would last six decades. Along with questions about immigration and state-federal relations, 22 Lewd Chinese Women raises the issues of human trafficking, forced prostitution, women's rights, and due process — all of which, as Judge Chin points out, are highly relevant today.
AABANY compiled five of these re-enactments into a special edition of its law review last year. The group has also collaborated with the Asian American Arts Alliance the last two years to bring these reenactments to a broader public, such as the Asia Society in May. "They're all tragedies," said Frank H. Wu, Chancellor and Dean of UC Hastings College of the Law and a co-author of the Vincent Chin script. "On another level, they're the story of America, of a group that arrives, faces prejudice, and does its best to overcome that. And sometimes, the system doesn't work. Sometimes, people fail. But ultimately, it succeeds."