Why There Are Currently Goats in the Congressional Cemetery
It's a dirty job cleaning up after Congress, and these animals are the ones to do it.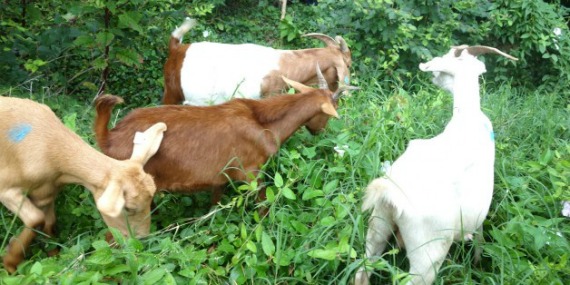 If you find yourself at Congressional Cemetery at the witching hour and hear shrieks reverberating off the tombstones, fear not! It's not the ghost of J. Edgar Hoover or John Philip Sousa, it's just the bleating of goats.
For the next few days about 70 livestock landscapers will be using their teeth as weed whackers to help rid the historic cemetery--resting place to one vice president, one Supreme Court justice, and 90 former members of Congress--of vines, poison ivy, and other unwanted ground cover.
"We've got a real problem with invasive plant life, especially the vines that are climbing our trees and risk toppling them over onto the historic headstones," cemetery President Paul Williams said Wednesday while watching four of the goats chomp leaves off of small trees with reckless abandon. Believe it or not, the goats--who are going at a rate of $375 per herd per day--were Williams' first choice for the work.
And not just because they are more eco-friendly than herbicides. These goats are not grazing throughout the cemetery, they are working on a very specific plot, a rocky and brush-filled section at the back.
"They are doing work in a tough spot, a lot of landscapers wouldn't want to be there, so they are actually a better deal," said Brian Knox, the supervisor for the company Eco-Goats. "And they can be actively eating for 16 hours a day." (Total cost of the goat service: $4,000--to be paid by the cemetery preservation association.)
Children and local television crews alike seemed excited by the spectacle, but the goats (who had just been delivered moments earlier) were shy. Cameramen traipsed about the wooded area looking for a good shot ("What, are they on their union break?" "Leave it to Channel 4 to scare away all the goats." "Can you at least get a shot of a kid saying something cute?") and Knox admitted that at this point only his "B-team" of goats had yet arrived.
I asked him how well he knew these goats to make such an assessment. Did he know all their names?
"The best analogy I have is high school," he said. "If you have real charisma you get a name, if you're a real pain you get a name, but if you put your head down and do your job no one will pay attention to you at all." (Another good analogy could be made with members of Congress, many of whom lay anonymously here for eternity).
The Congressional Cemetery didn't always have such a liberal-arts college, eco-friendly feel. Just 20 years ago, it was an open-air drug market. The site, near the D.C. Armory, was founded in 1807 by member of Christ Church, which offered a slew of plots for lawmakers (the cemetery is not owned or funded by Congress). But after the creation of Arlington National Cemetery in 1864, the spot lost much of its cache. By the 1970s the church had no money left to fund it. Left to its own devices, the cemetery became overrun both by plant life and illegal activity. John Sharpe, a musician who grew up down the block from the cemetery, remembers running through almost neck-high grass with his friends as a kid.
"It was really spooky around here, and I have to say it was terrible that such a historic grave site could be so neglected," he said. "I never would have come back this far as a kid, but it's a lot less scary with these goats around."
It was actually a different kind of animal that really helped return the graveyard to its manicured state: dogs. In the late '90s a group of dog walkers started the K9 Corps. This collective now has about 600 members (and more than 100 people on a waiting list) paying $250 a year (plus $50 per dog) to use the cemetery as a dog park.
"We're working to make this more than just a graveyard, but as a place with historical and ecological programs as well," said Chris Kennedy, a board member.
Or, as Williams put it: "We want it to function kind of like a Victorian cemetery, a place where people could escape to from their nasty, smelly city homes."
---
This post was originally published at National Journal.