Why Jeff Bezos and The Washington Post Could Be Good for Each Other
Whatever else it may mean, purchasing the Post instantly lifts Bezos's profile and clout -- and, by extension, Amazon's -- where it truly counts: in the nation's capital.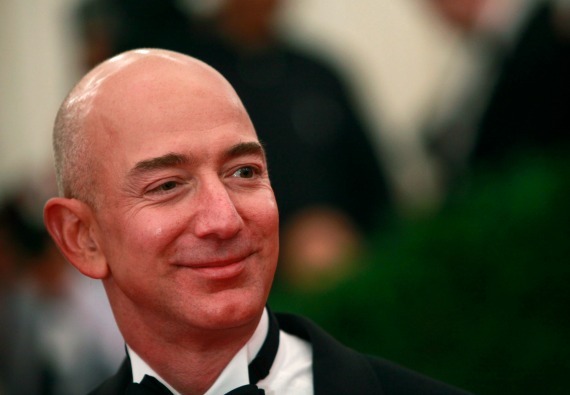 As the sale of The Washington Post to Jeff Bezos by Don Graham -- supported by his family, board of directors, and his largest shareholder, Warren Buffet -- sinks in, the consensus is that a sentimental attachment to the values and traditions of the newspaper associated with its outgoing owner is less meaningful than the resources and ingenuity its new proprietor can provide. As the founder and unquestionable visionary force responsible for Amazon, Bezos's overwhelming success is a vast personal accomplishment. He began by reinventing the book business -- to the consternation, it must be said, of many who have been affected and are scrambling to meet Amazon's challenge -- and it is a good bet that he wants to do the same for struggling newspaper economics to prove that he can where others have not.
The attributes that his critics (especially among book retailers and publishers) regard as ruthless in driving Amazon are now being presented as a basis for reviving the Post and perhaps developing the model for revenue growth that other legacy news organizations can adopt. A reminder: This purchase is entirely Bezos's own, independent of Amazon.
By now there have been reams of commentary about what was a stunning development by any measure. The Washington Post and the Grahams are synonymous with quality journalism and, until very recently, maintained a thriving enterprise for as long as even its oldest readers, advertisers, and employees can remember. The adjustment to the new era will be a profound change. Yes, management for now will remain with the current team--led by Katharine Weymouth and her top editors. But Bezos is a stranger from a distant place and has no intention to relocate. In every apparent respect, his aggressive approach is unlike the venerable manner and largely conservative strategies that the Grahams pursued, even as they tried digital initiatives with frustrating results as revenue declined and print circulation plummeted.
From all that has been written so far about the sale, aside from being a reader, Bezos's relationship to the Post has been, at best, tangential, with no discernible attachment to the history and culture of what is an essential Washington institution. He and Don Graham know each other well enough to reach a deal (apparently at the annual July Allen and Company moguls confab in Sun Valley), with Graham setting a price of $250 million that Bezos accepted. But until now, the rest of the extended Post community has only received Bezos's best wishes and a pledge to assure the newspaper's future, including, at least for now, in print. As a former Post reporter and editor, I share the hope of so many others already heard from -- that Bezos will bring the money, the technical know-how, and the customer focus that will restore the Post's depleted confidence in its future; and with it the Post's invaluable journalism will flourish, bringing it again to the forefront of the news organizations in its category, mainly now consisting of The New York Times and Wall Street Journal. Their respective controlling owners, the Sulzbergers and Murdochs, have made headway in adapting to the demands of the digital era.
Bezos's plans for the Post (and the smaller papers he also acquired) will doubtless emerge relatively soon, once the transaction is completed in the early fall. While Bezos (and his shareholders) have been described as "patient" in accumulating profits building the behemoth that Amazon has become, his record of bold innovation has been accompanied by minimal regard for the disruptions that result in the businesses he challenges for market dominance.
Not surprising, perhaps, as the overall perception of Bezos's takeover of the Post has turned positive, the reaction from the book retailers who have endured the brunt of his competition has carried warnings of what may be in the offing in the way he runs his company. Bradley Graham and Lissa Muscatine, both former reporters for the Post and now owners of Politics and Prose, Washington's leading independent bookstore, wrote in their newsletter:
We fervently want to believe that the Graham's family's decision to sell the paper to Bezos is a smart business move that will . . . breathe new life into the Post and enable it to prosper in the digital age. . . .

Yes, Amazon has transformed bookselling in ways that have afforded consumers greater convenience, lower costs and digital alternatives. But in doing so, the company has engaged in questionable practices such as selling below cost to gain market share and evading the collection of sales taxes. It has also sought to bully smaller companies that have resisted its terms and has been criticized for poor workplace conditions in the United States and abroad.
In a letter to its members, Oren Teicher, president of the American Booksellers Association, wrote:
Amazon's narrative of growth value and productive contribution to communities is highly distorted. . . . The real story is a combination of complex strategic machinations, brass knuckles capitalism and a myopic disregard of the consequences for any stakeholders save itself. As the company concentrates its power and influence in a nexus of commerce, government and media, Amazon's actions should draw even more scrutiny.
Whatever else it may mean, owning The Washington Post instantly lifts Bezos's profile and clout -- and, by extension, Amazon's -- where it truly counts: in the nation's capital.
From all indications (and based on his character), Don Graham's motivation to forgo his family's dedication to their newspaper is an earnest recognition that they could no longer do for it what was necessary. As other billionaires with notoriously fierce tactics in business have shown -- from Carnegie and Rockefeller to Gates -- there comes a time when meeting society's needs takes its place in their activities. Buying a great but troubled newspaper is definitely not philanthropy in any conventional sense, but it may be that Jeff Bezos, moving beyond his ambitions so far, wants The Washington Post to fulfill journalism's most honorable role as a fearless chronicler and monitor of events, near and far. What a welcome goal that would be.