'What Is Special About My Town': Las Cruces, Durango, Boise
An "exploding" military-industrial complex, the "new West," and "superb college football" are mentioned in today's reader suggestions.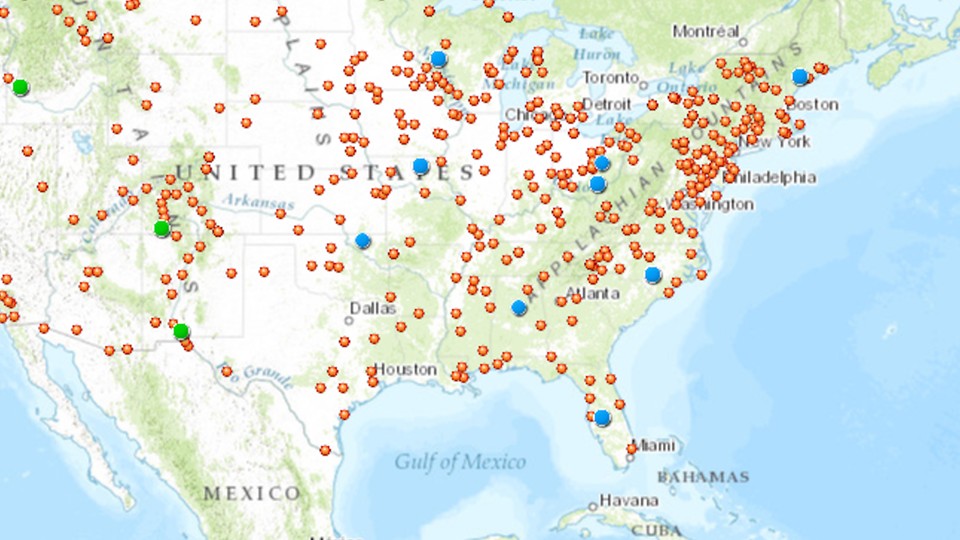 Continuing the series, reader suggestions on three more places to visit in our American Futures project. The map shown here is a screen shot; for "live" version go to the project site.
Over to the readers:
Las Cruces, New Mexico
In some ways it typical of small cities. We've just opened our third Wal-Mart and of course, like many smaller cities, our local retailers are becoming an endangered species. Our residents seem enthusiastic whenever some well known national chain deems us worthy of a restaurant or a store, meanwhile, all but the most popular local restaurants seem to close as fast as they open.

Traditionally we've relied on agriculture, the second largest university in New Mexico and the federal government via White Sands Missile Range for jobs. The past ten years have been a boon for local contractors as the military-industrial complex has exploded. However, with furloughed civilians, that looks less certain in the future. Agriculture, including the popular New Mexico green chile and some of the largest pecan suppliers in the country, faces a very uncertain future as fees for irrigation keep rising while water allotments keep dropping because of draught conditions not seen in centuries.

Our population looks a lot like America's future with demographics that include over 50% Hispanic and growing numbers of Asians filling graduate positions at the university.

In many ways Las Cruces is betting its future on its attractiveness as a retirement location of choice (which contributes to it being one of the fastest growing cites in the state) and the private space industry. The first is already here as it seems a new bank, healthcare facility and Walgreens open daily. The second, which is tied to the Spaceport America, may prove to be a Richard Branson Virgin Galactic boondoggle, or the best investment we've ever made. The jury is still out on that.

It's an exciting time as Las Cruces seems destined to either become the next Phoenix or remain the overlooked interstate stop off in a low income county in one of the poorest states that it currently is.
Durango, Colorado
Durango epitomizes the new west -- the places being chosen as locations for professionals who are trying to find the right balance between lifestyle and career.

Durango is adjacent to the most impressive mountains in Colorado, but it's not close enough to any big-name ski mountains to attract movie stars. It's not Aspen, Vail, or Jackson Hole. It represents, I believe, an under-reported story of relatively successful people who move here for the amenities. And it truly is a proactive choice for many people, because we're not close to any interstates, nor to any big cities. Denver is about a 6-7 hour drive, or a short (but often delayed) flight. Albuquerque is slightly closer, but it's unclear whether it is a big enough city to count. Phoenix is 7.5 hours away. It seems to me that of the other towns that are mentioned as filled with lifestyle amenities but far from cities, many of them are much less remote.

Housing prices aren't so high that you get people who sold their tech start-ups and moved here, but they are high enough that many of the people moving here bring with them a successful career that allows them to work remotely. If the trend to remote working and telecommuting continues, it will be both be driven by the desire that many people have to live in a town like Durango, and in turn it will further drive the desirability of such locations (while also bringing some growth-related issues).

Durango also represents demographic and political changes that are shifting Colorado from a red state to a purple of blue state. The expectation that Denver and the Front Range hold all the Democrats, and all rural areas are dominated by Republicans, is changing due to towns like Durango. That change has propelled Colorado to be at or near the tipping point state in presidential elections. Durango has a large influence on the county; this and other western counties have a changing effect on the politics of the state...which is among the most interesting of any state.
Boise, Idaho
I'd recommend Boise for its brew pubs alone, but there is so much more to this little capital city. It's a great mix of urban/rural activities and values, both fiercely progressive in some neighborhoods butting up against arch-conservative traditionalists and libertarian enclaves. Christians who band together against modern ideas like mandatory day care licensing or public preschool yet dissolve into their separate sects when the issue is who can claim eternal salvation. Superb college football (! on the Blue!), river running, fishing, biking (both trail and road), and more right in town, and skiing less than 45 minutes away. Hi-tech firms and agriculture are equally at home in the Treasure Valley; as J.R. Simplot was known to say, "from the potato chip to the computer chip."