'What Is Special About My Town': Columbus, Knoxville, Harrisonburg
Readers tell us about the "Athens of the Prairie," the "average-est" city, and a "city of the future."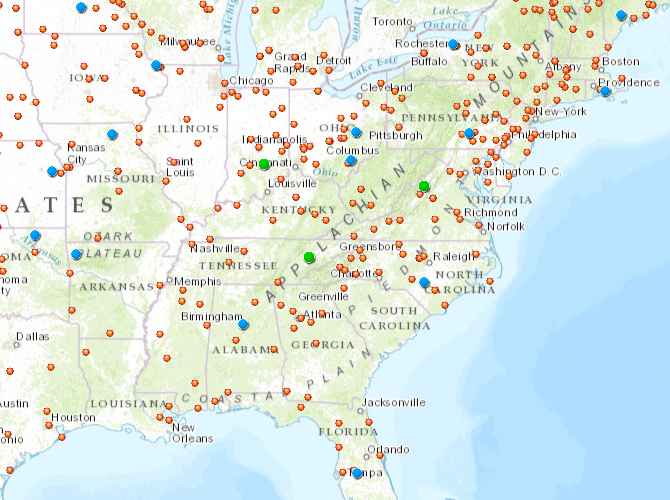 The latest in our series of reader suggestions for places to visit while reporting for American Futures.
Columbus, IN (2010 population: 44,061)
My vote for American Futures goes to Columbus, Indiana. Not my home town -- but I've passed through a few times and find the city fascinating. Home of Cummins Engines, Mike Pence, and Lee Hamilton. Local industrialist J. Irwin Miller selected the architects and paid fees for most of the municipal buildings. As a result, the 45k pop. town has 7 National Historic Landmarks. Banks, firehouses and churches by the Saarinens, I.M. Pei, etc. Continued economic growth, strong local infrastructure, civic pride, and an out-sized influence on Indiana politics. I've never visited without someone mentioning it's nickname, ironically or not ("Athens of the Prairie").
Knoxville, TN (2010 population: 178,874)
Knoxville is a weird hybrid of decaying industrial city (marble & aluminum mining) and vibrant college town with a newly revitalized core. It has been nominated as the 'average-est' city in America'. More than anywhere I've ever been, its two possible futures -- continued decay or knowledge-worker-driven revitalization -- seem equally likely. It seems like a great place to look at the possible future paths that mid-sized cities might take.

Plus, its small-planes airport (KDKX) is on a small island in the Tennessee River, right near downtown. Not to be missed!
Harrisonburg, VA (2010 population: 48,914)
Two notable nominations here. First:
Harrisonburg has been transformed by immigration and urbanization (rather than sprawl) over the past 20 years. I'm astonished to say it's starting to look to me like a city of the future.

A small city in the Shenandoah Valley, it has more than doubled in size since 1980, and has grown 20 percent since 2000. When I lived there in the 80's, the economy was dominated by agriculture and some manufacturing (and somewhat by James Madison University). The population was mostly white, with a small percentage of African Americans. Few people lived downtown (partly because the city had bulldozed a black neighborhood in the 50's under the guise of "urban renewal"), and most businesses had deserted the city center in favor of a new shopping mall on the outskirts of town. Indeed, the only notable development I can remember was the installation of a large grain elevator right on Main Street.

Starting in the early 90's, a great deal of Hispanic immigration has occurred, initiated by Mennonite missionaries to South America. Alongside this demographic shift, downtown has been revitalized--people live, shop, and eat there--and now even supports a modest art scene. JMU, which in my time was mostly a separate entity apart from the city, has grown and now shows its influence through the presence of younger adults--students, professionals, artists, etc. Rosetta Stone is now a major employer in town.

Politically, the changes have been radical. The city is now a blue(ish) dot in an extremely conservative and religious, bright-red county and region. No doubt as the city has changed, and more and more Hispanics have moved in, some white families have left town for the county and "suburbs." There is some sprawl. As of yet, however, there are no signs that this is hollowing out the city, or destroying the tax base.

In short, it's a much more interesting and energetic place than when I left, and I don't think its experience is unique.
And:
Harrisonburg is experiencing a fascinating range of interesting transitions:

(1) Growing from being a true small city (pop. now over 50,000, with rapid increase in the past 15 or so years);

(2) Transitioning from being a farming-market center to more of a college town (quite a cultural shift; the university, James Madison Univ., has grown significantly, and is an interesting thing to absorb);

(3) It has seen a significant transition to a more multi-cultural community -- the school system is close to being majority minority, and many languages are spoken -- again, very different from the traditional reality of historic Harrisonburg.

There are other tensions and opportunities. Basically, it is a city growing, but experiencing many different transitions in culture, political orientation, physical environment, economics, and demographics.

The question I have is this: Are smaller cities better, worse, or differently able to accommodate significant change than larger cities?