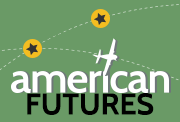 Reinvention and resilience across the nation
Read more
Continuing the series, reader suggestions on three more places to visit in our American Futures project. Above shows blue for previously discussed cities, green for the ones discussed today. The map shown here is a screen shot; for "live" version go to the project site.
Today we look at the West Coast with two testimonials each for Bend, OR and Walla Walla, WA, plus a new resident's view of Watsonville, CA.
Over to the readers:
Bend, OR (2011 population: 77,905)
Two notable entries here. First:
Bend lies in Deschutes county, which was one of the counties most affected by the implosion in real estate values during the recession. (In May 2010 the Federal Housing and Finance Agency released a report in which Bend had the largest price drop in the country, 23 percent, from first quarter of 2009 to the first quarter of 2010--Wikipedia) In the county, you will encounter several different narratives within a small distance of each other:
Bend, a former mill city transformed into an economy highly dependent on the numerous resorts scattered around the region, is filled with a population bifurcated between older, retired folks and young individuals with associates degrees/high school diplomas, who mainly work in retail/service jobs or low-level health care. The "middle class" consisting of bachelor's degree or higher is quite tiny compared to other metro areas. The city is a major collision between coastal liberal cultures and heartland conservatives, based on the citizens' backgrounds as farmers or more specialized workers. If any sort of moderate Republicanism is to be found (i.e. one that treats same-sex relations and environmental protection with respect, has a strong pride in small business and a wariness of massive centralized power, and generally dislikes authoritarian policies) it will be here. The largest corporation it is home to, Les Schwab Tires, is a company with a good reputation. (Although its distribution center is in nearby Prineville.)
And:
Most people think of Oregon as "green," but the eastern two thirds is high desert and mountains and Bend is the jewel of that region. A description of Bend would include snow-capped mountains just to the West, extremely outdoor-oriented culture, great food and multiple breweries, local and nationally-known art and music, and a laid-back friendly lifestyle. Weather is spectacular, with 300 days per year of sunshine, a real winter, but summer with highs in the 80s and lows in the 40s. In addition, there is a history of aviation manufacturing (Epic Air), and I'm sure you would be welcomed.
A third reader also touted Bend's reputation for fine micro-brews, calling it "an epicenter for craft brewing."