'What Is Special About My City': Lewiston, Eau Claire, Athens
"When we moved here 15 years ago, my husband said, 'they don't show you the downtown during the interview.'"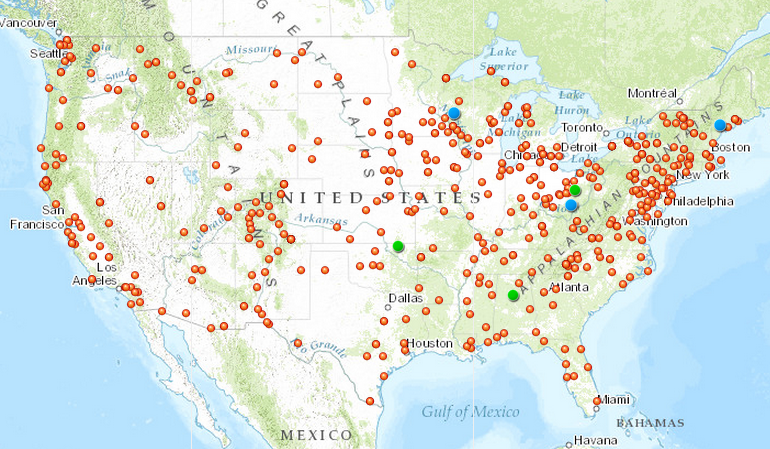 Drawn from the large range of thoughtful responses that came in for our American Futures project, and following this first installment recently, here are three more accounts of American towns.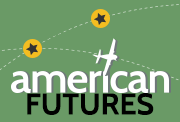 Reinvention and resilience across the nation
Read more
The map above is a static screen shot; a zoomable live version will appear at our special "geoblog" site soon. The red dots are cities people have written about; the green are ones whose descriptions we've previously published; and the blue are the three being featured today. (The live version may have a different color scheme.) Over to the readers:
Lewiston, Maine:
Lewiston, my home town, is the 2nd biggest city in Maine but has an extremely low profile--nobody I meet has ever heard of it. It doesn't fit the outsider's image of a quaint coastal Maine town. It's inland and tells a totally different story about recent New England economic history.

Lewiston was an important New England milltown which attracted thousands and thousands of French Canadian immigrants to work in the "shoeshops" (local lingo for shoe factories) in the early 20th century and growing up I heard French constantly--it was majority French speaking when I was a kid. By the 70s Lewiston fell on hard times like most other New England milltowns as jobs moved south and commercial activity moved to the outskirts of town. For my whole childhood downtown was pretty much boarded up and a place you never had any reason to go to. Lewiston was depressed and depressing place with a bad reputation around the rest of the state, and no one in my high school graduating class wanted to stay.

There is still some of that but the city has changed dramatically--now there are restaurants and shops downtown as there never were. I have heard some of this is directly attributable to the stimulus package which included tax breaks for developers to create condos with first-floor storefronts in American downtowns. Many of the old mills have been transformed into new light manufacturing spaces or offices, apartments, etc. Lewiston now has one of the lowest unemployment rates in Maine.

The other major change is demographic. When I was growing up the city was probably more than 99% white. In the past decade Lewiston has had another immigrant influx, but not the Latino community as you hear about in so many other places. In Lewiston it is Somalis who have also contributed to the transformation of downtown. Within less than 15 years, Somalis have come to make up more than 10% of the population. The city's long population decline has ended. There are Somali shops lining lower Lisbon Street. There have been a few high-profile racist & Islamophobic incidents but overwhelmingly the communities are working together. So now, for instance, there is a vibrant farmers market downtown as there never would have been before, and many of the farmers are Somali women. It's incredible. ...
Eau Claire, Wisconsin:
When we moved to this city 15 years ago my husband said, "they don't show you the downtown during the interview." We avoided it because it revealed a city still suffering from the closing of a larger tire plant a decade earlier.

Almost single-handedly, a young visionary saw something else and started a modest monthly arts magazine. Arts? Eau Claire? Right. But that was the beginning of a town discovering itself. It brought people out and gave them a vision of what could be. They supported the building of a park downtown - seemingly frivolous in this fiscally conservative and strapped town. It became the center of an arts scene, helped the city rediscover the natural beauty and recreation possibilities of the two rivers that meet here. The city keeps looking forward and is now working toward a "confluence project," development of a performing arts complex and urban development downtown at the confluence of the rivers. ...

(On a related note, I see Greeley, Colorado, as a city just starting out on this trajectory. Similarly, it has a single visionary who is bringing culture and music to the forefront through an arts magazine, Bandwagon, and the recent establishment of an all ages venue, The Moxi, in struggling downtown Greeley. This town could use a shot in the arm).

The cities share some qualities, like a midsized university with a strong music - especially jazz - component. And music seems to be the impetus and glue that brings people together and makes things happen in these towns.
Athens, Ohio, which in addition to the aspects this reader mentions has Ohio University too:
Appalachian SE Ohio has known hard times, generational poverty exceeding national averages, but there is a local movement underway that offers increasing hope. After more than a century of environmental destruction and poverty arising from outside parties seeking to extract and run off with the profits of the region's natural resources (salt, clay, coal) and the current local fight against the injection wells that are popping up to 'hold' the tainted fluids from PA. and OH.'s fracking operations, Athens and its surrounding towns are home to one of the nation's most innovative and successful local foods economy.

For the past 30 years, consumers and farmers, non profits and local government, business owners and institutions have nurtured a homegrown economic driver that is generating millions of dollars a year, thousands of jobs and related enterprises, and increasing access to to local food for all.

What you will find in Athens and environs: worker-owned food enterprises from eateries to bakeries; one of the nation's oldest and best farmers market and produce auctions that provide a venue for emerging and established farmers, along with generations of Amish farmers to connect with consumers (we know who grows our food!); infrastructure that helps emerging and established food related enterprises including a kitchen incubator (ACEnet) that has supported the launch of hundreds of businesses and Shagbark Seed & Mill, a processing operation that is working with local farmers to grow and process staple chemical free crops like beans and grains; a strong ethic to protect the land and water of the region; and wonderful stories of people finding their places and livelihoods within this foodshed. Pawpaws, heirloom plants, community gardens, a Junior Chef program for kids, and much more.
Three more tomorrow, and some reports on Holland later today.