What Slate's Redskins Decision Says About Editorial Judgment
By choosing not to recognize the Washington NFL team's official mascot, the online magazine maintains its contrarian reputation.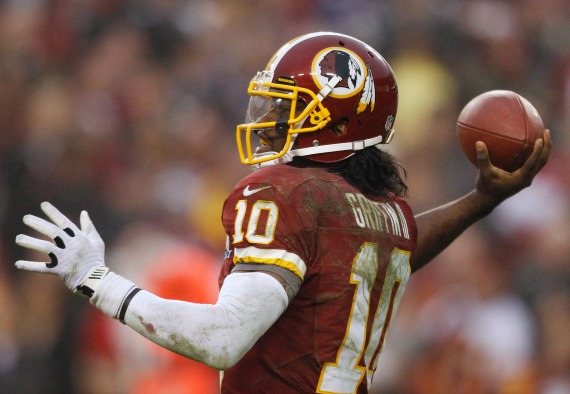 Yesterday Slate announced that it will no longer refer to Washington, D.C.'s NFL team as "the Redskins." It's a decision likely to be cheered by D.C. Mayor Vincent Gray and all else who agree that the term "redskin" is racist and insulting. Whether this move will have any influence on the opinion of team owner Dan Snyder, who has control over the name and has promised it will "never" change, is doubtful -- as Slate editor David Plotz conceded himself:
We're a national, general-interest magazine, not the Washington Postor ESPN. Our coverage is sporadic, and I doubt that Dan Snyder or Roger Goodell have Google alerts for our NFL stories. When we stop using the name Redskins, hardly anyone will notice.
I am a graduate of Dartmouth College, where for many years our mascot was "the Indian." One newspaper on campus, the rather infamous Dartmouth Review, still insists on referring to the college's sports teams as "the Indians," over thirty years since we switched from the controversial Native American symbol to the politically correct "Big Green." The Review also hands out t-shirts displaying the Indian symbol during freshman orientation every fall.
The Indian symbol would frequently come up in conversation during my college years. For a while, I didn't think it was a big deal. I would often say, "Well, look at the Washington Redskins. If it's okay for them it should be okay for us." By junior year, though, I came to the view that a symbol that had caused so much hurt to so many people obviously had no place on campus anymore. Whether people "should" be offended by it or not doesn't matter; the fact that some people are offended by it does. As I saw it, getting rid of the Indian symbol at Dartmouth was painless for the majority (those of us who weren't bothered by it) and a great relief for the minority (the students and community members who had felt alienated by it). And yet, a portion of my classmates continued to wear the Indian t-shirts and many of my friends wrote for the Dartmouth Review, as I myself did briefly.
Shortly after Plotz's piece went up on Slate yesterday, I scrolled through my Twitter feed and found these comments from a former editor-in-chief of the Review, Sterling Beard, who had been a year ahead of me:
We will no longer call the Massachusetts NFL team the "Patriots" over concern the moniker is too nationalistic. #SlatePitches

I shan't refer to Slate by its name any more; it is insufficiently sensitive to our igneous and sedimentary brethren. #SlatePitches
Humorous enough, but whether one can make fun of the Slate decision doesn't say much about whether or not the decision was wise. So I emailed Beard, asking him what his broader perspective was, given his leadership at a publication that does pretty much the exact opposite of what Slate is doing today. He replied explaining why he thinks Slate is "on the wrong track here":
As Mr. Plotz concedes, citing the work of Smithsonian Institution linguist Ives Goddard, the term "Redskins" actually has a fairly innocent history and was not typically used as a pejorative. Moreover, he notes that the team's founder, George Preston Marshall, though an admitted racist, "was almost certainly trying to invoke Indian bravery and toughness, not to impugn Indians." (After all, why would any sports team take the name of something it considered inferior in some way? Nobody takes a mascot in order to denigrate the thing.)

As such, though the name is "only a bit offensive" and began as "a well-intentioned symbol," Slate is discontinuing usage of "Redskins" because it is "extremely tacky and dated -- like an old aunt who still talks about 'colored people' or limps her wrist to suggest someone's gay."

In other words, it's a term that simply doesn't belong in the modern world (though I'm curious as to what he thinks about the NAACP's name). ... This is a strange standard. There's no moral component to it. If the name "Redskins" isn't offensive enough in and of itself to warrant removal, then why bother doing so? We're left with stylistic and temporal objections ("tacky and dated"). ... It's an attempt to encourage thinking of the team nickname as a racial faux pas without actually labeling it such.
Beard also questioned whether Slate will still refer to the "Yankees," given that this particular term has historically been a pejorative. Good points, all. Beard has given this quite a bit of thought, both in his capacity as former editor of the Review and as someone of Native American descent: He is a citizen of the Chickasaw Nation. "At graduation," he recalled, "I wore my tribe's graduation stole and walked across the stage with an Indian head cane. If anything, my opinion of the Indian as a mascot only grew, especially in comparison with the official (albeit disembodied) 'Big Green,' the unofficial 'Dartmoose,' and the humorous 'Keggy the Keg.' I thought it better to have the Indian and use it to educate about native cultures." He pointed to the example of McMurry University, forced by the NCAA to change from "Indians" to "War Hawks," but which still painstakingly constructs a historically accurate "Tipi Village" each year for homecoming. Better that, according to Beard, than "bury the mascot and hope people forget about it."
That's a coherent and plausible line of reasoning, but why insist on keeping the mascot around when there is a vocal contingent of community members who feel so strongly insulted by it? Sacrificing a small, albeit meaningful, piece of the past in favor of showing respect for community members of the present seems like the right thing to do. As Plotz put it, "Changing the way we talk is not political correctness run amok. It reflects an admirable willingness to acknowledge others who were once barely visible to the dominant culture, and to recognize that something that may seem innocent to you may be painful to others."
Plotz also wrote about Slate's decision in the context of decisions by other papers, particularly The Washington Post:
Close readers of Slate know that we are owned by the Washington Post Co., which just sold the Washington Post newspaper, the market-maker in Redskins coverage. Slate and the Washington Post newspaper have always been editorially independent, and what we've decided has no bearing on the newspaper, which still refers to the Redskins. Speaking as a Post subscriber, I wish they would change. The Post is--along with ESPN and the other NFL broadcasters--one of the only institutions that could bring genuine pressure on Snyder to drop the name. But it's only fair to acknowledge that it's a much more difficult decision for the newspaper than it is for us, given that covering Dan Snyder's team is essential to the Post's editorial mission.
Would such a policy change from The Washington Post really have the desired effect? More likely it would spark backlash against the editorial team's agenda than inspire a change of the football team's name. As Plotz pointed out, Slate can get away with such a move because its editorial mission doesn't heavily depend on covering football. But surely the magazine is also in a different category because of its online-only, forward-thinking image. Readers may expect Slate to shake things up, while we hold the Post to behavior more befitting the establishment entity it is: noticing and analyzing with detachment, or at least aiming to do so.
Many of my classmates at Dartmouth didn't take the Review seriously, and I can't help but think the paper's stance on the Indian mascot contributed to that. It could be because, when a publication refuses to refer to a sports team by its "official" name, it signals a bias, or even suggests that it is willing to filter the news for the sake of an agenda. Then readers wonder what else the organization will re-name or decide to de-legitimize. The effect is different from that of simply running an editorial or an op-ed arguing about the issue.
And yet, despite all this, my guess is that Slate's new policy will show that a perception of bias doesn't matter if the publication's readers judge that bias to be on the right side of history. Both Slate and the Dartmouth Review have their core demographics -- as does The Post, though probably less clearly defined. Media organizations have the prerogative to weigh in on customs in this manner. Even if you're a purist for journalistic neutrality, and believe that publications shouldn't tell their readers what to think, editorial debates of this kind can perform a valuable service: They can help us understand what to think about.