Running with the Bulls—on a Virginia Racetrack
A watered-down version of the classic Spanish tradition comes to the U.S., but can it offer comparable thrills?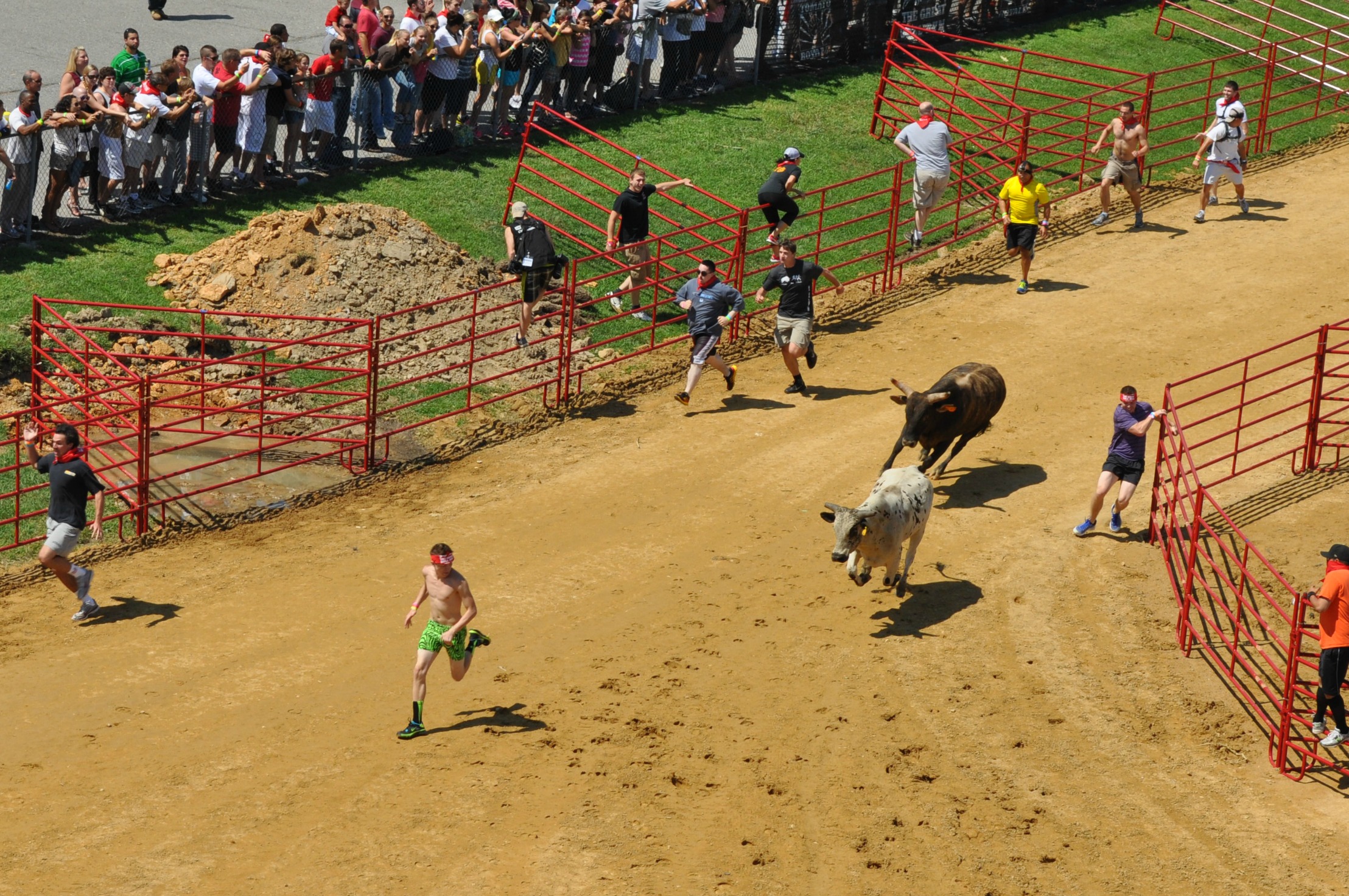 For some, life just isn't complete without partaking in a beer-soaked rodeo and food fight modeled after a centuries-old Spanish tradition. And so on August 24, the inaugural Great Bull Run thundered into central Virginia, the first of nine such events that will take place in cities nationwide between now and next summer. The franchise aims to bring a taste of Pamplona, Spain's famous San Fermin Festival to the United States, on the premise that being chased through a crowd by a herd of livestock is just so thrilling that it ought to be commercialized, made accessible, bottled, and sold to anyone over the age of eighteen who can sign a waiver.
The guy behind all this is 34-year-old Rob Dickens, a North Carolina native who started the Rugged Maniac race series – obstacle-course adventures much like the well-known Tough Mudder events -- in Boston three years ago.  Last summer, Dickens and his business partner Brad Scudder wanted to travel to Spain for San Fermin, but logistics proved too tricky – "You need about $3,000 a person for your flights and your trains and a week's worth of hotel rooms in Pamplona during the busiest time of the year, and then you've gotta be able to get away from work for seven, eight, nine days… which for a lot of the people here in the U.S. is pretty difficult," he said. "Being event organizers, we started joking around about bringing it here to the U.S., and at some point it morphed from a joke into reality."
Dickens actually isn't the first to try this. Phil Immordino, from Phoenix, Arizona, hosted three bull runs in the Southwest in 1998, 1999, and 2002. Those efforts were foiled by mishaps and Immordino struggled to turn a profit. In 2011, he tried again; now the Running of the Bulls USA is going on its third year in Cave Creek, Arizona. Runners compete for cash prizes, and the event is backed up by a handful of million-dollar insurance policies.
As for the Great Bull Run, Dickens declined to disclose the specific details of his race's insurance coverage but did say that getting insurance was "probably the biggest challenge" he and Scudder faced in the event planning process. "It took us a lot of knocking on doors, probably trying 30 different companies before we found one who did want to insure us," said Dickens. "But I think that after our first few events, when [they] see that people are not dying [and] are not getting very seriously injured, then other insurance companies will come knocking on our door trying to give us a better rate."
People are drawn to the Great Bull Run because they want to take risks, but no one wants to actually suffer the potential consequences posed therein, so Dickens had better keep those risks tightly controlled.
"The biggest worry is that somebody would get seriously injured, or killed," he said, stating the obvious. "That's the worst thing that could possibly happen – that, or a bull getting seriously injured or dying," he added—a heartening note for animal lovers.
He said he's confident that neither of those things will happen. Only 15 people have died running with the bulls in Pamplona in the past 102 years, after all, and that's with certain elements of danger that won't be found at any of Dickens's events. Instead of city streets walled in by buildings, the Virginia Great Bull Run is set at a drag racing strip, "where we create a track enclosed by cattle fencing," Dickens said, "which people can climb up on and hop over if they want to. There are also nooks along the way where people can sidestep an incoming bull if they have to. You don't have those in Pamplona."
"I imagine people will get tossed around," he admitted. "People will get hurt. Bruises, scrapes, maybe a broken bone or two, but I don't expect people to get seriously injured. I don't expect people to die." Ultimately, this is the "same thing as skydiving or driving a racecar or bungee-jumping," he said. You know that there's a risk there, but you don't care. You want to do it anyway."
The Great Bull Run website is pretty snazzy, peppered with dramatic photographs from Pamplona – to be swapped out once images from the new events come through – and promises of fun. "Face the adrenaline rush of a lifetime"; "It's not as dangerous as you think"; it's a "massive festival" and an "epic day of fun!" The rhetoric on display, upon closer inspection, approaches that persuasive trifecta of appeals to emotion, logic, and even ethics: a combination of cheesy marketing slogans, no-nonsense facts, unapologetic respect for the value of cheap thrills, and details about the bulls' humane care and home on an "open-air ranch."
As of Friday, August 23, the website showed that nearly four thousand individuals had registered to run with the bulls in Virginia, sight unseen.
Petersburg, Virginia is 131 miles from Washington, D.C., 23 miles south of Richmond. On Saturday morning I drove past Cracker Barrel after Cracker Barrel, Civil War landmark after Civil War landmark, with my 14-year-old brother in the passenger seat watching Derek Thompson's economic explainer videos on his iPhone and occasionally griping about the distance we were traveling.
Around 11:30 a.m. and approximately two miles from our destination, we stopped at a gas station for water and snacks. Inside, the two cashiers behind the counter, both girls about my age, craned their necks to watch a video on a customer's cell phone. The man had just run with the bulls, and he told the girls that it was "crazy." The girls relayed his other comments after he'd left: "He said he wouldn't do it again," and "he said that you can feel the hooves thundering on the ground beneath you."
"We've heard other people placing bets on how many people are going to die today," they told us. On our way back to the car we met two guys dressed in red and blue skintight bodysuits – available at morphsuits.com, in case anyone's wondering -- practically jumping up and down with energy. They looked barely over 18, the minimum age required to run with the bulls, but that was clearly what they had just done.
"Biggest adrenaline rush ever," shouted the guy in the red suit. His friend in blue nodded. "It was like riding twenty or thirty rollercoasters at once!"
Five minutes later we joined a long line of cars waiting to enter the Virginia Motorsports Park. Across the road, a group of protestors—perhaps 30 to 50—stood silent and holding signs, advocating for the welfare of the bulls.
According to Dickens, the job of the bulls that day was relatively easy and safe (for them), and not one that went against what they were bred for. These were rodeo bulls, accustomed to traveling around the country to perform, brought to Virginia by their handlers and accompanied by veterinarians -- making the whole affair not so different from horse racing.
Dickens said it's not good for bulls to run on pavement, and that that's why he spent $30,000 to lay down dirt on top of the drag strip at the Virginia Motorsports Complex. "We will spend probably another $30,000 to take it back up again after the event is over," he said. "And the only reason we did that is to protect the bulls' legs. We're not spending $60,000 for the benefit of the runners; it's solely for the bulls."
In Pamplona, in addition to running on slick cobblestone streets, the bulls must navigate – or attempt to navigate -- a course with sharp turns, where "they slam into the walls, and each other, and they get injured," said Dickens. "We don't want any of that happening, so all of our courses are either straightaways or gentle ovals like horse racing tracks. … After each and every run, the bulls will be inspected by veterinarians to make sure that they're all safe and sound and fit to run again later in the day."
The quarter-mile dragstrip was flanked by bleachers, only one side of which was full of spectators, who weren't allowed on the other side. Seven times that day, groups of up to 500 people at a time would file onto the strip, wave red bandanas and run with the bulls amid roaring cheers.
The scene behind the bleachers was similar to that of a county fair – fried food, hot dogs, popcorn, overpriced lemonade, branded merchandise (shirts that said "I came. I saw. I ran."). And plenty of beer. There was also a stage off to the side for a band, two mechanical bulls, two inflatable jousting bounces, and a tent advertising the Halloween event at Virginia Motorsports Park: a zombie run.
Every so often a voice would boom from a loudspeaker with exclamations including "Just like in Pamplona!" and "History in the making today!" or "If you want to run again after your first time, it's only thirty dollars! Thirty dollars to run with the bulls a second time!"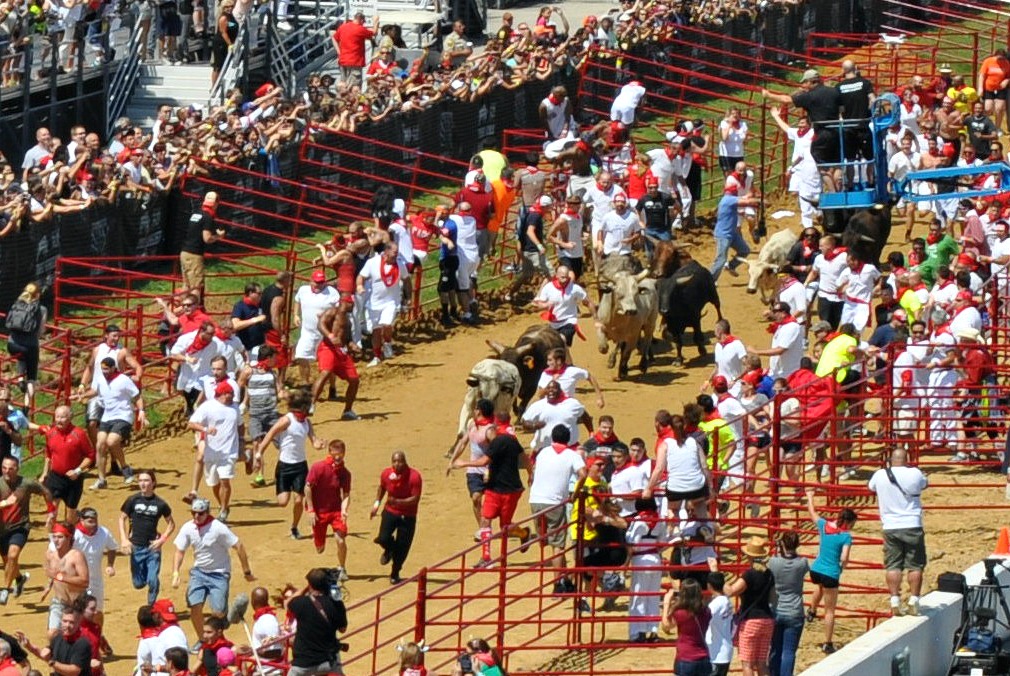 In Pamplona, the running of the bulls is a week-long affair, during which the running isn't even the main attraction. The central tradition of the festival has always been the bullfight, featuring matadors with their swords and, in the famous words of Ernest Hemingway, "violent death... pride... and true enjoyment of killing." Running with the bulls through the city's cobblestone streets began as a way of getting the animals from their corrals to the bullfighting arena – even though it evolved into its own tradition, it was never a standalone recreational activity.
We don't tend to embrace live performances of violent death as art here in the U.S., and on this Saturday in Virginia, the lack of a bullfight at the end of the run didn't seem to strip the activity of its meaning. One doubts whether most participants thought much about the "meaning" of their activities that day, anyway.
Spotted filing onto the track for the 1 p.m. bull run: one man in a poncho, another in a bright red suit, one man in boxers patterned with American flags, four guys wearing green "Keep Calm and Chive On" tee shirts, two guys wearing skimpy Speedos and Superman shields, a crew of young men and women sporting University of Virginia lacrosse pinnies, the two female hosts of the television show Fit to be Wild, and countless people with GoPro cameras strapped to their heads and chests. Almost everyone wore at least one piece of red clothing in addition to the red bandana they all received from event staff as they passed through the fence onto the track.
As the runners mugged for the cameras and situated themselves along the fence, the voice on the loudspeaker blared: "If you feel like you're not up to it, because there IS a serious risk of injury, hop out! There's no shame in being sane!"
"Don't sit on the fence. Remember once you exit there is NO getting back in. If you need to exit and a BULL happens to be coming for your BUTT, you may jump the fence! You are encouraged [to do so], as this is your only way out once the bulls begin to run. If you happen to fall, cover your head and lay on the ground and let them pass, ladies and gentlemen. If any staff member should give you additional instructions, make sure you follow them to the letter, and let's have a fun bull run, y'all!
The crowd cheered, and the "Bull Honorific" began.
"Go ahead, take those special bandanas, fold 'em in half! Hold 'em up high!" said the announcer. "Ladies and gentlemen, once again, the Bull Honorific! Say it with me…"
Announcer: Here we are
Crowd: Here we are
Announcer: The courageous few
Crowd: The courageous few
Announcer: To TEST ourselves
Crowd: To test ourselves
Announcer: And HONOR the Bull!
Crowd: And honor the bull!
Announcer: From those that run
Crowd: From those that run
Announcer: To those who fall
Crowd: To those who fall
Announcer: We HONOR the BULL
Crowd: We honor the bull
Announcer: And SALUTE you ALLLLLLLL!
The classic music from the western "The Good, the Bad and the Ugly" played in the background as Allen delivered further instructions. The countdown neared.
"All right, ladies and gentlemen, let's get even more psyched up! When I say bull, you say run!"
"BULL!" – "Run!"
"BULL!" – "Run!"
"Ladies and gentlemen, are you ready to RUN?! I can't hear you -- are you ready to run?! Count it down backwards with me: 10, 9, 8, 7, 6, 5, 4, 3, 2, RUNNNNNNNN!"
The bulls were released, and the crowd cheered.
"Here they come! This is the speed we were looking for, ladies and gentlemen, towards the crowd! Here they come! Oh my, they look like they're targeting people! Look at them go, ladies and gentlemen, spreading out across the track with all the runners! Go go go!"
People weren't dying left and right, but some were bailing left and right – rushing to the sides of the track, clinging to the fences and hopping over as fast as they were able to while the rest ran alongside, in front, and behind the bulls. It was all over in less than a minute.
"And that's grabbing life by the horns, y'all!"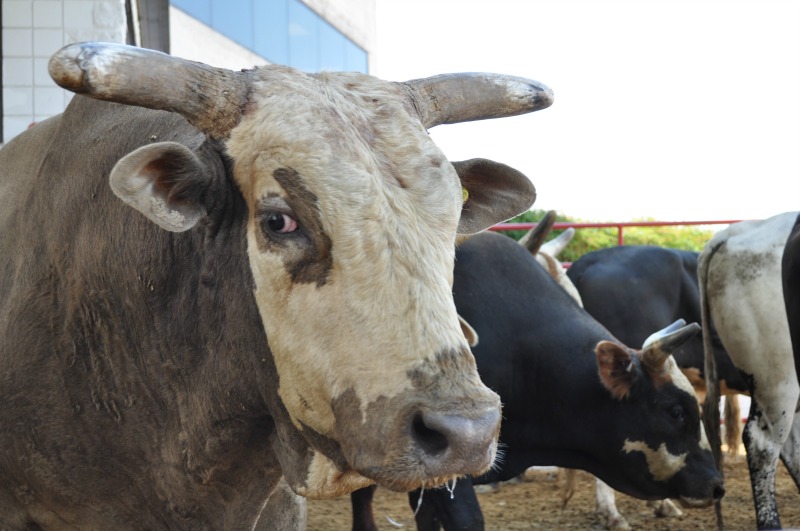 In between runs, the bulls rested in shaded corrals. They looked healthy. They had water. "We're not using Spanish fighting bulls in our runs," Dickens had said. "In Spain they release six steers and six Spanish fighting bulls in each run. But here, they're just neutered bulls that are not very aggressive at all. Spanish Fighting Bulls, on the other hand, have been bred to be absolutely insane. Rodeo bulls are not as insane as Spanish fighting bulls are, but they are still aggressive."
The bulls had come from Kentucky with the Lone Star Rodeo Company, where they live on an 800-acre farm when they're not traveling and performing, according to Dickens. I ended up talking to Preston Fowlkes, Jr., whose father started Lone Star Rodeo in Texas in 1949. He said the bulls can run up to 25 miles per hour. I said that the runs I had seen so far looked pretty tame. "Well, I'll tell you what, young lady," he said. "Why don't you go out there and run with them and see what you think." Fair enough. With that, my brother and I went to get lunch.
Meanwhile, other participants rushed to buy goggles and before heading over to a fenced-in blacktop area where a crowd was forming: the Tomato Royale was about to start.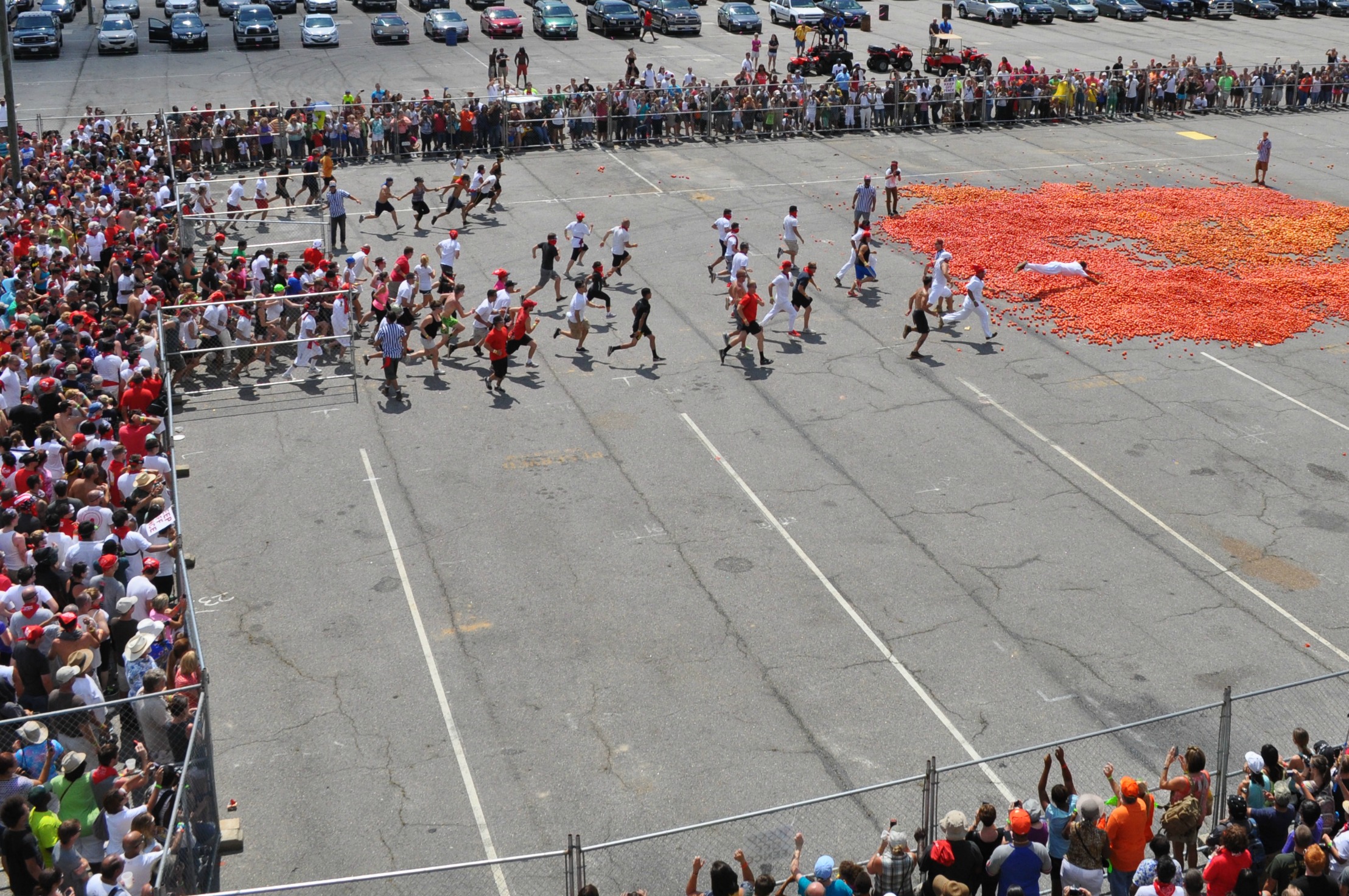 This was the less-touted, but arguably more fun, portion of the Great Bull Run. The Tomato Royale is a food fight in the fashion of Spain's La Tomatina festival, which, in Spain, has nothing to do with the running of the bulls.
For about an hour the bulls got a break, as a couple thousand people pulverized tomatoes and I ate a falafel sandwich. When the fruit-throwers emerged from their event, each looked like he or she had bathed in salsa, and the air smelled putrid (for optimal splattering, Dickens said they made sure the 150,000 tomatoes were overripe).
Participants were giddy, though. 20-year-old Abhishek Battacharya said his four-hour drive from the Baltimore, Maryland area that morning was worth it "just for that one hour over there" with the tomatoes. Participating in something like this, Battacharya said, "you feel like you're alive."
A drenched couple asked me to take their picture in front of a Dinwiddie County ambulance, parked next to the (quiet, barely-utilized) first aid tent -- Deborah Goeller and Rick Dukehart. Last weekend, they said, they had been watching their 25-year-old son compete in a horse barrel racing event when someone cracked a joke about bullfighting, reminding them of the Great Bull Run; they checked the website and were easily convinced to make the seven-hour drive here from their home in Pittsburgh. "Skydiving, parasailing, rockclimbing, you name it," said Dukehart, the family does it all.
Rick ran with the bulls. Deborah just did the tomato fight, which Rick said was more fun anyway. "People were slipping and sliding. You definitely needed the goggles." They're going to follow the Great Bull Run to Houston in December. "There's like ten more across the country. I'm going to be definitely looking at the calendar and figuring out [which ones I can get to]," said Rick.
It was at this point in the afternoon when I decided to take Preston Fowlkes's challenge and abandon the original plan of an observation-only reporting trip. I got myself a wristband for the 3 p.m. bull run, the last of the day.
The three-page waiver for this event, which Rob Dickens wrote himself (in another life, he was a Wall Street lawyer), is pretty thorough. There are all the warnings one would expect: "inherent risks" of a litany of injuries and, of course, death; the standout phrase "THE EVENT IS A HAZARDOUS ACTIVITY THAT PRESENTS A SERIOUS PHYSICAL AND MENTAL DANGER TO PARTICIPANTS AND SPECTATORS." Sign the waiver and you release the Great Bull Run from any and all liability – you're not allowed to sue the company, and neither is your brother or your best friend or your second cousin who lives in Canada.
Soon enough I found myself on the dirt track holding a red bandana over my head and chanting "We honor the bull." A few minutes later, the herd came out of the corral. I was standing further down the track, so it took a while for them to get to me. As soon as the crowd started running, I started running, looking back periodically and trying not to fall from the many shoves and elbows that other runners were throwing.
I ran close to the fence as the bulls came by, kept moving, successfully stayed out of the way. About 100 meters from the end of the run, I saw a person splayed out on the ground – either unconscious or playing dead --  as bulls and people ran over and around him. At the end of the track, I chose not to jump the fence and instead watched the last bulls come through, getting face-to-face with them as they slowed, turned and went into their corral. "Man, I honestly don't think that person is alive," said a young man next to me. "Oh my God, did you see that?" Someone else muttered something about "the first casualty of the day."  We jogged back onto the track, where a crowd was forming around the fallen runner.
Before I had time to contemplate the distastefulness of joining the circle to gawk at the injured man, cheers and applause erupted to greet the collective realization that he was going to be okay. Heart beating a bit faster than usual, I sprinted away to find my brother.
"I wish I could have run," he said wistfully as we walked to the car.
"You didn't miss anything," I replied, thinking back in wonder to the young man who'd compared this to riding twenty rollercoasters at once.
"Still," he said. "Now you can tell people that you did this."
"Yeah, I guess bragging rights are cool."
We returned home, and the bulls returned to their open-air ranch in Kentucky, to be hauled out again in October when the Great Bull Run gallops on to Georgia.
---
All photos provided by the author.