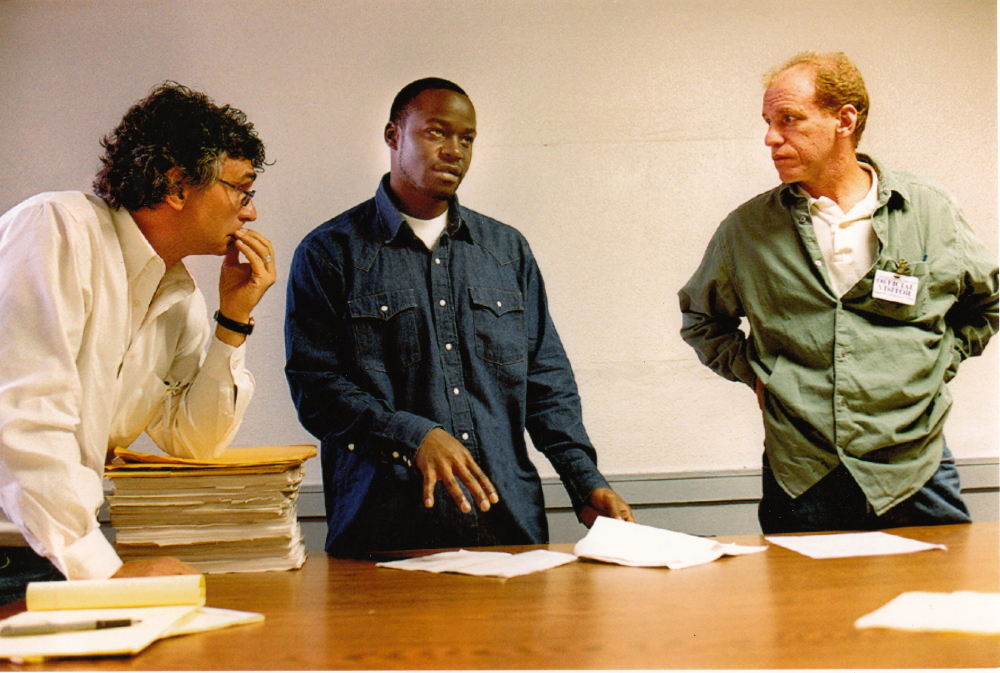 The author (left) with Daniel Taylor and fellow reporter Steve Mills during their first meeting in 2001 (Courtesy of Maurice Possley)
During nearly 25 years as a reporter at the Chicago Tribune, I received hundreds of requests for help from convicted defendants. None was more compelling than the hand-printed letter from Daniel Taylor, a 25-year-old inmate at Stateville Penitentiary in Joliet, Illinois. In neat block letters, Daniel explained that he was serving a life sentence without parole for a double murder in Chicago in 1992. Even though Daniel had given a court-reported confession, he said he was innocent and he had police records that proved it.
The letter was addressed to Steve Mills, my reporting partner on numerous stories about wrongful conviction. When Steve brought it to my desk, I was as intrigued—and skeptical—as he was. Why had this man confessed? How had he been convicted? Was he delusional about what the police records really showed?
But Daniel's timing was fortuitous. It was the summer of 2001, and Steve and I, along with fellow reporter Ken Armstrong, were deep into an investigation of false and coerced confessions in the city of Chicago. Perhaps, we thought, Daniel's case would provide a window into a world we suspected—and later proved—existed: a world where defendants were said to have confessed to crimes they did not commit.