For Military Sexual-Assault Survivors, Proposed Reforms Are Only a Start
"You can't train a rapist to not be a rapist ... But you can change the way those complaints are handled in the hopes that it resets the standard for behavior."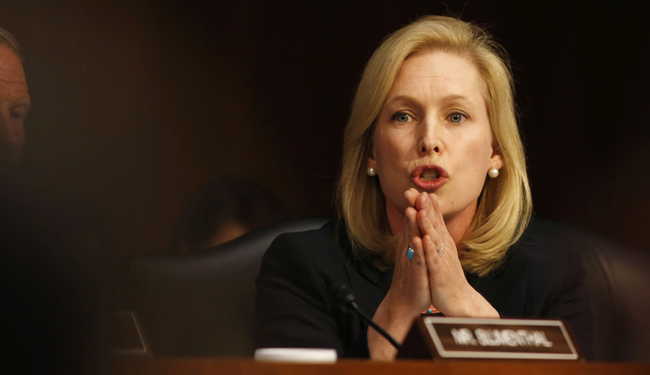 Brian Lewis was a determined 20-year-old petty officer, envisioning a long career of service after three years in the Navy. But that was before he was raped.
In August 2000, after being assigned as a fire-control technician aboard the USS Frank Cable, a submarine tender out of Guam, a superior offered to provide career guidance over dinner. Later that night, in a remote area near some commercial fishing docks, the superior attacked the young petty officer, irrevocably changing his life.
"After that, my chain of command ordered me not to report it to Naval Criminal Investigative Service," Lewis told National Journal Daily. "That's what happens in our military justice system. I cannot in good conscience tell a service member that reporting to their chain of command is in their best interest."
As officials in Washington grapple with reforms to the military justice system, among those watching with sharp interest may be thousands of victims. An an estimated 26,000 cases of unwanted sexual contact occurred in the armed services in fiscal 2012, according to the Defense Department. Although most of the military health services offered to deal with it cater to women, more than half of the victims are actually men.
The military says it is making changes, and lawmakers on Capitol Hill have committed to putting some reforms in place this year. But many victims and their advocacy organizations insist that what's being discussed is nowhere near adequate to eliminate the conflicts of interest in the military justice system or to curb a culture that often blames victims when incidents occur.
"A lot of emphasis is now being placed on protecting victims from retaliation after they come forward," Lewis said. "All of the proposals fail to address what happens to the victim before that."
Survivors of sexual assault argue it is practically impossible to seek medical or legal assistance in private, that the only way to get help and try to seek justice is to go through superiors.
But commanders have broad leeway over how to handle such situations.
In the military justice system, the chain of command decides what to do with allegations of sexual misconduct, including whether to prosecute cases or throw them out without further investigation. What happens in the chain also reflects on the commander, so critics argue it can be in commanders' interest not to acknowledge problems in their ranks.
On the Hill, dozens of lawmakers, led by Sen. Kirsten Gillibrand, D-N.Y., in the Senate, and Rep. Dan Benishek, R-Mich., in the House, are fighting a tough battle to change that. They are pushing legislation--opposed by both the Pentagon and Armed Services Committee leaders--that would take the decision to prosecute out of the chain of command but leave it within the military. However, even the staunchest advocates of this bill say that this is not enough.
Paula Coughlin, who brought the problem of sexual assault in the military into the public eye after her assault at the Tailhook convention of aviators in 1991, said she does not know that any bill proposed in Congress could have prevented her attack. But she argues that reforms like Gillibrand's would have ensured at least a greater attempt at justice, and this might change behavior.
"I don't know if one of those bills would have prevented my attack," she said. "But I feel certain that the way I was mistreated by the military justice system, and most importantly by my chain of command, that it would have been different if there had been a law that said you have to handle every sexual-assault complaint immediately and hand it over to a third-party investigating unit."
Lewis said that his commanders' lack of interest in his case--there was never an investigation or prosecution--became unbearable. Meanwhile, he found out that his attacker had raped at least one other person before him, and he felt vulnerable in the ship's close quarters. "There are only so many places to hide on a 600-foot-long gray floaty thingy," Lewis said.
Lewis was medevaced to a Navy medical facility in San Diego. Rather than the Navy treating his attack like a crime, investigating it, prosecuting it, and providing him with appropriate treatment and support, Lewis says he was diagnosed with a personality disorder and discharged. It left him with what he considers a shameful and unfair black mark on his record that haunts him professionally. The Navy declined to discuss Lewis's situation citing privacy reasons.
Lewis has refocused his career to try to bring about justice for military sexual-assault survivors. He is in the process of setting up the first nonprofit advocacy organization for male victims, called Men Recovering From Military Sexual Trauma, and he hopes to eventually become a lawyer to advocate for those unfairly discharged. He also serves on the advocacy board for Protect Our Defenders, an nonprofit advocacy organization for military sexual-assault victims.
This spring, Lewis became the first male survivor of sexual assault to testify before Congress, and he says a full palette of reforms are needed.
Besides the Gillibrand-Benishek bill, he supports a provision in both the House and Senate defense bills that would provide a specially trained counsel to provide legal advice to victims.
Lewis is also strongly advocating for a bill by Rep. Tim Walz, D-Minn., that would review the cases of more than 31,000 veterans who were diagnosed with a personality disorder and discharged. Another bill he favors from Rep. Jackie Speier, D-Calif., would take the system for reporting military sexual assaults out of the chain of command entirely.
He is also calling for the military to provide services for male victims of sexual assault. "The military will have to develop programs to accommodate male survivors. One of the reasons male survivors do not come forward is the lack of services," he said.
Yet, while Lewis argues that the reforms he supports would have helped his situation, he acknowledges they might not have prevented the attack. He argues that the military has to go much further to change behavior.
"Really it's a culture change that is needed where we stop blaming the victim," Lewis said.
One common criticism is that the military hangs posters on bases warning against drinking too much or walking home alone, when victims argue that the assaults are often about control and abuse of power, rather than negligence on the victim's part.
Coughlin, who is also on the advocacy board of Protect Our Defenders, said she has heard the Pentagon say for decades that it is going to take the problem seriously. But assaults have steadily increased.
"I have been waiting 20 years, and they really haven't made any concrete change," she said. "You can't train a rapist to not be a rapist, and you can't train a group of military people to behave better than what they were modeled. But you can change the way those complaints are handled in the hopes that it resets the standard for behavior."
As Lewis put it, "Our uniforms did not cause us to be raped; our looks didn't cause us to be raped. The rapist caused us to be raped."