Clinton's Lucky Reconciliation, Changes in Churches, the Trouble With Kid's Movies: The New Atlantic Weekly
Also in this issue: John Steinbeck on gambles and grief, why happiness is overrated, why girls wear pink, and more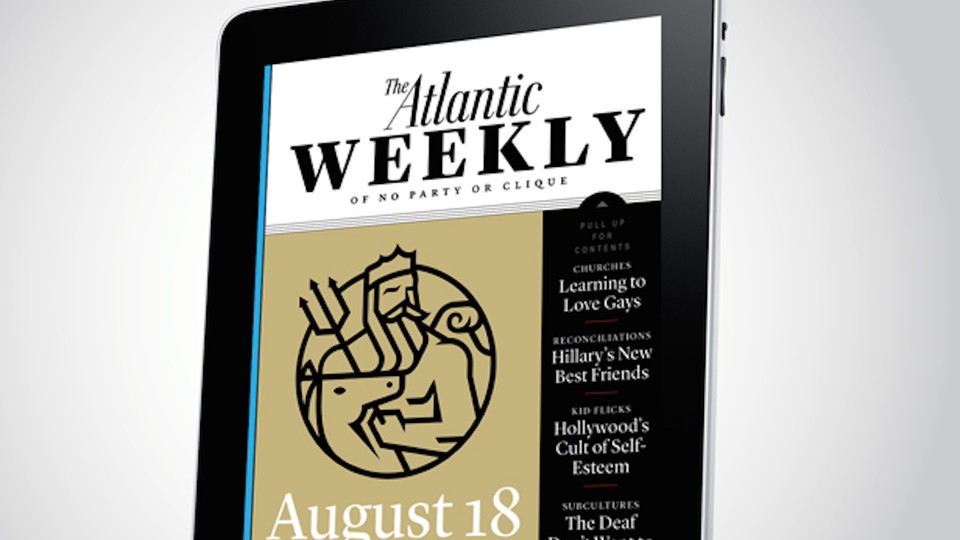 In time for the weekend, the latest Atlantic Weekly, our new digital magazine available on iPhone and iPad, is ready for download. This week, among the many questions we take up from the world of ideas:
-- Could happiness be less healthy than we think (yes)?
-- Remember when tough guys wore pink suits (no)?
-- A deaf writer wonders (with some displeasure): How come the doctors who work with the hearing impaired all want to "fix" the deaf?
-- Why are hard-core progressives--the same ones who gave up on Hillary Clinton in 2008--already lining up behind her in advance of a possible 2016 run for the White House?
-- Why are children's movies so insufferably encouraging (and why is that bad for our kids)?
-- Have you noticed how churchfolk are feeling better about gays (it's no accident)?
Answers and insights about this and much more--plus gripping photos from Cairo after a week of turmoil--helpfully delivered right to your mobile device.