American Futures: The Video
The Atlantic's excellent video team, led by Kasia Cieplak-Mayr von Baldegg, was out at Montgomery Country Airpark in Gaithersburg, Maryland, two weeks ago as we headed off on our journey. Here's how it looked then.
How it looks now is that we have two weeks of road-wear on us, as my wife
described yesterday
. But spirits are high. Because, honestly, there is so much to see and describe.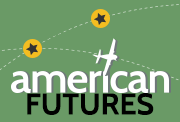 Reinvention and resilience across the nation
Read more
Note to the aviation-conscious: I said in an earlier post, and say in this video, that our religious principle on this journey is no difficult flying. Not at night, not "having" to be anywhere, not all-day long-hauls, not small or tricky airports, not in bad weather, not anything of the sort. The day of the filming, in the DC area, ceilings were low throughout the morning. We'd planned to leave early but waited until early afternoon, when the ceiling went above 1,000 feet (and was improving quickly) before we took off.
As you will guess from the condition of the skies in this video, it began as an Instrument Flight Rules trip, because we went into the clouds 1000 feet up and stayed there for the first hour, through Maryland, West Virginia, and eastern Ohio. The weather improved as we went and we landed in the famed Holland, Michigan, in the clear.
Also for the aviation-conscious: yes, the door of the plane is open while we're taxiing, at around time 1:30. It was hot. Doors-closed is one of the final pre-take-off check items. And yes, just after that in the video the taxiing seems to be off the center line. That was the track of the film-crew car, not the plane! Just for the record.
Thanks to Kasia and her team for his video. More about Michigan, South Dakota, and Wyoming immediately in store.