Greetings from Holland, Michigan, where our long-announced American Futures project is making its debut.
That was the scene yesterday mid-afternoon at Montgomery County Airpark in Gaithersburg, Maryland (KGAI in aviation-talk), as we waited for the ceiling to get high enough for a comfortable albeit on-instruments departure.
To the right of the scene above, you see members of The Atlantic's industry-leading video-production team, recording the beginning of the process. To their left, in black shorts and shirt, you see one half of The Atlantic's traveling team for this project. The other half of the team was getting some food out of the car. Behind the people is the Cirrus SR-22 airplane in which we'll make the journey.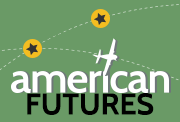 Reinvention and resilience across the nation
Read more
And as background to the entire scene is the disappointingly non-blue sky. We had originally planned to leave around noon but waited until 3:30pm for takeoff on the three-hour flight to Holland, Michigan (KBIV), where I am right now. I didn't want to leave until the ceiling was well above 1000 feet at Gaithersburg, and until we knew that weather conditions were improving on the other end.