Here is my theory of mountain flying: I don't like it.
This incredible video, from Peru, will give you an idea of the kind of thing I have nightmares about. For me, the most "have to look away" moments are the ten seconds starting around time 1:30, although 0:30 and 0:45 are pretty frightening too.
I don't like mountain flying because it's objectively dangerous and it's subjectively frightening. The winds are often turbulent, so you're bouncing around with all that granite nearby. In the summer you often have thunderstorms, and in the winter you often have ice or snow. You worry about the narrowing gap between how high you have to go to clear the terrain, and how low you have to stay to avoid the clouds. I have taken mountain-flight training, and I've flown across the Rockies several times, in summer and winter, and the Sierra a few times. But ... why?
Thus, as a guide for our current journey, we're using multi-modal travel: fly, then drive. If we have to get to Sun Valley, Idaho? Instead fly to Twin Falls, Idaho -- a great big runway in a big, flat valley -- and drive from there. Atlantic events in Aspen? Fly to Boulder and drive. Right now we are at a meeting in Jackson, Wyoming. There is an airport here, but it involves mountains, and while they're not that ominous the weather is not so great. I'd spend all night worrying before the flight in and the flight out. Instead, fly to Pinedale -- a great big runway in a big, flat (although high, 7000-ft) valley -- and drive from there, as we have done. Hence our route from Rapid City, SD to Pinedale, WY strategically avoiding the high ground of the Black Hills and the Wind River range along the way. The blue is the flying part, the dotted-red is the rental-car driving.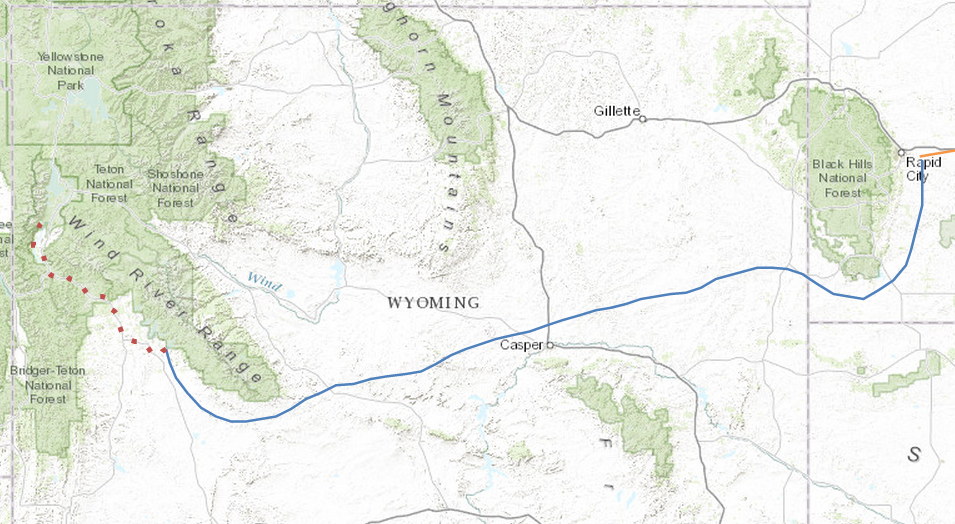 No larger point, except (a) to give a link to the amazing video above and (b) as ongoing real-time chronicle of Aeronautical Decision Making. 
Also: Yesterday, when leaving Rapid City, we had a chance to fly by Mount Rushmore and do a North by Northwest reprise.  Instead I veered off when we were about 10 miles away, too far for any interesting pictures. Rain was building in the area, and the winds were gusty, and several tourist helicopters were reporting turbulence, and I thought, another time. So we will not have our update to the scene below:
We want to hear what you think about this article. Submit a letter to the editor or write to letters@theatlantic.com.
James Fallows
is a staff writer at
The Atlantic
and has written for the magazine since the late 1970s. He has reported extensively from outside the United States and once worked as President Jimmy Carter's chief speechwriter. He and his wife,
Deborah Fallows
, are the authors of the 2018 book
Our Towns: A 100,000-Mile Journey Into the Heart of America
, which was a national best seller and is the basis of a forthcoming HBO documentary.