Why You Should Read More Than 1 Newspaper, From Milwaukee to Hong Kong
I continue my long-term campaign to save the newspaper industry.
From yesterday's NYT and WSJ, on the latest revelations about Cardinal Timothy Dolan, now of New York, during his period as archbishop of Milwaukee: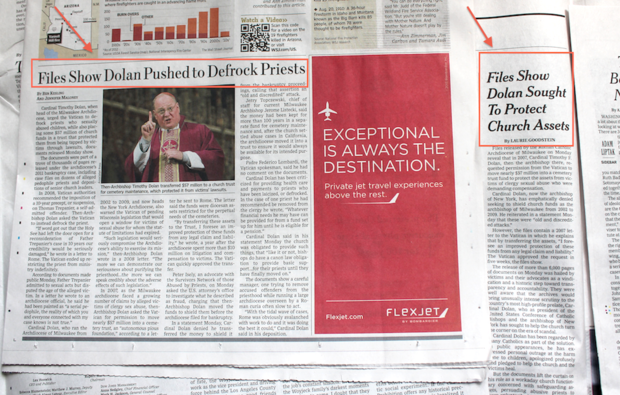 In case you can't make it out, the NYT headline says, "Files Show Dolan Sought to Protect Church Assets." For the WSJ, it's "Files Show Dolan Pushed to Defrock Priests." As has been the case in some similar WSJ/NYT pair-offs, the stories themselves are not as different as the emphasis of the headlines. Here is the classic example: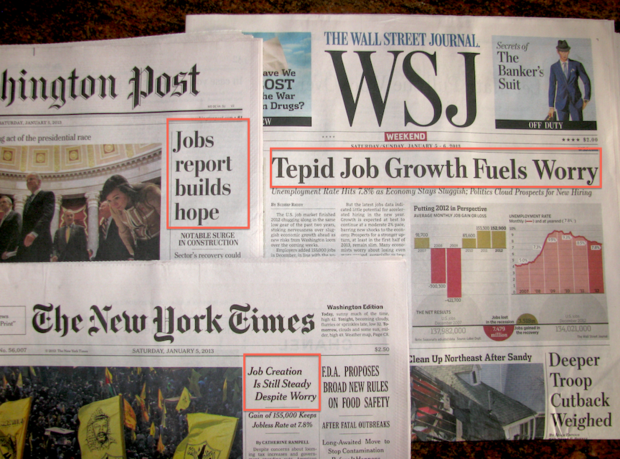 And meanwhile, from our friends across the Pacific, Anthony Tao of Beijing Cream has this nice comparison of stories from two of my staple news sources: China Daily, state-controlled and based in Beijing, and the South China Morning Post, a "normal" newspaper based in Hong Kong.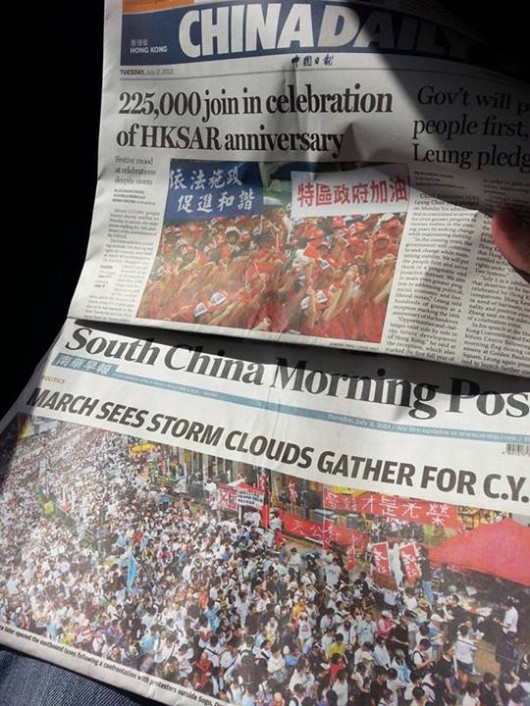 This one goes beyond headline-shading. As the SCMP points out, there was a gigantic demonstration in Hong Kong against a local leader for failing to defend Hong Kong's liberties in the face of pressure from Beijing. But with admirable Onionesque panache China Daily presents the same event as a celebratory outpouring of popular joy on the 16th anniversary of Hong Kong's return to mainland Chinese control. The story began:
About 225,000 people braved stormy weather on Monday to attend city-wide events marking the 16th anniversary of the establishment of the HKSAR.

The festive activities, including carnivals, folk dancing and open-air concerts, were held at nearly 40 locations across 18 districts. Shoppers also enjoyed special discounts of up to 50 percent at more than 1,000 shops and restaurants as part of the celebrations, while the People's Liberation Army (PLA) held open days at its two barracks in the New Territories and the PLA naval base on Stonecutters Island, attracting thousands of people.
As I mentioned when Edward Snowden first sought refuge there, Hong Kong has a gray-zone existence under China's "one country, two systems" regime. On the largest issues of national and foreign policy, it is finally under control from the mainland; but many of its people and institutions have been doing their utmost to maintain liberties that distinguish their "system" from that of the mainland. The SCMP/China Daily contrast illustrates what I'm talking about.