The Warren Hill Execution: A Late Challenge Over Lethal-Injection Drug
Georgia has made the method by which it acquires pentobarbital a "state secret," which Hill's lawyers say raises questions about needless suffering and separation of powers.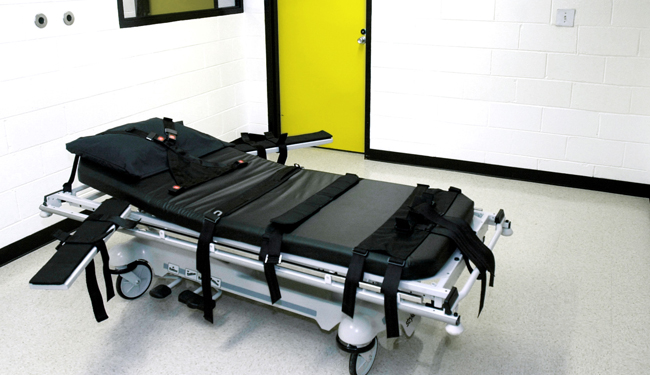 UPDATE: 3:50 PM ET: A state court trial judge this afternoon issued a temporary stay blocking tonight's scheduled execution so she could hold another hearing on this topic on Thursday, July 18th. Her stay will likely hold through then, at least. Meanwhile, the temporary stay at the state level permits the United States Supreme Court, which also had before it a stay request, to avoid for now issuing any sort of ruling. The justices have docketed Hill's substantive arguments for conference in September. The state's death warrant expires on Saturday so if it prevails we still could see an execution Thursday evening.

Original post:
For years now there have been serious constitutional questions about Georgia's plan to execute Warren Lee Hill, a man whom all government doctors now agree is "mentally retarded."* As a matter of fact and law, such an execution is supposed by be barred by the Supreme Court's precedent in Atkins v. Virginia, a 2002 case in which the justices, by a vote of 6-3, declared that the Eighth Amendment's prohibition against "cruel and unusual" punishment precludes the execution of people whose cognitive impairment renders them unsuitable for the criminal justice system's ultimate punishment.
But as Hill's execution grows near -- barring relief from the United States Supreme Court he is scheduled to be put to death tonight at 7 p.m. EDT -- his lawyers have posed a separate, new constitutional question. In an series of emergency papers filed in state court late Friday, Hill's attorneys allege that a brand new Georgia statute, candidly called the Lethal Injection Secrecy Act, violates Hill's constitutional rights under both federal and state law because it purposely shields from judicial review the manner by which the drugs to be used in his execution were manufactured and obtained.
The argument made by Hill's lawyers Friday is as simple as the story of Georgia's quest for lethal injection drugs is complicated. For reasons that are now fairly well-known, the state has had trouble finding the drug -- Pentobarbital -- that is required to complete the execution. This is so because the U.S. manufacturer of the drug ceased to produce it in 2011 after European manufacturers embargoed its importation here (because of their objections to its use in American executions). As "official" supplies of the drug have dwindled, state officials have resorted to dramatic means -- including possibly unlawful means --  to obtain it. The Guardian's Ed Pilkington has done a great job of covering this aspect of the story. From his latest piece:
The [Georgia Department of Corrections'] existing stock of pentobarbital expired in March, and the Guardian understands that the state has turned to an unidentified compounding pharmacy in another state to try and skirt around international controls... In an attempt to circumvent international and national scrutiny, the Georgia state assembly passed a law in March that in effect permitted the corrections department to act in secret in seeking to acquire execution drugs.

The provision classifies the identity of any person or company providing drugs for use in lethal injections as a "state secret", thereby negating any public right to the information. It also allows the corrections department to keep secret the identity of doctors who collaborate with executions.

This unprecedented secrecy, Hill's lawyers argue in their Friday brief, this freezing out of judicial review of capital protocols, creates a "grave risk" that their client will be subjected to "excruciating and unnecessary pain and suffering" when he is killed. "The Defendant's intended use of an unknown, anonymously compounded substance not conforming to FDA guidelines for drug safety, purporting to be Pentobarbital to execute Plaintiff creates a substantial risk of needless suffering," they told a Georgia court. As of Monday morning, Georgia had not filed a response to the motion or brief filed Friday by Hill's attorneys.
Why do Hill's attorneys worry about a risk of needless suffering? Because Georgia already has used its "illegally imported, compromised drug" in two other executions. And the results are worrisome. From the Hill brief:
To address this shortage in 2010 and 2011, the state of Georgia obtained illegally imported, expired, sub-potent drugs from a "pharmacy" run out of the back door of a run-down driving school in London, England. The state of Georgia used these drugs in two executions before the Drug Enforcement Agency ("DEA") raided Georgia's lethal injection drug supply and confiscated Georgia's illegally imported cache of drugs.

Both executions that used this supply of illegally imported, compromised drugs resulted in significant pain and suffering for the individuals executed. In Brandon Rhodes' case, his eyes remained open for the entirety of his execution, indicating consciousness during the process. In the case of Emmanuel Hammond, Mr. Hammond's eyes also remained open, and he grimaced and appeared to be trying to communicate throughout his execution.
So not only is Georgia proceeding with an execution that ought to be barred by the Supreme Court's decision in Atkins, but the state also is proceeding unconstitutionally with Hill's execution by employing secret procurement procedures that create both risk of cruelty to the condemned and at the same time raise profound separation-of-powers questions. The question the Georgia courts must confront today is whether the legislative and executive branches may conspire to leave the judiciary in the dark about the machinations of capital punishment. "There never has been, in Georgia's history, such a court-blinding state secret-- not even for treason," argue Hill's lawyers in their  complaint that accompanies their request for an emergency injunction to block the execution.
Even in "ideal" circumstances surrounding an execution -- where there are no questions about the purity or potency of the lethal drug(s) to be used -- the idea that the executive branch could hide material information about the execution from the judiciary is repugnant to the idea of due process and the protections of the Eighth Amendment. Even more repugnant, it seems to me, is Georgia's explicit attempt to shield its drug procurement efforts from any sort of judicial review after having just recently been caught circumventing the rules surrounding the use of this drug. What truth about this drug or its injection protocols is the state afraid of?

Hill's lawyers believe that state officials waited until the law went into effect on July 1st before scheduling Hill's execution. There is no reason to disbelieve them: The Georgia courts have been uniformly unkind to Hill as his attorneys have attempted to block his execution because of his retardation. But this issue is different. This issue is about whether the state judiciary of Georgia is going to cede the field of capital punishment to the other two branches of state government. Such a withdrawal would not only be unprecedented in modern American history. It would be manifestly contrary to core constitutional principles.

--------
* We are aware that the appropriate term today to describe Hill's cognitive impairment is "intellectually disabled." But the federal courts in the context of Eighth Amendment jurisprudence still use the outdated phrase "mentally retarded" and so we are using it here, and in all of our coverage of this issue, for ease of reference.