Remembering Leonard Garment
Interested in everything, and amused by it too.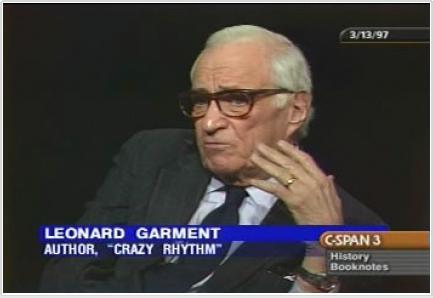 Through the years when our kids were in junior high and high school, our next-door neighbor in Washington was Leonard Garment, with his wife and their young daughter. That's a picture him in that era, from a C-Span show. Len Garment was known to the world for his association with Richard Nixon, including being Nixon's White House counsel (after the resignation of John Dean) during the Watergate gotterdammerung. He initially defended Nixon in public while also playing an important private role in trying to steer Nixon away from some of his worst impulses, like destroying the eventually-incriminating White House tapes. You can read much more about those days, including why Garment eventually felt he could defend Nixon no further, here.*
He was known to us as a jovial, gregarious, cultured, interested-in-everything-and-amused-by-it-too opposite of a DC policy nerd or one of today's grim partisan warriors. His first love was music, and his early jobs had been with jazz bands in New York. My office is on the top floor of our house, and at night when I had the windows open I could often hear him next door playing his saxophone or clarinet. His household added vitality and color to the neighborhood -- he was older than my father, his daughter was younger than our sons, he and his wife had parties that drew an improbable range of friends from their arts-plus-politics, New York-more-than-Washington circles. You can get a feel for the breadth of his interests from his book Crazy Rhythm, or this note on his receiving a medal from the National Endowment for the Arts.
My family is glad to have known him, and I think with admiration about the expansiveness of his life. We send best wishes to our former neighbors Suzanne and Ann.
_
* Leonard Garment and former Nixon speechwriter William Safire also strove for years to rebut suspicions that Nixon was anti-Semitic, relating accounts of their own, long positive relationship with him. As the years went on and more of the White House tapes became public, they tactfully stepped back from the discussion, including after this tape was made available in 1999:
"The Jews are all over the government," Nixon complained to his chief of staff, H.R. "Bob" Haldeman, in an Oval Office meeting recorded on one of a set of White House tapes released yesterday at the National Archives. Nixon said the Jews needed to be brought under control by putting someone "in charge who is not Jewish" in key agencies.

Washington "is full of Jews," the president asserted. "Most Jews are disloyal." He made exceptions for some of his top aides, such as national security adviser Henry Kissinger, his White House counsel, Leonard Garment, and one of his speechwriters, William Safire, and then added:

"But, Bob, generally speaking, you can't trust the bastards. They turn on you. Am I wrong or right?"