Priced Out in New York City, Where Space Makes Everything Possible
Can Anya Sapozhnikova, an aerial acrobat, find the 30-foot-high ceilings she needs to make her art and her living?
So many New York stories turn on space. That's why New Yorkers scrap so hard for every square foot that they can buy, rent, or occupy. With enough of it, almost anything is possible in that city. I know because, for over six years now, I've been watching Anya Sapozhnikova prove it. The 26-year-old circus impresario, aerial acrobat, and stage producer attracts crowds that line up and pay to see her dangling upside down, 30-feet-in-the-air, hanging onto a strand of silk. But what happens now that doubling rents are forcing her from her high-ceilinged base of 5 years?

Everything turns on the dimensions of whatever she rents next.

I wouldn't have met Anya in the spring of 2007 if not for event promoter Will Etundi's proclivity for finding party spaces with very high ceilings. We were on opposite sides of a crowded warehouse, hundreds of drunk people between us, but no one could miss Anya: on stilts, she was 13 feet tall.
Back then she lived in a sprawling Bed-Stuy basement with a very low ceiling and a thick pipe running down its center. Her building, 1054 Bergen Street, was about a 15 minute walk from the Marcy projects, where Jay-Z grew up. The basement door was silver, bore a rainbow, and said "boring" at the top. She'd reclaimed the space behind it, along with her friend, roommate, and eventual business partner, Kae Burke, cleaning out all manner of squalor. The unpleasant work left them with enough affordable square feet to host what they called MakeFun parties. Think cheap alcohol and crafts. Yards of fabric, sewing machines, paint, wood, and tools were on hand. If you were a scrappy entertainer in Brooklyn's underground scene, you could come get supplies needed for a costume or prop, along with a community well-versed in the ups-and-downs of affixing sequins onto anything. Since most attendees lived in closet-sized apartments, a workroom itself was a valuable thing, and everyone was playful even when sober. Most 19-year-olds would've lived there for years. Yet weeks after I visited that Bed-Stuy basement for the first time, Anya was thinking bigger.

The House of Yes, 1.0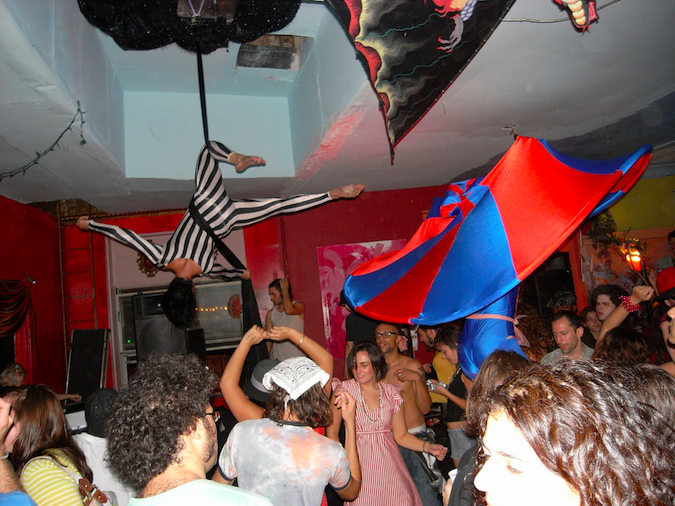 Kevin L. Muth
In those days, I'd g-chat with her intermittently to ask after various Brooklyn parties and art performances.

In April 2007 we had this conversation:
me: hey, sorry i never made it on Friday -- end of semester work is crazy. Are you free anytime Tuesday or Wednesday night to hang out?
 
anya: tuesday is make fun at my house. i'm about to embark on setting up a brand new communal paradise so i'm pretty busy this week

me: the one at coney island?

anya: no this one is in bushwick. 3500 sq feet!!!!!

me: awesome.
 
 anya: yeah. ladders and rooftop access and a patio. And a bathtub in the middle of one of the lounges.

As someone who felt overwhelmed, as a 26-year-old grad student, securing my own $1,000 a month NYC apartment, I remember being awed that Anya was orchestrating a 5-figure rental agreement at 20. She found tenants, filled all the rooms, and after figuring how to make rent each month, secured tow-away dumpsters to empty the space of accumulated cat droppings and rubble. And with a little help from her friends, she built that "dream space." Dubbed "The House of Yes," its vibe is captured by an email sent out to her burgeoning list of extended NYC friends.

The subject line: "Who wants to live in the House of YES?????!!"

Here's the body:
We used to have a roommate. His name was Rocket and he was a sweet dude. He moved to New York City for a girl and stuff didn't work out. Now he is moving back to California. Or maybe it was the fact that he was Mormon and The House of Yes was kinda rowdy. Naked stilt walking, hip hop shows, drunk aerial performances, topless glass walkers, indoor parades, 12-hour costuming workshops, friends hanging out till dawn, etc. Anyways, Rocket left and we will miss him.

BUT

We need a new roommate!

The space: $725.00 a month everything included. (utilities, Internet and ice cold PBR's). The room has its own private freight elevator entrance. A nice big window, high ceilings, a small storage space.

The House of Yes itself is located at 19-49 Troutman St. at the corner of Flushing Ave. You would take the L train to Jefferson and then walk 6 long blocks with traffic to 19-49. We're on the second floor and have no neighbors at night. We have a nice big kitchen and a nice stage. We got an aerial silk rig and a pool table. A deck and a roof. Two bathrooms, a public bathing bathtub in the living room, a sewing/costume/craft/soon to be silk screening studio room, MFTA access.

We had a house meeting last night and decided on an ideal roommate: a dj with a car and gear, who also does electrical work and is at least a 7 out of 10. If you are those things then you are automatically in. If you are not, but still need a room, please send me an e mail...  

In addition to all that, The House of Yes had a six-foot-high paper mâché mask of a Where the Wild Things Are monster hanging on the kitchen wall. Most 20 year olds would've lived and partied there for years. But space being at a premium, the giant mask wasn't quite far enough away from the malfunctioning toaster to not catch fire when some toast set alight. It was a four alarm fire, and Anya watched the flames take all of her possessions. She mourned the lost space even more.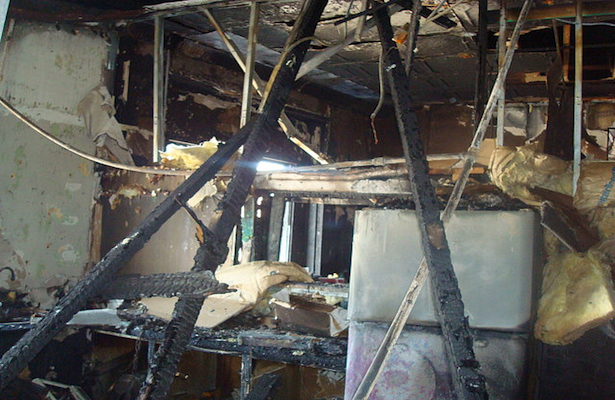 Kae Burke
Making It

I'd moved away from New York by the time the House of Yes caught fire, having enjoyed many parties and random performances within its walls. Anya had been teaching herself to do acrobatics on silks dangling from high ceilings. For her, it was countless hours of grueling, exhausting, somewhat dangerous aerial training, every incremental improvement hard fought and exhausting. But casual friends like me experienced her training regime somewhat differently.

Last I'd seen her, she was still learning; then, suddenly, she was a pro. She messaged one night out of the blue.

anya: what's been going on

me: I've been working for a web magazine in DC. You?

anya: building a new space in nyc

me: I'd love to see it sometime...
   
anya: have you seen the times write up on us?

I hadn't seen it, or known that the young woman I'd met a couple years prior in a Bed-Stuy basement had achieved that right-of-passage for NYC success stories: the article in the paper of record.
Quoth the New York Times:

A slender young woman hung 30 feet in the air, coiling her body around two pieces of black silk that were attached to the rafters. A crowd watching below screamed as she unraveled herself and started falling toward them and then gasped with relief as she came to a stop just above their heads. The woman, Anya Sapozhnikova, was performing her aerial circus act, but this was not Cirque du Soleil, and there was no big top. Instead, it was a warehouse party in Bushwick, Brooklyn. While the notion of circus performers is largely associated with major productions like Ringling Brothers and Barnum & Bailey Circus and the Coney Island sideshows, a new generation of performers is taking the circus arts to unexpected places.

Fire eaters, stilt walkers, aerialists and sword swallowers are among those showing off their skills at parties, concerts, clubs and in the streets and in parks. "It's more exciting when you don't expect to see circus arts; it makes it dangerous" said Claire de Luxe, a stilt walker, fire dancer and member of Lady Circus, the troupe that performed on a recent Saturday night at the Bushwick warehouse.Audience members, who paid $15 to see the circus acts, were also treated to live bands and disc jockeys.

"I'm having a good time, drinking a beer, listening to some music, and out of nowhere this girl is falling a few feet from death," said Enrique Ruiz, 30, a plumber from Brooklyn. "It was amazing."
It's funny reading in the newspaper about someone you've hung out with and learning things you didn't know:
In recent years, groups like Cirque du Soleil, Blue Man Group and De La Guarda have expanded the concept of a circus beyond the traditional three-ring formula. In New York, lesser-known circus performers are carving out their own niche in the city's nightlife. The members of Lady Circus are often hired to perform at big Manhattan nightclubs, concerts and corporate events, and are typically paid $500 a night per performer. But they feel most at home and creative, they say, working the lower-paying warehouse parties in Brooklyn. "Loading into a warehouse and not knowing if the party is going to get shut down or not, it's chaos and it's great and that's what gives us a lot of our inspiration," said Ms. Sapozhnikova, 22, who started the troupe.

Ms. Sapozhnikova was a student at the Fashion Institute of Technology three years ago when, coming home from a party one night, she was handed a business card for a company of stilt walkers. Curious, she called the number and was soon taking lessons in her apartment. She started taking her own stilts to parties and was soon hired to perform at a Lower East Side club. She decided about two years ago to organize her own group and started recruiting members through the Internet...

"Everyone's talents melded together and we became these multi-skilled performers," Ms. Sapozhnikova said. Lady Circus now has eight women, who train an average of at least 20 hours a week to improve their acts. Because a fire destroyed the loft... the troupe is renovating a loft space in Bushwick, where the women will hold performances and offer workshops for those interested in circus acts.    
That move changed everything.

The House of Yes 2.0
The new space, an old ice warehouse, was at 342 Maujer St. It took 3 months to find. After renovations, undertaken with a lot of do-it-yourself gumption, it could accommodate a 300 person crowd and seat 100 in its theater, which was custom built with state-of-the-art aerial rigging.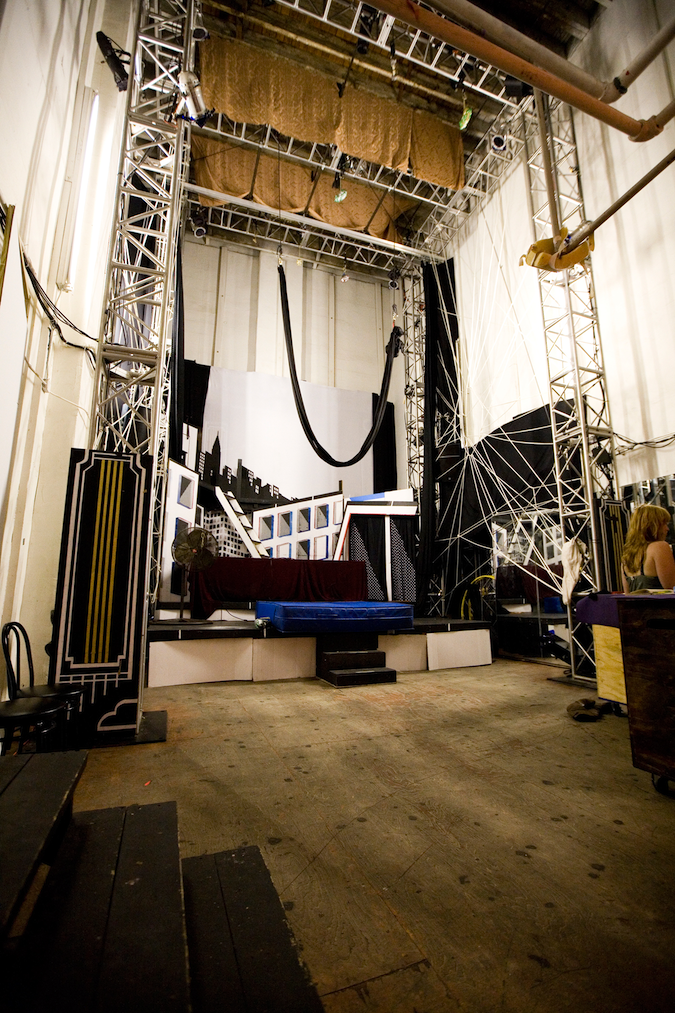 The House of Yes
It also enabled the founding of Sky Box, where performers can learn aerial or refine their skills.

The timing couldn't have been better. Having refined their own skills at paying gigs all over New York City, The Lady Circus suddenly had a space expansive enough to accommodate their ambitions.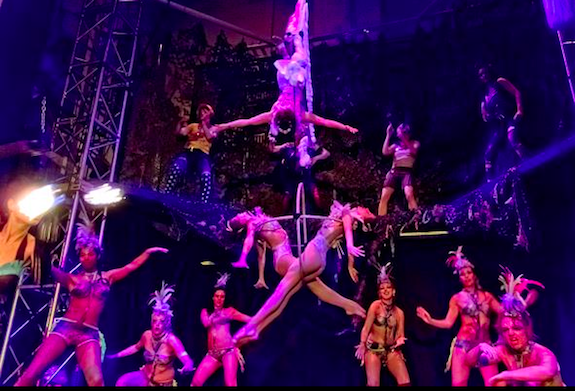 The House of Yes
Even given all the hard work, the House of Yes 2.0 was a lucky stroke: there aren't that many available Brooklyn buildings with 30-foot ceilings. It was the beginning of a years long run of events and shows, almost all featuring an aerial acrobatics element, though the themes were always different: an exquisitely choreographed series of dance performers in elaborate bird costumes; a raunchy, comedic take on the traditional circus; aerial-focused productions of Spider Man and Peter Pan; annual Christmas spectaculars; and many, many others. The vibe was a bit too earnest to be hipster, each show was more polished than the last, tickets started selling out more quickly, and the enterprise kept getting positive press, including in the Times, which declared in 2010 that partners Sapozhnikova and Burke were creating "Culture with a capital C."

I hadn't chatted with Anya in ages, but every time I visited New York City I checked online to see if the House of Yes would be putting on a new show, eager to see whatever it was they'd do next. Five years of reputation building had put the enterprise in a position to fund, produce, and sell out increasingly ambitious spectacles with bigger budgets and more talented performers. And it seemed as if it would be a virtuous cycle right up to this summer: Weeks ago, I was pleased to see that a filmmaker successfully used Kickstarter to fund post-production costs on a feature length documentary about the House of Yes -- here's the trailer:
When I saw that pitch, I wrote to congratulate Anya, and noted how excited I was to see the film. Days later, The House of Yes sent out an unexpected note to its much expanded email list:
Five years ago, we signed a lease on decrepit building in the depths of East Williamsburg, and turned it into a castle of creative forces, an incubator for ideas and for many... a place to call home.This week, we learned that we were unable to renew our lease at 342 Maujer Street. While we were initially shocked and saddened by this news, we have now come to realize that this is the perfect opportunity to take things to the next level. We are looking to create North Brooklyn's first proper theater, a versatile event venue and an aerial training facility.

We will be a more polished, professional, and larger House of Yes.

If, that is, they can find the right space. As a subsequent note put it, "We are seeking an affordable industrial/warehouse type space off the L train with TALL CEILINGS (ideally 30ft ceilings) that is around 3,000 to 5,000 square feet. Please let us know if you have any leads!" In so many places in America, a venture like the House of Yes couldn't ever be built... and yet, if it did come into being, if it succeeded in building a profitable following and a community, survival wouldn't turn on space. Space could always be found easily enough: everything else was the hard part.
In New York City, talent and hard work can take you from a Bed-Stuy basement to a converted theater with 30-foot high ceilings and aerial performances that are praised in the world's leading newspaper. Your venue can provide state-of-the-art rigging for up-and-coming producers, many of whom would never be able to affordably create aerial productions otherwise.
And then the landlord might say -- at the end of a 5 year lease, and all that building -- that the rent is going from $4,500 to $10,000 per month. Suddenly, space and possibility collide. The community you've built is in jeopardy. And you're frantically looking for something else, hoping it pushes you to new heights. "We've thought about expanding before, but you get comfortable," Anya told me. "We've been looking to go bigger, but we might have to go
a lot bigger
to satisfy our specs and have the really high ceilings." So there are notes to social networks asking for leads; talks with potential investors with the means to make possible spaces and events on a scale heretofore unimagined; conversations with friends-turned-partners about the "right" size to be, the value of independence, and whether the vision should change. Finally, there is the disheartening risk that the wrong space would diminish what is possible.
Sometime in mid-to-late August, all House of Yes materials will be removed from its home of 5 years, which will go back to being a former ice warehouse. Given how fast Bushwick is developing, it may be condos soon. And for better or worse, the House of Yes 3.0 will be reshaped by whatever space that it reshapes. As a longtime fan, I hope they find something big enough to fit their potential. There aren't a lot of affordable spaces in Brooklyn with ceilings that high.