One winter day in 1869, Mark Twain took the stairs to the second floor of a building near Boston Common and introduced himself to the editors of The Atlantic Monthly, including William Dean Howells. The meeting would change both Twain and the magazine, and begin a friendship between editor and author that would become one of America's most important literary collaborations.
The pieces collected in our new ebook are the fruits of that partnership. Twain wrote for The Atlantic from 1874 to 1880, publishing essays, recollections, short stories, and even the memoir Old Times on the Mississippi, which appeared in seven installments beginning in 1875 and was later released as the book Life on the Mississippi.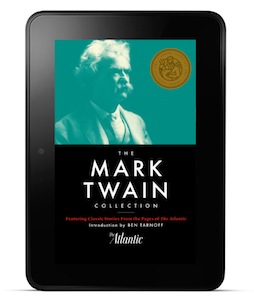 Each of Twain's stories for the magazine was encouraged and improved by Howells, who became Twain's most useful public champion and his most trusted editor--a relationship that the Twain biographer Ben Tarnoff explores in his introduction to the collection. "[Howells] didn't simply make Twain a better writer; he also explained Twain's significance to the wider world," Tarnoff writes. "He elevated the author of The Innocents Abroad from a popular entertainer to a transformative literary figure--into the "Lincoln of our literature," as Howells called him."