Janet Napolitano to Leave Homeland Security, Head University of California
The former governor of Arizona is resigning from DHS on Friday, and will be the first woman to head the UC system.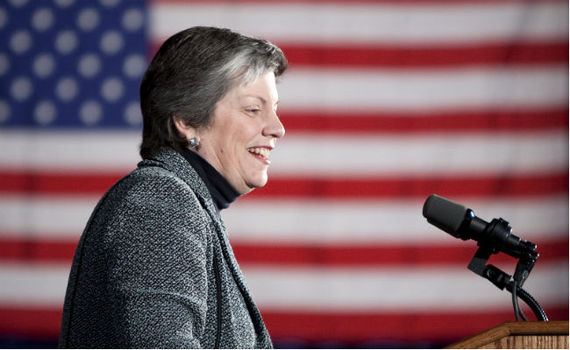 Joshua Roberts/Reuters
In a surprise move, Janet Napolitano, secretary of Homeland Security, is resigning on Friday.
According to the Los Angeles Times, Napolitano will become the president of the University of California -- the first woman to hold that post in its 145-year history. Napolitano has been at the Homeland Security Department since President Obama took office in 2009. She was often mentioned as a favorite candidate to succeed Eric Holder as attorney general. That, in all likelihood, will not be happening now.
A source close to The Times said, "She loves working for President Obama and serving the American people, but at the same time, this is a unique opportunity." Napolitano is a graduate of Santa Clara University, where she was a valedictorian.
While it's not DHS, which has a budget of $60 billion, the UC system is quite large. It has an annual budget of $24 billion, and counts 191,000 faculty and staff. Homeland Security currently has 240,000 employees. As a Cabinet secretary, Napolitano earns $200,000 annually. The current UC president earns $591,000 -- although it's not clear what Napolitano's salary as president will be.
In the run-up to the 2012 election, National Journal named New York City Police Commissioner Ray Kelly, Bill Bratton, and retired Coast Guard Adm. Thad Allen as possible successors for Napolitano at Homeland Security if she were to step down.
Here's the full statement from Napolitano on her resignation:
For more than four years I have had the privilege of serving President Obama and his Administration as the Secretary of Homeland Security. The opportunity to work with the dedicated men and women of the Department of Homeland Security, who serve on the frontlines of our nation's efforts to protect our communities and families from harm, has been the highlight of my professional career. We have worked together to minimize threats of all kinds to the American public. The Department has improved the safety of travelers; implemented smart steps that make our immigration system more fair and focused while deploying record resources to protect our nation's borders; worked with states to build resiliency and make our nation's emergency and disaster response capabilities more robust; and partnered with the private sector to improve our cybersecurity. After four plus years of focusing on these challenges, I will be nominated as the next President of the University of California to play a role in educating our nation's next generation of leaders. I thank President Obama for the chance to serve our nation during this important chapter in our history, and I know the Department of Homeland Security will continue to perform its important duties with the honor and focus that the American public expects.
And from President Obama:
I want to thank Secretary Napolitano for her outstanding work on behalf of the American people over the last four years. At the Department of Homeland Security, Janet's portfolio has included some of the toughest challenges facing our country. She's worked around the clock to respond to natural disasters, from the Joplin tornado to Hurricane Sandy, helping Americans recover and rebuild. Since day one, Janet has led my administration's effort to secure our borders, deploying a historic number of resources, while also taking steps to make our immigration system fairer and more consistent with our values. And the American people are safer and more secure thanks to Janet's leadership in protecting our homeland against terrorist attacks. I've come to rely on Janet's judgment and advice, but I've also come to value her friendship. And as she begins a new chapter in a remarkable career of public service, I wish her the best of luck.